Marrakech - Natural bridge Imi-n-Ifri - Cascade d'Ouzoud
back to Morocco index / zurück zum Marokko-Index
---
November 28, 2006: Âït Barka - Marrakech
After a not very quiet night due to the traffic on the road, we said goodbye to our hosts - with whom we of course had to drink a tea - and drove 65 km to Marrakech. We made a stop at Metro before we settled at the parking lot of the Koutoubia Mosque right in the centre of town! It is located about 500 m of the main square Djemaa L-Fna and costs 50 DH/ day. So we were there at 10 am and saw the snake charmer. We went up to the terrasse of the Café-Restaurant Argana to be able to look at the whole thing from above. Remarkable was how the snake charmer got excited when a bus load was passing by... We walked through several souks and markets, drank orange and grapefruit juice (3 DH orange/tangerine, 10 DH grapefruit), and after we had lunch at the market, we walked back to our motorhome and made a nap before continuing in the afternoon with the visit of Bab Agnaou, tombs of the Saadi, and the Bahia Palace. When we returned to the Djemaa L-Fna squre, the snake charmer were gone, instead there were many traditional music groups, tale tellers, and many small food stands with benches and tables and inexpensive meals. We first had some grilled eggplants and pepperonis at one stand and afterwards Tajia and Meschoui at the next one. We can say that we were agreably surprised that visiting Marrakesch wasn´t a hassle like we thought it would be. We could walk without problems through the souks, although the bicycles and the motorcycles rushed through the narrow and crowded streets.
28. 11. 2006: Âït Barka - Marrakesch
Nachdem wir nun unterschiedlich gut mit dem Autoverkehrgeräusch geschlafen haben, haben wir uns von unseren lieben Gastgeber verabschiedet - natürlich nicht ohne einen Tee mit ihnen zu trinken - und sind die fehlenden 65 km nach Marrakesch gefahren. Wir haben auf dem Weg einen Stopp bei Metro gemacht und danach sind wir direkt in die Innenstadt von Marrakesch und haben uns - wie im Buch von Frau Kohlbach empfohlen - auf dem bewachten Parkplatz von der Koutoubia Moschee installiert (50 DH für 24 Stunden). Es ist so günstig gelegen, nur 500 m bis zum Hauptplatz Djemaa L-Fna. Um 10 Uhr waren wir dort und haben uns die Schlangenbeschwörer zugeschaut und einen Tee auf der oberen Terrasse des Café-Restaurant Argana eingenommen, so konnten wir das Treiben auf dem Platz gut von dort beobachten. War schon lustig zu sehen, wie die Schlangenbeschwörer aufgeregt wurden, wenn eine Busladung an Ihnen vorbei ging.... Wir sind noch durch verschiedene Souks und Märkte gelaufen, haben Orangen- und Pampelmusensaft getrunken, und nachdem wir im Markt zu Mittag gegessen haben, sind wir - wir haben ja eine Superlage - zum Wohni zurück und haben einen kleinen Mittagsschlaf gehalten. Nachmittags haben wir versucht, verschiedene Paläste und sonstige Sehenswürdigkeiten zu sehen: Bab Agnaou (Haupttor), Saadier Gräber, Bahia-Palast. Als wir nach dem Dunkelheiteinbruch wieder zum Hauptplatz gekommen sind, waren statt der Schlangenbeschwörer viele Musikgruppen, Märchenerzähler und jede Menge Essensbuden mit leckeren Spesen aufgebaut! Wir haben erst an einem Stand gebratene Auberginen und Pepperonis gegessen, an dem zweiten dann Tajia und Meschoui gegessen. Wir waren insgesamt überrascht, dass wir während des ganzen Tages nicht so bedrängt wurden, wie wir befürchtet hatten. Wir konnten im Souk ohne Probleme laufen, bis auf die Fahr- und Motorräder, die dort durch die engen Gassen und die vielen Menschen durchrasen.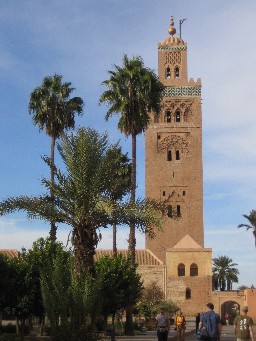 . . . . . . . . . .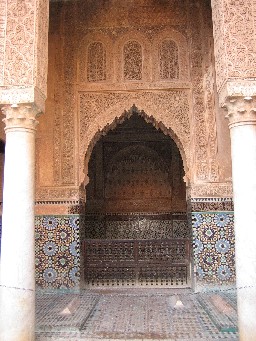 . . . . .

Marrakech: Koutoubia Mosque (left) and tombe of the Saadi (right) / Marrakech: Die Koutoubia Moschee (links) und die Saadier Gräber (rechts).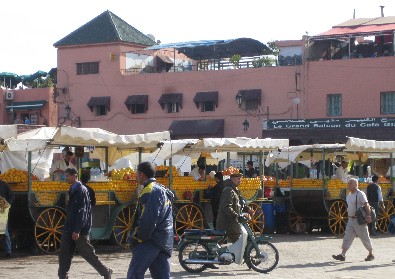 . . . . .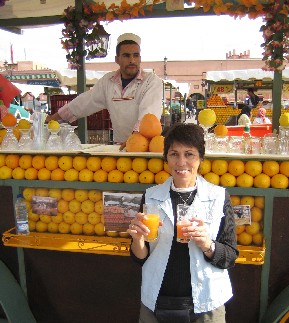 The fresh orange/grapefruit/tangerine juice sellers on the Djemaa L-Fna square. / Die Orangensaftverkäufer auf dem Dejmaa L-Fna-Platz bieten frischgespresste Säfte von Orangen, Pampelmusen und Mandarinen an.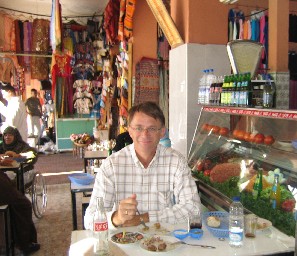 . . . . .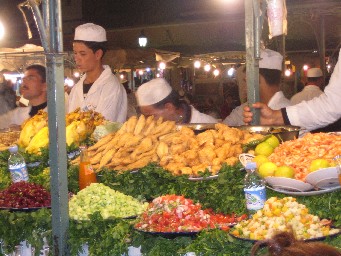 You really won´t starve in Marrakech -food is delicious and inexpensive. / Man verhungert nicht in Marrakech - das Essen ist lecker und preiswert.
November 29, 2006: Marrakech
Today we spent almost the whole day searching for a zellige (mosaic) garden table. After that we visited the tanner's place where people work in the most terrible conditions. Julia went to a hammam "Ziani" (270 DH for a package with peeling and massage) and after 1 1/4 hr she came out of there like new born. We sat for a long time on the terrace in the 2nd floor of the corner café from where we had a perfect (and undisturbed) view upon the Djemaa L-Fna square. In the evening we sat down at the stands and had various smal delicious meals.
29. 11. 06: Marrakesch
Wir haben heute fast den ganzen Tag mit der Suche nach einem Gartentisch mit Zelligen (Mosaiken). Danach haben wir eine Gerberei besichtigt, wo die Leute unter schlimmen Bedingungen arbeiten! Julia hat dem Hammam "Ziani" besucht (ein Paket mit Peeling und Massage kostet 270 DH) und kam nach 1 1/4 Stunde wie neugeboren wieder raus. War auch gut so, denn sie war ziemlich genervt gewesen davor. Wir haben danach lange auf der Terrasse im 2. Stock des Eck-Cafés gesessen, denn von dort aus hat man einen fantastischen (ungestörten) Blick auf den ganzen Platz. Abends haben wir wieder lauter Köstlichkeiten an einer der Essenstände gegessen.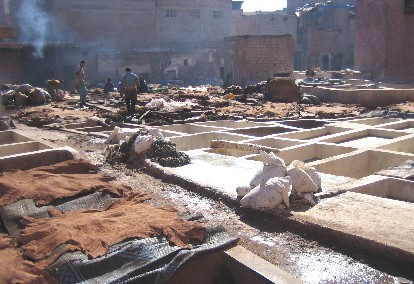 . . . . . . . . . .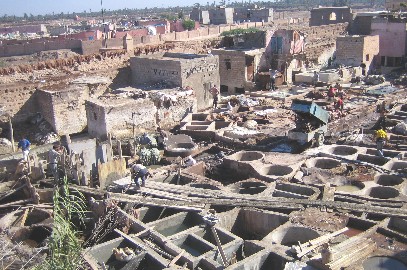 Marrakech: A tannering factory / Marrakech: Eine Gerberei/
November 30, 2006: Marrakech - natural bridge Imi-n-Ifri - Cascade d'Ouzoud
After a problem with our starter battery - that was promptly solved by a nice Maroccan man that connected our battery to the one of his van- we headed to Metro/Makro and did some grocery shopping. Our way continued to the natural bridge of Imi-n-Ifri where we walked the way down to the river and had big problems walking through the bridge and coming up again due to the damaged path. We reached our destination -Ouzoud- at about 15:15 and then we just relaxed and had dinner with excellent Maroccan meat we had bought at Metro. We will go to the cascades tomorrow.
30. 11. 2006: Marrakech - natürliche Brücke Imi-n-Ifri - Cascade d'Ouzoud
Nachdem wir heute morgen Probleme mit unserer Starterbatterie hatten - die allerdings schnell durch die herzliche Hilfsbereitschaft von einem Marokkaner mit seinem Kleinbus gelöst wurden - haben wir zuerst einige Einkäufe bei Metro gemacht und sind danach zu der natürlichen Brücke von Imi-n-Ifri gefahren. Dort sind wir den Weg runtergelaufen, aber wir hatten schon ganz schön Probleme, den Weg unter der Brücke und danach wieder hoch zu finden, denn es der Weg war an verschiedenen Stellen kaputt. Unser Ziel, Ouzoud, erreichten wir gegen 15:15 Uhr und wir nutzen die zwei Stunden Helligkeit zum Relaxen und zum Abendessen. Wir haben das Fleisch gegessen, das wir bei Metro gekauft haben, und es war vorzüglich! Wir werden morgen früh die Waserfälle von Ouzoud erkunden.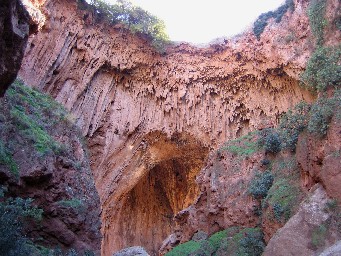 . . . . . . . . . .

December 1, 2006: Cascades of Ouzoud
We got up pretty early today -almost like every day so far- and walked a lot above, around, and in the gorge of the Cascades of Ouzoud. At one point we had a young guide that took us up to the "Mexican" town, but all the other exploring we did on our own with help of a GPS that tracked our way (total about 12 km). We had a good barbecue lunch on our campground Amalou and in the evening we watched a DVD.
01.12.2006: Wasserfälle von Ouzoud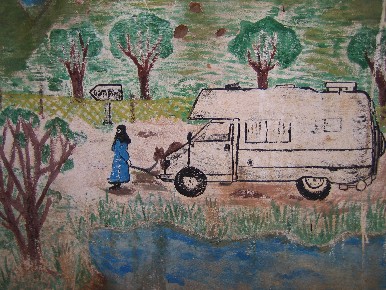 . . . . .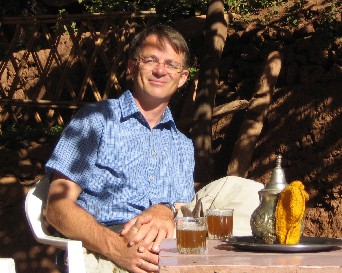 Ouzoud: Our campground "Amalou", and taking our morning tea along the path down in the gorge of Ouzoud / Ouzoud: Unser Campingplatz Amalou, und erster Tee am Morgen entlang dem Weg in der Schlucht von Ouzoud.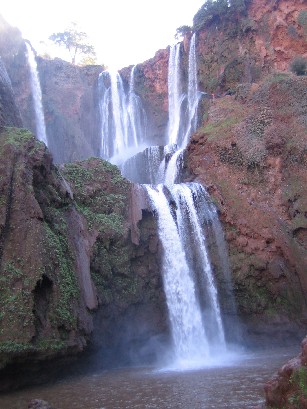 . . . . .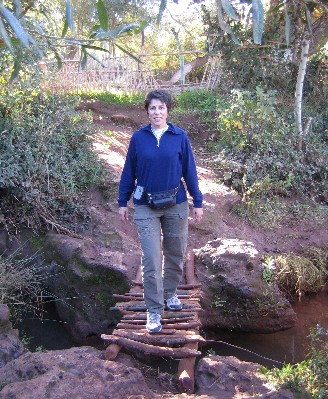 The cascades of Ouzoud / Die Wasserfälle von Ouzoud.
back to Morocco index / zurück zum Marokko-Index
to previous page / zur vorigen Seite . . . . to next page / zur nächsten Seite