19.02.10 Tissint - Oued Tata (close to Akka): 155 km (sunny 21ºC)
Today we realised that -due to the heavy rains in the last days- we were blocked to all directions:
1) Going East from Tissint to Foum Zguid the road was destroyed;
2) Going North from Kasba-Ej-Jouâ to Taliouine the road was broken;
3) Going North from Tata to Tagmout and then Agadir, the road was flooded by the Oued Tata;
4) Going North-West from Tata to Agadir there was a sign saying that the road would be closed 30 km ahead;
5) Going West from Tata to Akka, i.e. back the way we came from: road flooded by Oued Tata.

At this last point we waited and watched what would happen. A jeep was trapped in the waters. After around two hours, the first trucks started to cross the river, then came busses and higher jeeps. In between many people crossed the river by foot, which was not easy at all. Then there were some campers that crossed successfully and eventually one of them got stuck and had to be dragged out by a 4x4 camper. We decided to wait until tomorrow morning and parked close to the river crossing for the night. (GPS N 29º 28.422' – W 8º 3.129')
19.02.10 Tissint – Oued Tata (bei Akka): 155 km (sonnig 21ºC)
Heute haben wir festgestellt, dass durch den Regen der letzten Tage, wir von all Seiten eingeschlossen sind:
1) Nach Osten: von Tissint nach Foum Zguid ist die Straße völlig zerstört,
2) Nach Norden von Kasba-Ej-Jouâ to Taliouine ist die Straße zerstört,
3) Nach Norden von Tata nach Tagmout und Agadir, ist die Straße durch den Fluss Oued Tata unpassierbar,
4) Nach Nordwesten von Tata nach Agadir war ein Schild, dass die Straße in ca. 30 km unpassierbar sei,
5) Nach Westen von Tata nach Akka, also zurück wie wir gekommen sind: Straße unpassierbar wegen dem Fluss Oued Tata

An diesem letzten Punkt haben wir nun gewartet und beobachtet, was alles geschieht. Ein Jeep war mitten im Fluss stehen geblieben. Nach etwa zwei Stunden fuhren die ersten LKWs durch, danach Überlandbusse, und höhere Geländewagen. Zwischendurch gingen immer wieder Leute zu Fuß rüber, was gar nicht einfach war. Später haben sich auch Wohnis getraut rüber zu fahren (nur nicht wir). Die meisten haben es auch geschafft, einer ist aber stehen geblieben und musste von einem Kollegen mit Allradantrieb rausgeholt und abgeschleppt werden. Wir übernachten nun vor der Überquerung, morgen früh sieht es sicher schon besser aus. (GPS N 29º 28.422' – W 8º 3.129')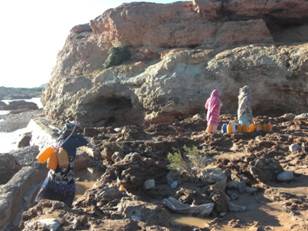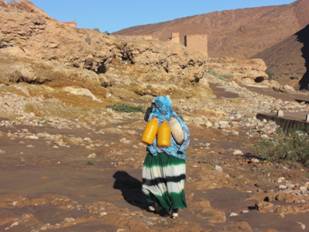 Tissint: Women getting (dirty!) water from the river and carry it with the forhead. / Tissint: Frauen holen (dreckiges) Wasser vom Fluss und tragen es mit der Stirn.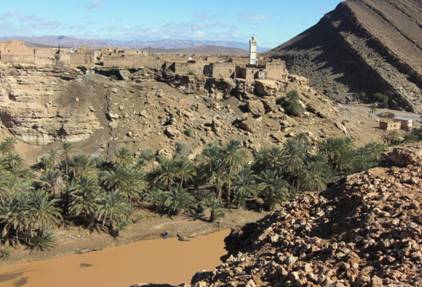 Tissint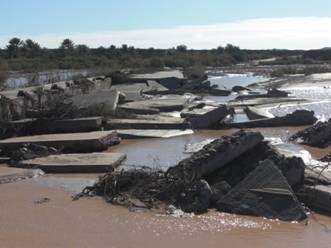 Our first try to go East -Tissint to Foum Zguid-: the road is destroyed. / Unser erster Versuch, nach Osten zu fahren: Die Straße ist völlig zerstört.
And here is Oued Tata between Tata and Akka: / Und hier befinden wir uns am Oued Tata zwischen Tata und Akka: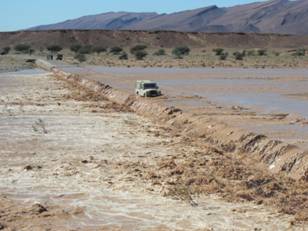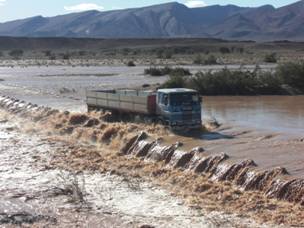 Oued Tata: A stucked jeep; the first trucks dare to drive through. / Oued Tata: ein festgesetzter Jeep; die LKWs haben sich getraut, durchzufahren.
20.02.10 Oued Tata – Agadir:  325 km (sunny 22 ºC)
This morning we decided to go back to Tata and take the road to Taroudant through the mountains, that now was drivable. It was a very exciting drive through very different landscapes and after crossing the main pass of the Anti-Atlas, getting to see the  the High Atlas Mountains. When we arrived to the crossing going to Taroudant we were very surprised to see that the road was blocked because of the road that had been destroyed by the river Oued Souss. So we had to change plans again: Agadir was now our next destination. And this was not an easy drive: the towns and villages on our way had been washed out by the rains, braking walls and opening the roads! In Agadir we parked in front of Hotel Sofitel and met with Mr. Philippe Touboul from the Rotary Club Agadir Doyen. After that we went to the beach front, walked along the nice promenade and had a McArabia at McDonalds (very tasty) and visited a Morrocan Music Bar "La Côte D'Or"! Overnight stay at the parking in front of the Sofitel Hotel, pretty noisy because of the disco visitors on this Saturday evening. GPS: N 30º23.690' - W 9º 34.953' (at the Supermarket Marjane).
20.02.10 Oued Tata – Agadir: 325 km (sonnig 22 ºC)
Heute morgen haben wir doch nicht diese Furt überquert, sondern sind wieder nach Tata gefahren, um dort die Straße nach Tadourant zu nehmen, die glücklicherweise nun wieder befahrbar war. Es war eine sehr schöne Fahrt durch reizvolle Landschaften. Nachdem wir den Hauptpass vom Anti-Atlas überquert hatten, bekamen wir die verschneite Berge des Hohen Atlas zur Sicht. Als wir an der Kreuzung nach Taroudant gelangt waren, mussten wir feststellen, dass der Weg unpassierbar war: die Straße wurde durch den Oued Souss zerstört! So mussten wir wieder unsere Pläne ändern: Agadir wurde unser nächstes Ziel. Und das war auch nicht ohne: Starke Regen hatten die Städte und Dörfer unterwegs "ausgewaschen", Mauern war umgefallen und Straßen kaputt. In Agadir haben wir uns auf dem Parkplatz vor dem Hotel Sofitel gestellt und uns mit Herrn Philippe Touboul vom Rotary Club Agadir Doyen getroffen. Danach waren wir noch an der Strandpromenade, haben einen McArabia bei McDonalds gegessen (lecker!) und haben noch eine marrokanische Musik Bar "La Cote D´Or" besucht. Übernachtung auf dem Parkplatz vor dem Sofitel, leider sehr laut wegen der Samstag Disko-Besucher. GPS: N 30º23.690' - W 9º 34.953' (am Supermarket Marjane)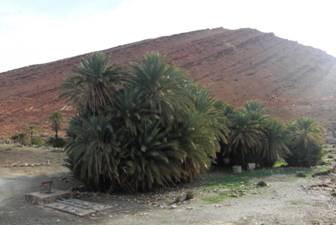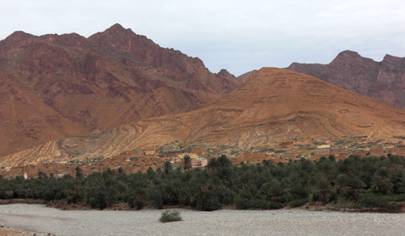 South side of the Anti-Atlas Mountains: Small nomad oasis with its well. Right: Village of Tizgui  / Südseite der Anti-Atlas-Berge: Kleine Nomaden-Oase mit Brunnen. Rechts: Dorf Tizgui.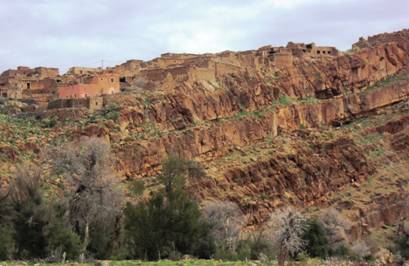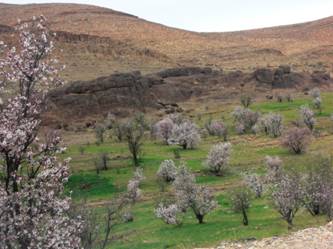 North side of the Anti-Atlas: Tagardit village on top of the cliffs, almond and olive trees. / Nordseite des Anti-Atlas: Dorf Tagadirt am Rande der Schlucht, Mandel- und Olivenbäume..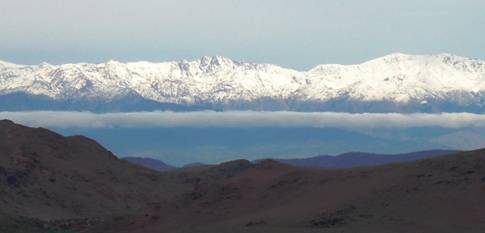 Breathtaking view to the snowy High Atlas Mountains going North to Agadir./ Atemberaubende Blicke nach Norden auf die verschneite Berge des Hohen Atlas auf dem Weg nach Agadir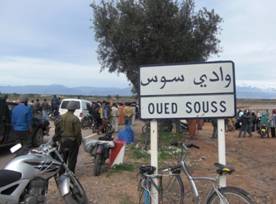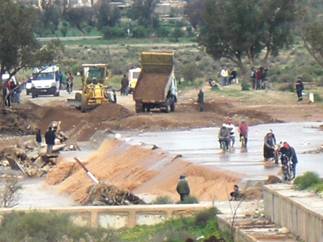 The main road from Agadir to Taroudant was washed away by the Oued Souss! / Die Straße von Agadir nach Taroudant wurde vom Oued Souss weggespült!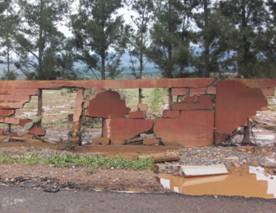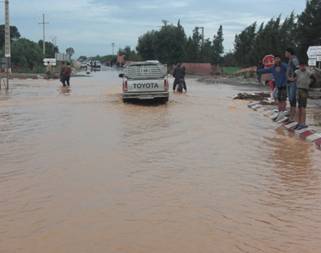 Main road Agadir-Taroudant: Walls fell down, roads flooded by the bad weather. / Hauptstraße von Agadir nach Taroudant: Das Unwetter hat Mauern umgeworfen und die Straße ist an vielen Stellen überflutet.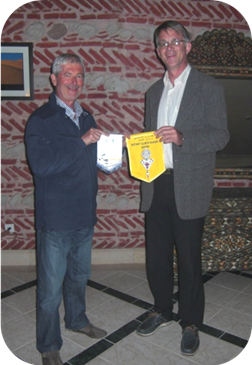 Meeting with Philippe Touboul from the Rotary Club Agadir Doyen. /
Treffen mit Herrn Philippe Touboul vom Rotary Club Agadir Doyen.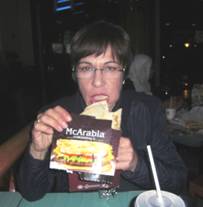 I had to try this special Moroccan hamburger at McDonalds, and it was delicious! /
Ich musste unbedingt diesen marrokanischen Hamburger von McDonalds probieren, und es war köstlich!
21.02.10 Agadir – Marrakesch: 280 km (mixed, 20 ºC)
After a not very restful night, we drove to the Supermarket Marjane (open daily from 09:00 - 22:00 h) and did some grocery shopping. Drive to Marrakech where we settled at the same place as last time: on the parking lot of the Koutoubia Mosque (GPS: N 31º 37.449' - W 7º 59.676'). We did a walking sightseeing tour in the newer part of town this time and were able to visit the Royal Theatre (even watch a play in Arabic). This theatre is exceptional: it has an opera and an amphitheatre that can be used open air or be closed and heated. What impressed us too was the floor of one of the patio that was laid with beautiful blue colored tiles.
21.02.10 Agadir – Marrakesch: 280 km (sunny, 23 ºC)
Nach einer nicht sehr geruhsame Nacht, sind wir zum Supermarkt Marjane gefahren (geöffnet täglich von 09.00 – 22.00 Uhr), um einige Sachen zu kaufen. Fahrt nach Marrakech, wo wir am gleichen Platz wie letztes Mal geparkt haben: am Parkplatz der Koutoubia Moschee (GPS: N 31º 37.449' - W 7º 59.676'). Spaziergang durch die neueren Gegend der Stadt, Besichtigung des Théâtre Royal, das wirklich mal anders ist. Das Theater enthält eine Oper und ein Amphitheater, der offen oder bedeckt und beheizt werden kann. Sehr beeindruckt hat mich leuchtend blaue Fliesen, die den Boden eines Hofes bedeckten.
back to homepage / zurück zur Homepage
to previous page / zur vorigen Seite to next page / zur nächsten Seite