11/10 - 16/10/00
back to homepage / zurück zur Homepage
11.10.00 After we gathered all the stuff in our motorhome that we want to carry back home, we drove to Tonto Natural Bridge State Park, the world's largest travertine natural bridge. The bridge is really quite spectacular and very different from the ones we saw before; it spans 60 m above Pine Creek. This State Park is also a nice place to spend a day with the family. To finish up the day we drove to the Houston Mesa National Forest Campground just before Payson.
11.10.00 Nachdem wir im Wohni alle Sachen rausgesucht haben, die wir mit nach Hause nehmen wollen, sind wir zum Tonto Natural Bridge State Park, eine natürliche Brücke, die sich 60 m über den Pine Creek spannt. Diese Brücke ist wirklich ziemlich spektakulär und ganz anders, als die die wir davor gesehen haben. Dieser State Park ist auch ein netter Platz, um den ganzen Tag mit der Familie zu verbringen. Um den Tag zu beenden sind wir zum Houston Mesa National Forest Campingplatz kurz vor Payson gefahren.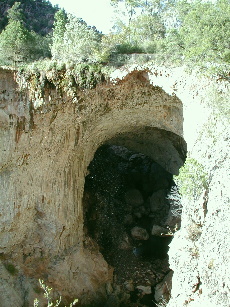 Tonto Natural Bridge State Park, Arizona.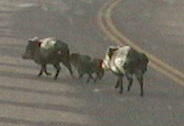 Javelinas crossing the road! / Javelinas überqueren die Straße!
12.10.00 After a relaxing morning lingering on the campground, we drove to Shoofly Village, ruins of a Hohokam and Salado dwellings near Payson, Arizona. All over the place there are pottery pieces lying around, it's awesome! From this place you could see very clearly the Mogollon Rim delimiting the southern part of the Colorado Plateau. Then we drove down -literally, because we drove from a height of 1700 m down to 700 m- to Roosevelt Lake, experiencing so many different vegetation types, from ponderosa pines, brush oaks, and juniper to saguaro cacti!
12.10.00 Nach einem ruhigen Vormittag auf dem Campingplatz, sind wir zum Shoofly Village, eine Dorfruine der früheren Hohokam- und Salado-Indianer gefahren in der Nähe von Payson, Arizona, gefahren. Überall liegen Töpfereischerben herum, das ist unglaublich! Von hier konnte man auch sehr gut die Mogollon-Kante sehen, die das südliche Teil der Colorado-Hochebene abzeichnet. Dann sind wir zum Roosevelt Lake runtergefahren - ja, im wahren Sinne des Wortes, von 1700 m auf 700 m Höhe - und haben dabei verschiedene Vegetationswechsel erlebt: von der Ponderosa-Pinie über verschiedene andere Bäume und Büsche, deren Namen ich auf Deutsch nicht kenne bis hin zum Saguaro-Kaktus!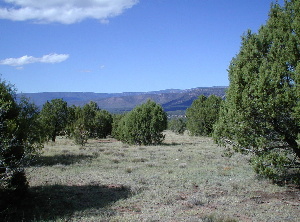 . . . . .

Left: View from Shoofly Village on Mogollon Rim, the southern edge of the Colorado Plateau. Right: Theodor Roosevelt Lake Recreation Area, Arizona.
Links: Blick vom Shoofly Dorf auf die Mogollon Kante, die südliche Abgrenzung der Colorado-Hochebene. Rechts: Theodor-Roosevelt-See, Arizona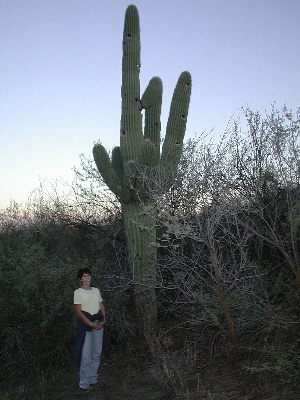 Saguaro / Saguaro-Kaktus.
13.10.00 Drive to Tonto National Monument, Arizona. The trail that leads up to the cave dwellings is so interesting because of all the impressive sonoran desert cactii along the way. The Lower Cliff Dwelling of Tonto National Monument were built by the Salado Indians around 1300 A.D. and are incredibly well preserved. On some rooms even the original roof made of poles, saguaro ribs and clay is still there! We decided to drive the unpaved Apache Trail to Apache Junction, east entrance to Phoenix. Lunch stop at Tortilla Flat with an excellent chicken almond salad in the Superstition Saloon where the walls are plastered with $1 bills. The drive through Mesa, Tempe, Scottsdale up to Carefree, where our friends Jutta and Tom live, took us about 2 hours -with normal traffic conditions. We were very happy to meet them again and we enjoyed a very nice evening together (and an excellent chili soup made by Jutta with 8 different chilis).
13.10.00 Fahrt zum Tonto National Monument, Arizona. Der Weg zu den Felsenwohnungen-Ruinen ist besonders interessant, denn er führt an die verschiedenen außergewöhnlichen Sonora-Kakteen entlang. Die Lower Cliff Dwelling des Tonto National Monuments wurden ca. 1300 von den Salado-Indianern gebaut und sind unheimlich gut erhalten. Auf einigen Räumen sitzt immer noch das Originaldach aus Holzbalken, Saguaro-Rippen und Ton. Nach diesem Besuch haben wir uns entschieden, den ungepflasterten Apache Trail bis Apache Junction - am Osteingang zu Phoenix - zu fahren. Mittagsstop bei Tortilla Flat, wo wir ein ausgezeichnetes Hähnchensalat mit Mandeln im Superstition Saloon, der voll mit US$1,- an den Wänden gepflastert ist, genossen haben. Für die Fahrt über Mesa, Tempe, Scottsdale nach Carefree, wo unsere Freunde Jutta und Tom wohnen, haben wir ohne jegliche Verkehrsstaus zwei Stunden gebraucht! Was für ein tolles Wiedersehen, und Jutta hatte eine ausgezeichnete Paprikasuppe mit 8 verschiedenen Paprikasorten zurbereitet!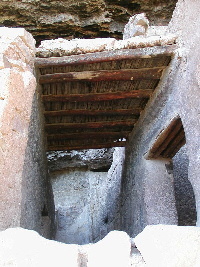 . . . . . . .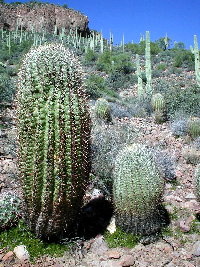 Tonto National Monument: well-preserved Salado Cliff Dwellings and barrel cacti (height ca. 1 m). / Tonto National Monument: sehr gut erhaltene Salado Felsenwohnungen und ca. 1 m hoher Faßkaktus.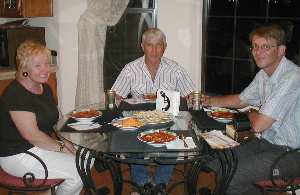 Happy meeting with Jutta and Tom after almost 6 months, Phoenix, Arizona. / Fröhliches Wiedertreffen mit Jutta und Tom nach fast 6 Monaten, Phoenix, Arizona.
14.10.00 Jutta and I had a great time together in a fancy shopping mall while Volker, helped by Tom, filled boxes and bags with all the stuff we wanted to take back to Europe. Late afternoon we had an excellent steak dinner at Outback Steakhouse. Back home again, we mounted my birthday telescope and had spectacular views of the full moon and -this was very special- of Jupiter with 4 of his moons!
14.10.00 Jutta und ich haben uns Zeit für einander genommen in einem sehr schönen, schicken Shopping Center währen Volker mit Hilfe von Tom die Kisten und Taschen mit allem gepackt hat, was wir zurück nach Deutschland bringen möchten. Am späten Nachmittag haben wir ein ausgezeichnetes Steak-Abendessen im Restaurant Outback Steakhouse genossen. Zuhause haben wir dann mein Geburtstagsteleskop aufgebaut und ganz tolle Details auf dem Mond beobachten können, aber ganz besonders war, daß wir Jupiter mit seinen vier Monden sehr gut sehen konnten!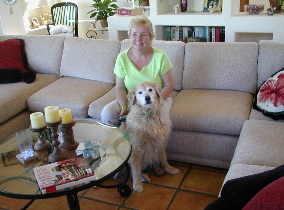 . . . . .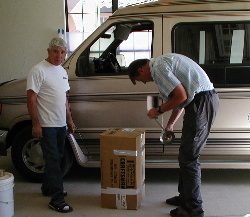 Jutta and Dixie in the living room; Tom and Volker closing the boxes / Jutta und Dixie im Wohnzimmer; Tom und Volker schließen die Kartons.
15.10.00 On our last day, we all hiked through Sonoran Desert in the Cave Creek Recreation Area just 8 km away from Tom and Jutta's home (10 km, 3 hours). To our delight, Tom, the "Desert Rat", knew all the trees, cacti, and shrubs of this area. In the evening we had a marvelous steak dinner. Tom grilled the steaks on mesquite wood and they were absolutely delicious! After getting our camper set up for a month's rest at Tom and Jutta's place during our absence, they drove us to Sky Harbor Airport, Phoenix, Arizona. We are very sad to leave, but we will come back in a month, and this makes us very happy.
15.10.00 An unserem letzten Tag haben wir gemeinsam eine Wanderung in der Sonora-Wüste im Cave Creek Recreation Area - nur 8 km von Jutta & Toms Haus entfernt - unternommen. Zu unserer großen Freude kennt sich Tom, die "Wüstenratte", sehr gut mit Bäumen, Büsche und Kakteen der Gegend aus. Abends haben uns beide ein ganz tolles Steakdinner zubereitet. Tom hat wunderbare Steaks auf Mesquite-Holz gegrillt, und die haben absolut fantastisch geschmekt! Nachdem wir unser Wohni für die einmonatige Pause bei Jutta und Tom fertiggestellt haben, wurden wir von den beiden zum Sky Harbor Flughafen, Phoenix, Arizona, gefahren. Wir sind sehr traurig, von hier wegfliegen zu müssen, aber wir kommen ja in einem Monat zurück, so daß uns das wiederum glücklich macht.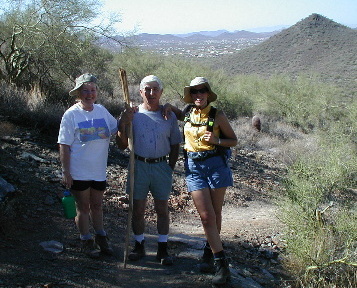 . . . . .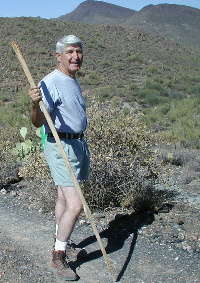 Jutta & Tom Marquez, Cave Creek Recreation Area; Tom, the "Desert Rat".
16.10.00 Flight Phoenix, AZ to Hamburg, Germany. Our flight schedule today:
Phoenix, AZ - Dallas/Fort Worth, TX: 1:25 AM - 5:28 AM
Dallas/Fort Worth, TX - Baltimore, MD: 8:06 AM - 11:57 AM
Baltimore, MD - London Gatwick, GB: 5:40 PM - 6:00 AM on next day (17.10.00)
London Gatwick, GB - Hamburg, Germany : 8:40 AM - 11:25 AM
We took advantage of the few hours we between flights in Baltimore to take the light rail to the downtown area. We enjoyed the fresh air, the lively atmosphere, and good food at Paul's Restaurant.
16.10.00 Flug von Phoenix, AZ nach Hamburg, Germany. So sieht unser Flugplan aus:
Phoenix, AZ - Dallas/Fort Worth, TX: 1:25 - 17:28 Uhr
Dallas/Fort Worth, TX - Baltimore, MD: 8:06 - 11:57 Uhr
Baltimore, MD - London Gatwick, GB: 17:40 - 6:00 Uhr am nächsten Tag, 17.10.00
London Gatwick, GB - Hamburg, Germany : 8:40 - 11:25 Uhr
Wir haben die paar Stunden in Baltimore ausgenutzt, um die S-Bahn bis in die Innenstadt zu nehmen, wo wir dann die frische Luft, die belebte Atmosphäre und das gute Essen im Restaurant Paul's genossen haben.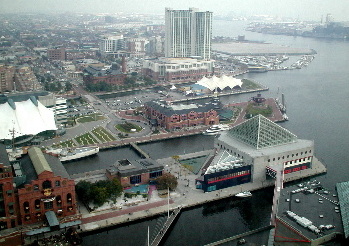 . . . . .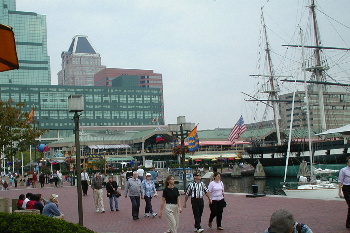 Baltimore, Maryland: Inner Harbor
_______________________________________________________________________________
Many people contributed to make our trip more interesting, more pleasant and something really special:
We want to thank my uncle Jack and my cousin Andy Trout for giving us major help planning our trip in the US. Also thanks to all friends and relatives who welcomed us in their home, especially my uncle Uri Gat and his wife Ruthi in Oak Ridge, Tennessee, my uncle Jack Trout in Mammoth Lakes, California, my great cousin Mikey Levy in Mill Valley, California, our friends Farrel and Manetta Lytle in Eagle Valley, Nevada, Jail & Gail Kemp, and Jim & Dawn in Albuquerque, New Mexico, and, of course, Jutta & Tom Marquez in Phoenix, Arizona.
Viele Leute haben dazu beigetragen, daß unsere Reise noch interessanter, angenehmer und etwas ganz besonderes wurde: Wir möchten meinem Onkel Jack und meinem Cousin Andy Trout für die große Hilfe bei der Planung der Reise in den USA danken. Auch sind wir allen Verwandten und Freunden sehr dankbar, die uns so herzlich empfangen haben, insbesondere meinem Onkel Uri Gat und seine Frau Ruthi in Oak Ridge, Tennessee, meinem Onkel Jack Trout in Mammoth Lakes, California, meinem Großcousin Mikey Levy in Mill Valley, California, unseren Freunden Farrel und Manetta Lytle in Eagle Valley, Nevada, Jail und Gail Kemp, Jim und Dawn in Albuquerque, New Mexico, und, natürlich, Jutta & Tom Marquez in Phoenix, Arizona.
_______________________________________________________________________________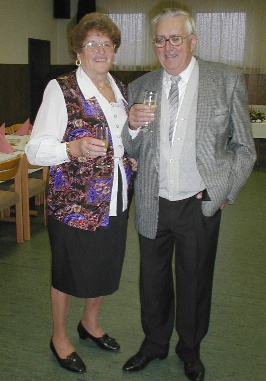 . . . . .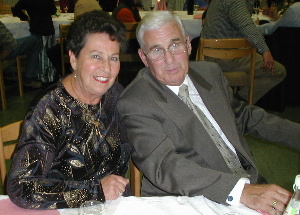 20.10.00: Birthday party of Volker's mother, Ria, in Nordheim, Germany. Left: Ria & Adolf Biebesheimer, right: Joanna & Carlos Vangenechten / 20.10.00: Geburtstagsfeier von Ria, Volkers Mutter, in Nordheim. Links: Ria & Adolf Biebesheimer; rechts: Joanna & Carlos Vangenechten.
back to homepage / zurück zur Homepage
to previous page / zur vorigen Seite