A very intimate toilet in the middle of a field
"Monte da Chaminé" Roman ruins of a villa dating from the 1st Century a.C.
We have no idea what they are growing in this area, but there is a lot going on here!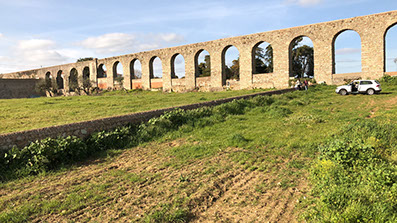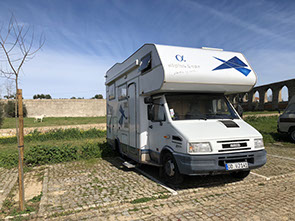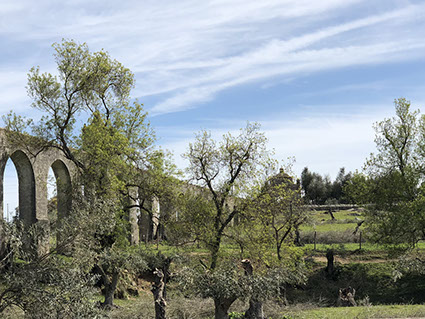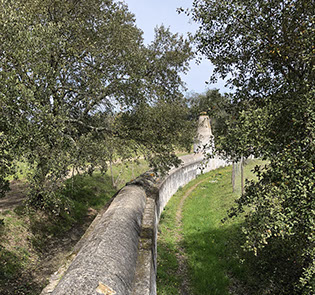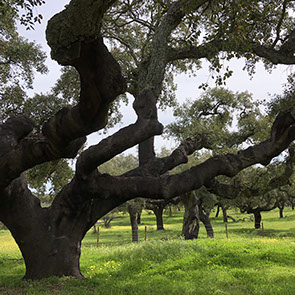 Parked and overnight stay at the Aqueduct Água da Prata
The landscape along the aqueduct is awesome, especially now in the spring time with all the wild flowers
Most of the aqueduct was built in the 16th century by João III. During the Spain-Portugal war, many parts were destroyed. In the 19th century, it was rebuilt with some different structures. It still works!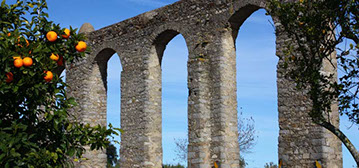 Friday 30.03.2018: Loulé - Ferreira do Alentejo (alt 122 m): 157 km - cloudy with some rain and too much wind, cold although 17ºC
Today is an Easter Holiday in Portugal. Drive from Loulé to Ferreira do Alentejo. Ferreira do Alentejo is a town and a municipality in Beja District in Portugal. The population in 2011 was 8,255 in an area of 648.25 km. We parked and overnight at the Parking of the Piscinas Municipais. After a good Grünkohl meal (swapped with Alice who took my feijoada ;)). After lunch we had an ice cream and coffee at the "Marvel Café" (good and nice). Then we walked the PR1 to the Roman ruins of Monte da Chaminé (11 km, 3 hours with nasty cold and strong wind). On our way back Julia had a icy coke before going back to our camper. It rained afterwards and we were soooo happy to be in our cosy home again. N38º3'25" W8º7'11"
Saturday 31.03.2018: Ferreira do Alentejo - Évora (alt. 306m): 57 km - cloudy 17ºC
Drive to Évora and parked at the Railway Station (very modern!). Bike tour on Ecopista from Rua de Timor to the village of Ariolos (48 km round trip 139 m ascension), with a stop at the Café Ecopista (twice). Drove up to the north of town and parked at the aqueduct. In the evening we made a stroll through the lovely old town of Évora with an ice cream first and then wine tasting at the Xafarica (Alcarcova de Baixo 41, Evora 7000-841) where we had special red wines Cabaço and Ponte das Canas -for my, Julia's, personal taste, too strong (Tiago Cabaço Vinho do Alentejo Alicante Bouschet 2014 - Pontes das Canas: Herdade do Mouchão e resulta de Alicante Bouschet, Touriga Nacional, Touriga Franca e Syrah) with a tasty platter of alentejano cheese. Overnight N38º34'36" W7º54'54" along the aqueduct.
Sunday 01.04.2018: Easter Holiday! Évora 20ºC partly sunny and cloudy
Late breakfast and walk along the aqueduct Água da Prata (12 km, 3,5 hours). It is advisable to start in the centre of Évora and walk along the high arches up to where the aqueduct disapears. Then to drive to acces "Access B" and walk to "Access C". We took a taxi from there to our camper (10€). After a good shower and a short siesta we had dinner at the restaurant "O Sobreiro" (open from 12 am to 22 pm!, good Alentejano food, 30€). After that a Queijada de Évora at the Café Arcada/Cervejaria at the Praça do Giraldo nº 7 (the main square). Then still an ice-cream at the Fábrica de Gelados (very good).
Monday 02.04.2018: Évora - Loulé: 237 km - cloudy, rainy 18ºC
Drive back home.