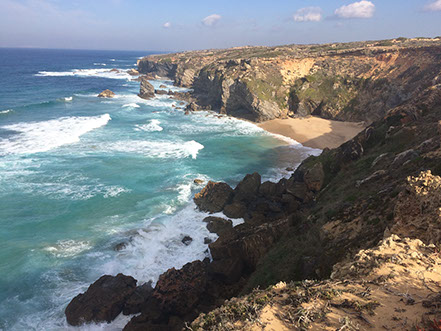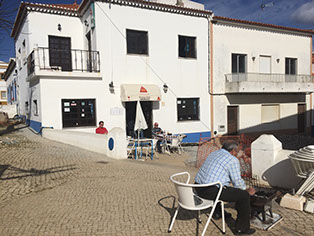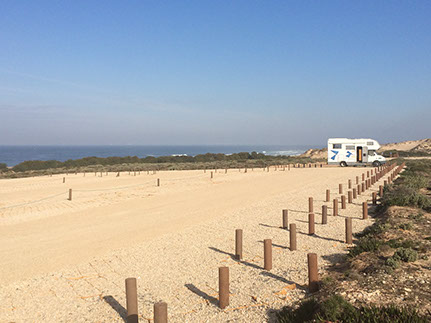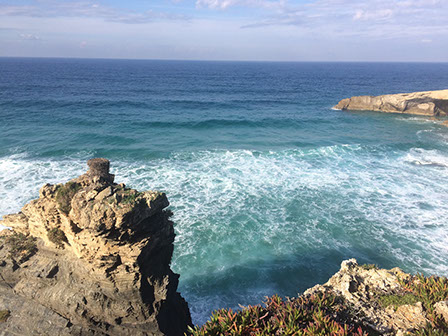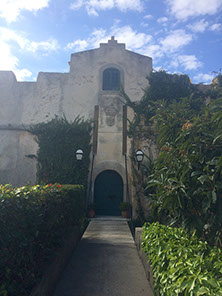 Nice restaurant "Morais" south of Vila Nova de Milfontes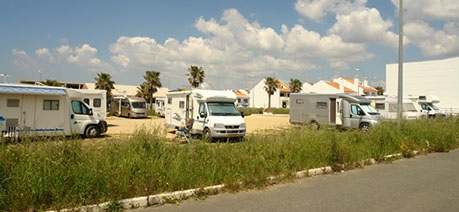 Motor caravan aire in Porto Côvo (free of charge) next to the market
Perfect overnight stay at the Praia do Malhão. From there we walked to V.N. de Milfontes


Stork nest, unfortunately empty right now
Restaurante da Ilha at Praia da Ilha do Pessegueiro
Thursday 19.01.2017: Loulé - São Bartolomeu de Messines: 44 km - sunny cold
Overnight at official aire. N 37º15'14" W 8º17'4"
Friday 20.01.2017: S.B. de Messines - Porto Côvo: 119 km - sunny cold 10ºC
Breakfast with fresh little breads, walk through Messines and short hike up to the hill (PR1 SLV) 4 km, 1 hour. Nice coffee at "Sabores da Vila". Leaving the aire we noticed we had battery problems. We got a new one at Sequeira & Filhos (282 330 457) and they even installed it in our camper (186 €) after lunch. Drive via Santa da Serra to Porto Côvo. Arrival at 18:00. N37º51'7" W 8º47'24".
Saturday 21.01.2017: Porto Côvo: 16ºC sunny
Volker walked the stretch from Cercal do Alentejo to Porto Côvo (19 km) but we met at the Restaurante da Ilha at Praia da Ilha do Pessegueiro before walking together back to Porto Côvo. We had a good lunch (Pargo no forno for 2 with good appetizers for 40€). Overnight at the same place after having a coffee and visiting the Hotel Porto Côvo.
Sunday 22.01.2017: Porto Côvo - Praia do Malhão Sul: 16km, sunny 16ºC then in the afternoon 1 hour rain
Drive to Praia do Malhão were we parked at the super new parking lot. Hike to Vila Nova de Milfontes harbour. Very nice light lunch at the Restaurant Morais next to the São Clemente fort (Couvert with ameijoas). With taxi Helder back to our camper (13,50 €). Overnight at Praia do Malhão Sul N37º46'52" W8º48'1"
Monday 23.01.2017: Praia do Malhão - Lago Santo André -Praia Costa Santo André - Loulé: 247 km, nice weather, cold wind 14ºC
Drive to Lango Santo André, short walk (3,5 km 1 hour). At Praia Costa Santo André we had lunch in the camper then drove back home.
Total: 425 km