04.02.10 Loulé – Castro Marim: 45 km (rainy 14 ºC)
We left at 22:00 and, as usual, drove the first part to CASTRO MARIM. Arrival at 22h45.
04.02.10 Loulé – Castro Marim: 45 km (regnerisch 14 ºC)
Wie üblich, die erste Etappe bis Castro Marim. Abfahrt 22.00 Uhr, Ankunft 22.45 Uhr.
05.02.10 Castro Marim – Algeciras – Tanger – Assilah: 355 km (sunny 20 ºC)
We got up very early this morning and left at 6:00 am Portuguese time/7:00 am Spanish time and arrived in Algeciras at 11.00 am. Distance of driving from our home in Loulé to Algeciras harbour: exactly 400 km! Grocery shopping at the Carrefour of Los Barrios. Then we bought our tickets for the ferry at the Agency "La Normandie". We got a really cheap price: 120€ return ticket for the motorcaravan and 2 people with the express ferry ACCIONA which left at 14:00 local time (i.e. 13.00 Portuguese/Moroccan time). This ferry only takes about 1,5 hour to cross the strait of Gibraltar. In Tanger we got through customs pretty fast this time (compared to 2006 when it took over 2,5 hours!). We drove to the supermarket Marjane and were so surprised to find a huge new supermarket with a big assortment and we bought the things we were longing for in Morocco: olives, dried fruit etc. Drive to Assilah on the freeway (15 Dirham dh » 1,35 €) and overnight place at the camping where we have been the time before, although it looks very run down (100 dh/night). We then walked into town and had a delicious dinner at the restaurant LA PLACE with loup de mer and brochette de poisson which were delicious (240 dh » 22 €). After that we strolled through the medina and parts of the town that are really nice and that we didn´t know of before. (GPS N 35º 28.31 – W 06º 1.72')
05.02.10 Castro Marim – Algeciras – Tanger – Assilah: 355 km (sonnig 20 ºC)
Wir sind heute sehr früh aufgestanden und um 6.00 Uhr portugiesischer Zeit bzw. 7.00 Uhr spanischer Zeit losgefahren. Um 11 Uhr waren wir in Algeciras. Wir haben noch Einkäufe im Marjane gemacht, ein super-günstiges Fährticket hin- und zurück für das Wohni plus 2 Personen für nur 120 € mit der schnellen Fähre bei der Agentur "La Normandie" bekommen. Unsere Fähre fuhr um 14:00 lokale Zeit (d.h. 13:00 portugiesische bzw. Marokkanische Zeit und brauchte nur 1,5 Stunde für die Überfahrt. In Tanger angekommen, sind wir diesmal verhältnismäßig schnell durch den Zoll gekommen (verglichen mit den über 2,5 Stunden, die Früchte etc. gekauft. Fahrt nach Assilah über die Autobahn (Mautgebühr 15 Dirhalm DH » 1,35 €) und Übernachtung in dem gleichen Campingplatz wie letztes Mal, nur das es vollkommen verlassen aussieht (100 dh/Nacht). Wir sind noch in die Stadt reingelaufen und haben sehr gut im Restaurant La Place gegessen (loup de mer und Fischspieß für 240 DH (» 22 €). Danach Spaziergang durch die Medina und durch Stadtteile, die wir noch gar nicht kannten und die sehr hübsch sind. (GPS N 35º 28.31 – W 06º 1.72')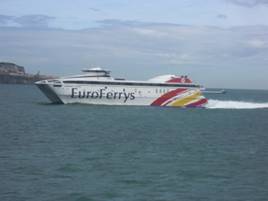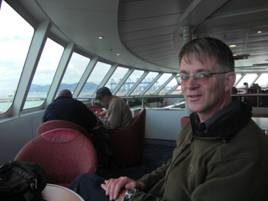 Algeciras-Tanger: Crossing the strait of Gibraltar in only 1,5 hours with these modern and fast catamarans. / Angeciras-Tanger Überfahrt mit diesen schnellen Catamarans in nur 1,5 Stunden braucht.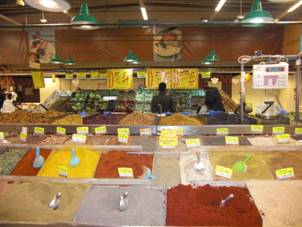 Spices stand in the supermarket MARJANE in Tanger. / Der Gewürzstand im Supermarkt MARJANE in Tanger.
06.02.10 Assilah – Dar Bouazza (Casablanca): 334 km  (first misty then sunny, 22 ºC)
Drive to Casablanca where we parked direct in front of the impressive Hassan II Mosque that is the second largest mosque in the world! Unfortunately we missed the guided visit, as it is the only mosque in Morocco that can be visited by non-Muslims. A taxi drove us to the Mohammed V Square where we strolled through the café and ice-cream streets up to the old medina. We had a good ice cream at the ice-cream parlour "Glaces Prince" and afterwards a coffee "cassi" at Eden Ice, both on Place 16 Novembre. Walk from the medina up to the port and then back to our coach. Drive West to Dar Bouazza to « La Desserte de la Plage » where we first parked on a parking lot (3 dh) to visit a fair ground (again 3 dh). We had dinner with Moroccan snack (humus and Gebneh kafta) s and then got back to our camper. But we could not stay in the parking lot overnight, so we went to what we thought should be a campground next to fair ground (50 dh) .(GPS: N 33º 32.373 - W 7º 46.148)
06.02.10 Assilah – Dar Bouazza (Casablanca): 334 km  (erst neblig dann sonnig, 22 ºC)
Fahrt nach Casablanca, wo wir direkt bei der imposanten Hassan II Moschee, die auch die zweitgrößte der Welt ist, geparkt haben. Leider haben wir die Besuchszeiten verpasst, da auch diese Moschee die einizige in Marokko ist, die man als nicht-Muslime besuchen kann. Mit einem Taxi sind wir zum Mohammed V Platz gefahren und sind dort in den Straßen spazieren gegangen, haben sehr leckeres Eis bei Glaces Prince gegessen und einen schönen Kaffee "cassi" im Eden Ice eingenommen, alles auf der Place 16 Novembre. Danach sind wir noch durch die alte Medina spazieren gegangen und anschließend zu Fuß zum Wohni zurück. Fahrt nach Dar Bouazza zur La Desserte de la Plage, 19 km westlich von Casablanca, wo wir uns erst auf einem normalen Parkplatz installiert haben (3 dh) der für ein Rummel da war (nochmal 3 dh). Marokkanische Snacks (Humus und Gebneh kafta) im Resto des Rummels gegessen. Anscließend mussten wir leider weg vom Parkplatz und somit sind wir zu dem "Campingplatz" neben dem Rummel gefahren (50 dh). (GPS: N 33º 32.373 - W 7º 46.148)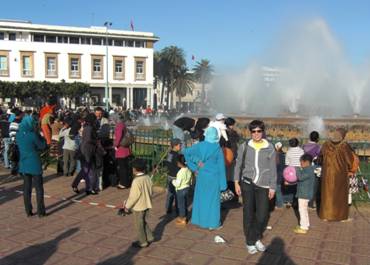 Casablanca: the second largest mosque in the world: Hassan II.                                                                                              Mohammed V Square
Casablanca: Die zweitgrößte Moschee auf der Welt: Hassan II.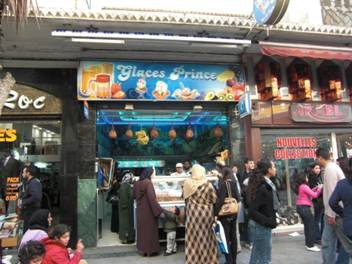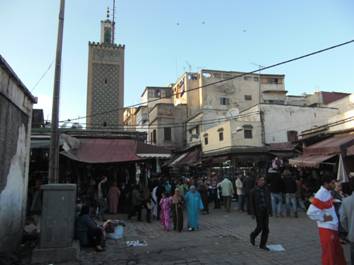 Casablanca: there are many ice parlours in town.                                                      Casablanca: The old medina./ Die alte Medina.
Casablanca: Es gibt viele Eisdielen in dieser Stadt. 
07.02.10 Dar Bouazza – Essaouira: 353 km (sunny, 22 ºC)
Drive to Al-Jadida where we visited the Cité Portugaise (Portugese old town), then a lunch stop in Dar Jamâa at a road restaurant "Restaurant de France" where we had a tagine (what else?), kafta and drinks for 70 dh. Drive to Essaouira where we settled at the parking lot at the fishing harbor with lots of stands serving fish (40 dh/day and night). Our camper was washed for 60 dh. We made a stroll through the old medina until sunset before resting in our camper. (GPS N 31º 20.617' – W 9º 46.32'). We have been driving a lot these 2 last days
07.02.10 Dar Bouazza - Essaouira: 353 km (sonnig, 22 ºC)
Fahrt nach Essaouira mit einem Mittagessen-Stopp in Dar Jamâa, wo wir eine Tagine (was sonst?) und Kafta zu Mittag gegessen haben im Restaurant de France (70 dh für Essen und Getränke). Übernachtung am Fischerhafen von Essauoira (40 dh/Tag und Nacht). Wagenwäsche für 60 dh. Spaziergang durch die alte Medina bis zum Sonnenuntergang. (GPS N 31º 20.617' – W 9º 46.32').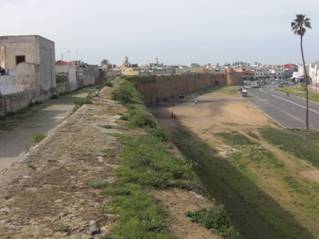 Al-Jadida: Cité Portugaise. Right picture: sun reflection in the so-called cistern. Bild rechts: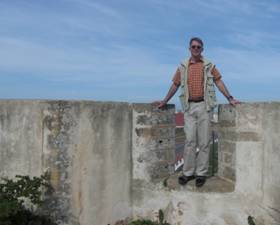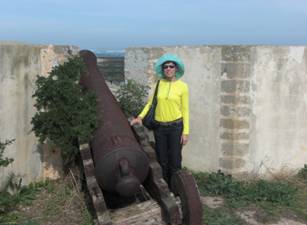 Al-Jadida: Cité Portugaise.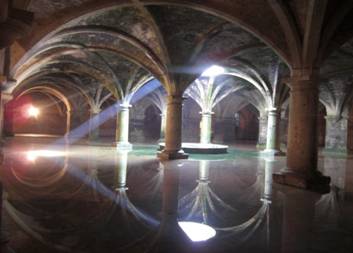 Al-Jadida: sun reflection in the so-called cistern in the Cité Portugaise.
Al-Jadida: Sonnenreflektionen in der sogenannten Cisterne.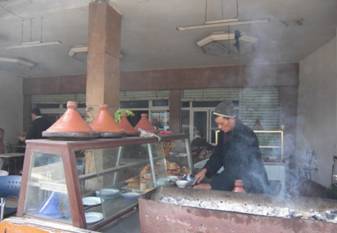 Tagine lunch on a road restaurant in Dar Jamâa. / Tagine Mittagessen an einem einfachen Resto an der Straße in Dar Jamâa.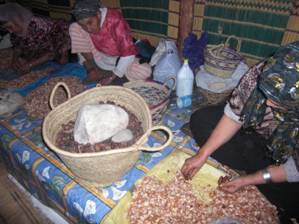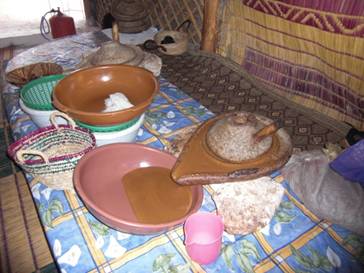 Argan oil production at Essaouira / Arganöl-Herstellung bei Essaouira.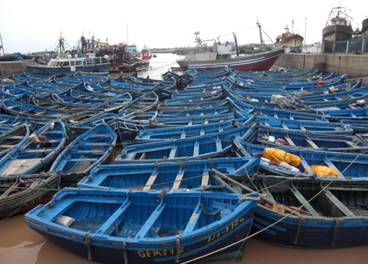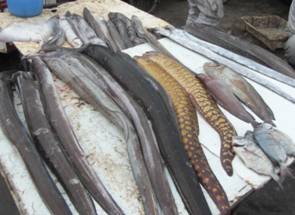 Fishing harbour in Essaouira / Fischerhafen in Essaouira.
back to homepage / zurück zur Homepage
to previous page / zur vorigen Seite                   to next page / zur nächsten Seite