12.02.10 Agadir – Tafraoute: 170 km  (cloudy and then sunny 18 ºC)
After saying Good Bye to Mustafa we took off towards Tafroute at 11:30. Through beautiful landscapes, gorgeous panoramic views over the Anti-Atlas mountains we passed Idaougnidif where we visited the fortified village (10 dh/Person) and had lunch somewhere on the way. When we arrived in Tafraoute, we were surprised to find a huge, paradise-like place for campers just next to the "3 Palmiers". It only costs 10 dh/night which is paid to a guard that is on the grounds. GPS: N 29º 43.312 W 08º 59.068
12.02.10 Agadir – Tafraoute: 170 km (bedeck dann sonnig 18 ºC)
Nachdem wir uns in Agadir von Mustafa verabschiedet haben, sind wir um 11.30 Uhr wieder los gefahren. Über wunderschöne Landschaften, atemberaubenden Panorama auf die Berge des Anti-Atlas sind wir nach Tafroute über Idaougnidif gefahren, wo wir auch eine alte Wehrstadt besichtigt haben (10 dh/Person). In Tafraoute angekommen, haben wir einen riesigen, paradiesischen Stellplatz gefunden, genau neben dem Campingplatz "3 Palmiers". Es kostet nur 10 dh/Nacht, die man an einen Wächter gibt, der sich hier aufhält. GPS: N 29º 43.312 W 08º 59.068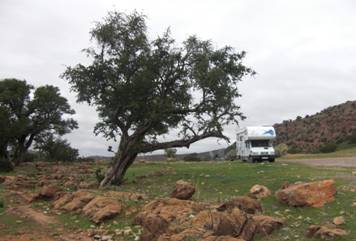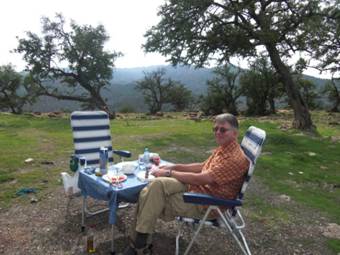 Lunch on the way to Tafraoute./ Mittagessen auf dem Weg nach Tafraoute.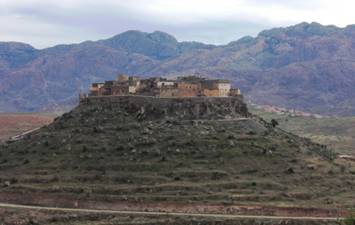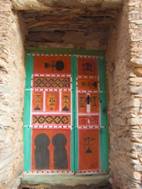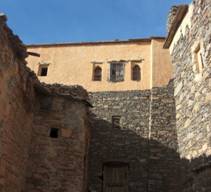 Idaougnidif: Kasbah Tizourgane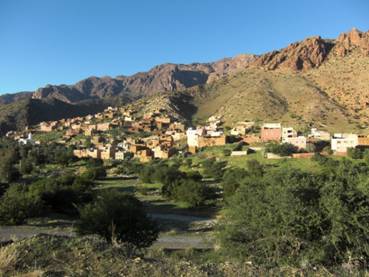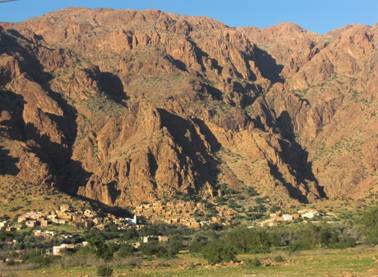 Traditional Anti-Atlas villages close to Tafraoute. / Traditionnelle Anti-Atlas Dörfer in der Nähe von Tafraoute.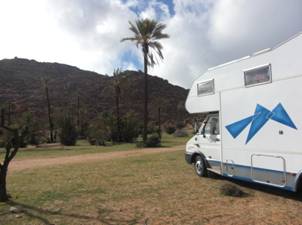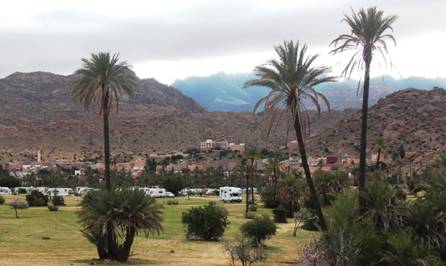 Tafraoute: Our overnight stay on the huge oasis plain. / Unser Übernachtungsplatz auf einer riesigen Oase.
13.02.10 Tafraoute (all day light rain with sunshine! 17 ºC)
First we explored the gorgeous oasis around us and walked to the old town of Tazka where we visited an original old Berber house (10 dh/person). The owner, Mr. Mahfoud, wo spent his childhood in this house and made a beauty of it, can thus explain how everything worked and works nowadays. It is really worthwhile visiting it, so when you are there, please go and visit it: Mahfoud, +212-(0)673 82 90 54 (maisonberbere30@yahoo.fr). After that we went into the town of Tafroute and had a delicious meal in the very nice Restaurant Marrakech, N128, R. Nahda, Tel. +212 (0) 663 22 92 50. I recommend the Vegetarian couscous with lots of delicious veggies (menu for 60 dh/Person). Overnight stay in the same place as yesterday.
13.02.10 Tafraoute (den ganzen Tag Nieselregen mit Sonne! 17 ºC)
Erkundung der tollen Oase, die uns umringt und Spaziergang bis zur alten Stadt Tazka, wo wir auch einen authentisches altes Berber-Haus besichtigt haben (10 dh/Person). Der Besitzer, der dort auch als kind gelebt hat, hat das Haus mit den alten Werkzeugen eingerichtet und erklärt, wie alles funktioniert hat. Es war absolut sehenswert und interessant. Also, wenn Ihr mal dorthin kommt, bitte unbedingt sein Berber-Haus besuchen: Mahfoud, +212-(0)673 82 90 54 (maisonberbere30@yahoo.fr). Danach sind wir in die Stadt Tafroute gelaufen und haben sehr gut gegessen im Restaurant Marrakech: N128, R. Nahda, Tel. +212 (0) 663 22 92 50. Empfehlenswert: Couscous végétarien, also nur mit leckeren Gemüse (Menü 60 dh/Person). Übernachtung am gleichen Platz wie gestern.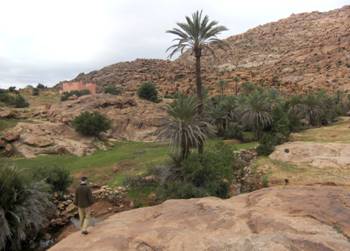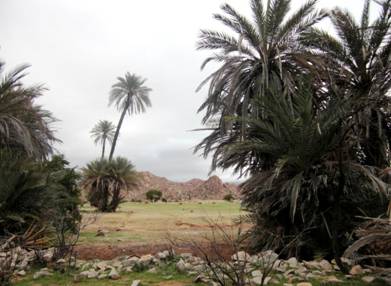 Tafraoute: Walking through the oasis. / Tafraoute: Spaziergang durch die Oase.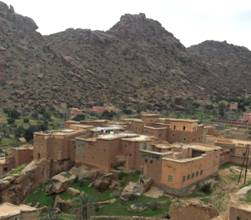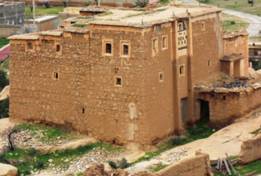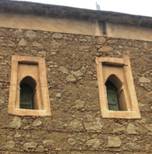 Old town of Tazka. / Das alte Dorf Tazka.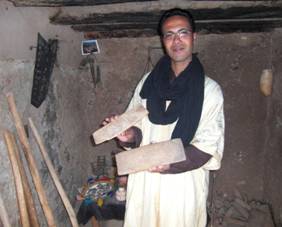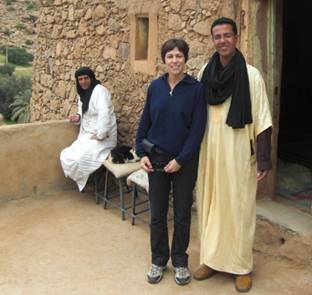 Tazka:Visiting an old Berber house with Mahfoud who spent his childhood here. On the right picture he is showing the old Berber notary register written on Argania wood tablets. /
Tazka: Besuch eines alten Berber-Haus mit Mahfoud, der seine Kindheit hier verbracht hat. Auf dem rechten Bild zeigt er die alten notariellen Berber-Register, die auf Arganienholz geschrieben sind.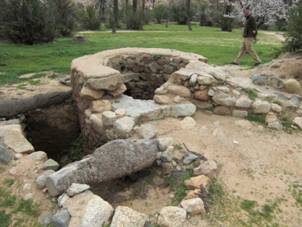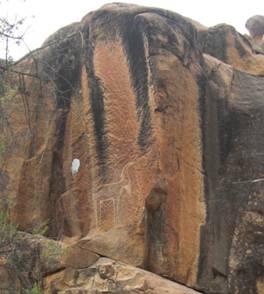 Tafraoute: One of many wells in the oasis and old petroglyph. / Tafraoute. Ein von vielen Brunnen in der Oase und alte Felseinritzung.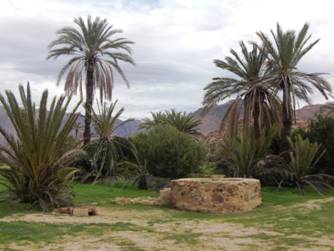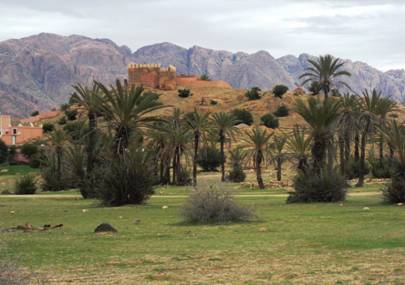 Some pictures of the fary tale landscape around us. / Und nochmal einige Bilder von der märchenhaften Landschaft, die uns umgibt.
14.02.10 Tafraoute (first sunny then cloudy + light rain, 18 ºC)
Bicycle tour to the painted rocks: 27 km and 300 m height. After having lunch (Moroccan spaghetti) and an extended siesta we went for a stroll through Tafraoute and drank a "noss-noss" (= ½ coffee ½ milk in a small glass). Overnight stay on the same place as the last two nights: GPS: N 29º 43.312 W 08º 59.068
14.02.10 Tafraoute (vormittags sonnig, dann bewölkt und leichter Regen, 22 ºC)
Fahrradtour zu den bemalten Steinen: 27 km und 300 m Höhenunterschied. Nach dem Mittagessen (marrokanische Spaghettis) und einer verlängerten Siesta haben wir noch einen Rundgang in Tafroute gemacht und einen "Noss-Noss" (= ½ Kaffee mit ½ Milch in einem kleinen Glass) getrunken. Übernachtung am gleichen Ort wie die letzten zwei Nächte: GPS: N 29º 43.312 W 08º 59.068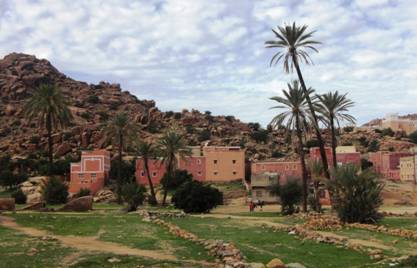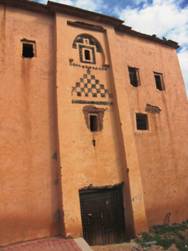 Oasis village and the front of a "rich" Berber house at Tafroute. / Ein Oasendorf und die Fassade eines "reichen" Berber-Hauses bei Tafroute.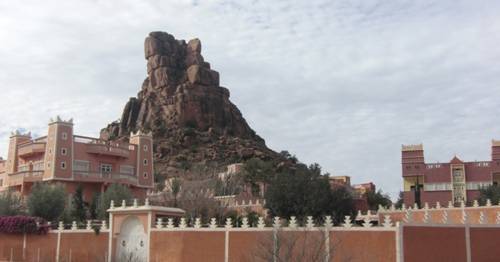 Agard Oudad close to Tafraoute: Famous rock formations, here "Napoleon´s Hat" (and the impressive houses around it).
Agard Oudad bei Tafraoute: Berühmte Felsformationen, z.B. "Napoleons Hut" bei Tafroute. Bemerkenswert sind auch die tollen Häuser umrum.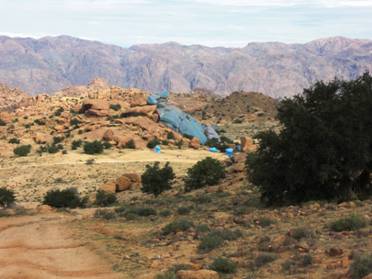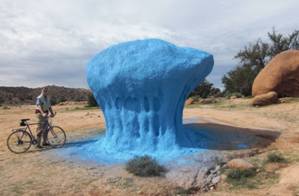 Painted rocks: by Belgian artist Jean Verame in 1984. They were just repainting the stones when we were there!
Bemalte Granitblocklandschaft: vom belgischen Künstler Jean Verame. Als wir da waren, wurden die Steine gerade neu bemalt!
back to homepage / zurück zur Homepage
to previous page / zur vorigen Seite to next page / zur nächsten Seite