Checking the Algarve
back to homepage / zurück zur Homepage
1. visit: January 13 - 27, 2003
A last minute ticket for 99 Euros p.p. took us to Faro. With our rental car we explored all the Algarve, especially looking for houses, plots, business opportunities, etc, and the place where we would like to live. Our first stay was at "Amadeus" in Alcalar near Portimão. After visiting with Thierry and Ivone Tacoen in Lisbon, we moved on to Tavira on the East Algarve. The last 3 days we spent in Albufeira Jardim II - where we especially enjoyed the gorgeous sunrises on Albufeira.
13. - 27.01.03: 1. Besuch der Algarve
Mit einem Last-Minute-Ticket für 99 Euros sind wir am 16.01.03 in Faro gelandet. Mit unserem Mietwagen haben wir die ganze Algarve exploriert. Wir haben uns nach Häusern, Grundstücken und Geschäftsideen umgesehen. Die erste Woche haben wir im "Amadeus" bei Alcalar in der Nähe von Portimão verbracht. Nachdem wir Thierry und Ivone Tacoen in Lissabon besucht haben, haben wir drei Tage in Tavira gewohnt, danach im Albufeira Jardim II, von wo aus wir die wunderschönen Sonnenaufgänge über Albufeira beobachten konnten.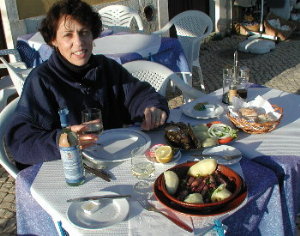 . . . . . . . . . . .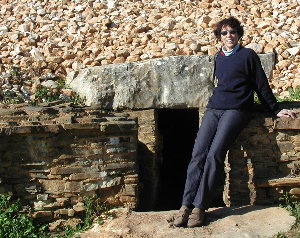 How nice to be able to lunch outside, Portimão / Wie schön ist es im Januar draußen mittagessen zu können, Portimão
Visiting the megalyth ruins in Alcalar / Besuch der megalythischen Ruinen in Alcalar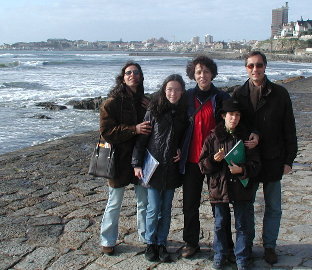 . . . . . . . .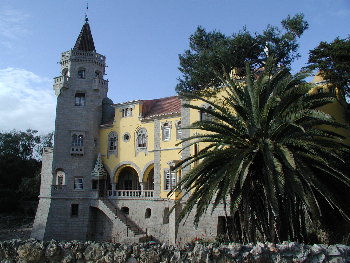 Visiting Cascais with Ivone, Jessica, Isadora, and Thierry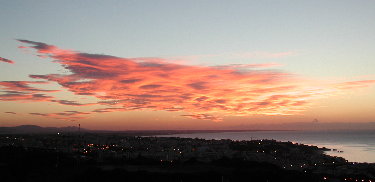 . . . . . . . . . . .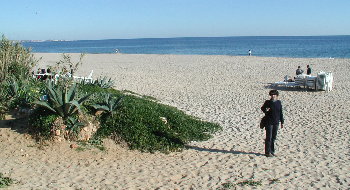 Julia loved to see the sunrise over Albufeira from our apartment / Julia genoss jeden Morgen den Sonnenaufgang auf Albufeira von unserem Appartment / On the "Meia Praia" beach at Lagos / Am Strand "Meia Praia" bei Lagos.
back to homepage / zurück zur Homepage
to next page / zur nächsten Seite