Alentejo:
Estremoz, Reguengos de Monsaraz, Monsaraz, Beja
back to homepage / zurück zur Homepage
---
Estremoz, Reguengos de Monsaraz, Monsaraz: September 6, 2004
Drive to Estremoz where we actually didn't intend to stop, but we were forced to enter into town to find a gasoline station. We parked the motorhome on the big market place called "Rossio" and walked up to the medieval hilltop castle. The former royal palace has now been converted to a sumptuous pousada, but you can go up the stairs to the tower -except on Mondays, and that's why we'll have to leave it for next time... Everywhere you look, there is marble, even the parts of the streets are made with marble! On our way out we were able to see at least 2 marble factories. We carried on to Redondo where we had lunch at a reservoir which is supposed to get developed with houses and a golf course in a near future. Our next destination was Reguengos de Monsaraz where there are two famous wineries. We chose to visit the Herdade de Esporão which is in operation for some 700 years and produces up-market wines for the domestic market. After having tried some wine and bought two bottles, we managed to continue towards Monsaraz, stopping at two megalithic monuments we were able to find. The only information we had was an imprecise leaflet which was handed out to us by the tourist office in Reguengos de Monsaraz. At last Monsaraz was on our program for today. This fortified hilltop village is already visible from miles around. We found an excellent parking and overnight place on the premisses of the fortress of Monsaraz with spectacular views on the new reservoir which is bound to the Rio Guadiana.
Estremoz, Reguengos de Monsaraz, Monsaraz: 06. 09. 04
Fahrt nach Estremoz, was wir gar nicht vor hatten zu besichtigen, aber da wir keine Tankstelle unterwegs gefunden hatten und es nun dringend wurde, sind wir in die Innenstadt rein gefahren. Das Wohni haben wir auf dem großen Platz "Rossio" abgestellt und sind hoch zum Schloss mit dem Burgfried gegangen. Ein Teil der Festung ist heute der Pousada da Rainha Santa Isabel vorbehalten, aber man kann - außer Montags wie wir heute - hoch zum Turm gehen. Wo man hinschaut, sieht man Marmor. Sogar die Bordsteinkanten und manche Straße sind aus Marmor gemacht! Als wir aus der Stadt raus gefahren, sind wir auch an zwei Marmor-Bergbauwerken vorbeigefahren. Danach nach Redondo, wo wir an einem Stausee, das als Golf-Siedlung ausgebaut werden soll, unser Mittagessen eingenommen haben. Unser nächstes Ziel war Reguengos de Monsaraz, wo es grundsätzlich zwei Weingüter gibt. Wir haben uns für die Herdade de Esporão entschlossen, die hochklassige Weine für den Innenmarkt produziert und schon ca. 700 Jahre mit der Weinproduktion vertraut ist. Nachdem wir einige Proben durch gestanden haben, haben wir zwei gute Flaschen gekauft und haben es noch geschafft in Richtung Monsaraz zu fahren und dabei wenigstens zwei der megalithischen Monumente zu finden, die auf dem Weg sind. Leider hatten wir nur ein Prospekt mit ungenauen Ortsangaben der Dolmen und Menhire von der Tourist Information in Reguengos de Monsaraz erhalten. Als letztes hatten wir Monsaraz heute noch auf dem Programm. Dieses befestigte auf einer Anhöhe gelegene Dorf ist schon von weitem sichtbar. Wir fanden einen ausgezeichneten Stellplatz mit tollem Blick auf den neuen Staudamm, das mit dem Rio Guadiana verbunden ist.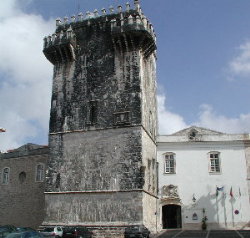 . . . . .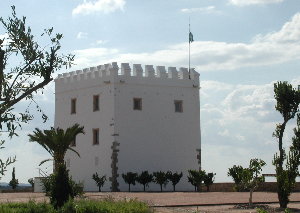 On the left: Estremoz with its 13th century castle and the keep. On the right: the winery Herdade do Esporão near Reguengos de Monsaraz. / Linkes Bild: Estremoz mit dem Kastell und dem Burgfried aus dem 13. Jh. Rechts Bild: Das Wahrzeichen des Weinguts "Herdade do Esporão" bei Reguengos de Monsaraz.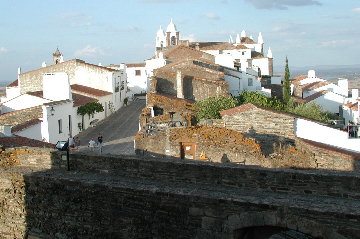 . . . . .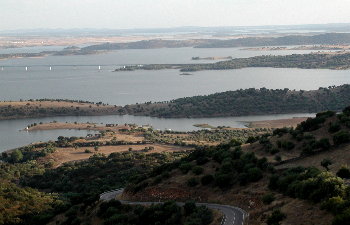 Monsaraz, an attractive fortified hilltop village (left) towering over a somnolent Alentejo landscape and the new huge reservoir from the Guadiana River (right). / Monsaraz, ein auf einer Anhöhe gelegenes Dorf, das über eine verschlafene Alentejo-Landschaft und den neuen Stausee vom Rio Guadiana thront.
---
Monsaraz - Beja - Loulé: September 7, 2004
We had been trying in vain the day before to find the Cromeleque do Xerez, but today (after asking somebody) we found it. No wonder we couldn't find it the way it was described in our books, because this megalith monument was displaced because of the new reservoir. Well, Volker had the good idea that if they wouldn't have removed this stone formations this would be a special attraction now. They could offer -in the same way than in Caesaria, Israel- to make archeological dive trips in the reservoir. Today is our last day, so we have to head home. On our way in Beja we had to bring in our camper to Iveco to get the diesel filter fixed because it was leaking. We were lucky and the manager took us for lunch to a very good restaurant serving typical regional food. We enjoyed it very much talking to the manager and learning about many things. After lunch we visited the old town of Beja with its castle, keep, pelourinho etc. Then we took a taxi that took us back to Iveco and we continued our way home driving the IP2 up to Castro Verde, then taking the motorway coming from Lisbon up to the Algarve. It took us approx. 2 hours from Beja to Loulé.
Monsaraz - Beja - Loulé: 07.09.2004:
Nachdem wir am Vortag vergeblich versucht hatten, den Cromeleque de Xerez zu finden, haben wir nun ein Dorfbewohner von Monsaraz danach gefragt. Dieser ist wegen dem Stausee umgesetzt worden, so dass die Beschreibung in unserem Reiseführer nicht mehr stimmte. Volker meinte, es wäre gar nicht so schlecht gewesen, diese Megalithkombination einfach im Stausee zu lassen, dann hätte man - ähnlich wie in Caesaria, Israel - einen archäologischen Tauchgang im neuen Stausee anbieten können... Heute ist unser letzter Reisetag, also ab nach Beja, wo wir eine kleine Reparatur (Kraftstofffilter leckt) haben ausführen lassen. Wir hatten Glück, es war Mittagszeit und der Chef bot uns an, in einem guten Restaurant, der typische regionale Küche serviert, essen zu gehen. Wir haben vorzüglich eine Lammspezialität sowie Steak vom schwarzen Schwein gegessen. War sehr interessant, uns mit ihm auszutauschen. Anschließend sind wir noch durch die Altstadt spaziert, hoch auf den Burgfried und dann mit dem Taxi zur Iveco-Werkstatt, um unseren Wagen abzuholen und nach Hause zu fahren. Wir sind die IP2 nach Castro Verde gefahren, dann auf die Autobahn, die von Lissabon kommt runter auf die Algarve gestoßen. Die Fahrt von Beja nach Loulé hat 2 Stunden gedauert.

Cromeleque do Xerez, Monsaraz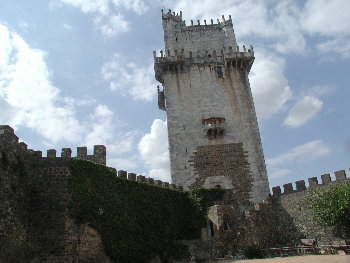 . . . . .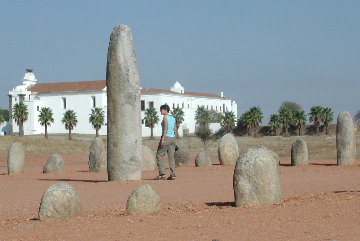 The fortress with its keep in Beja. / Die Burganlage in Beja.
back to homepage / zurück zur Homepage
to previous page / zur vorigen Seite . . . . to next page / zur nächsten Seite