Evora, Elvas (P), Cáceres (SP), Cordillera Cantábrica
back to homepage / zurück zur Homepage
---
October 4, 2004: Loulé - Evora
After spending a lot of time on our building site this morning, we finally managed to leave at about 1 PM. But then, what a surprise when Volker controlled the tires: we had a flat tire... Luckily, there was a tire repair shop just 200 m away (only the valve was damaged). So actually we left at 2 PM. We drove to Evora and found the perfect place to park and stay overnight with our motorhome, just a few minutes away from the old city center: it is located on the right of the road when leaving the inner circular road from Evora towards Estremoz. We spent a quite night on the upper level of what must once have been the foundation of some kind of fortress. But before that we had dinner and enjoyed a public amateur theater play on the main square.
4. 10. 2004: Loulé - Evora
Nachdem wir lange auf unserem Grundstück beschäftigt waren, haben wir es endlich geschafft, gegen 13 Uhr los zu fahren. Aber dann, oh Schreck, ein Hinterreifen war platt! Ein Glück, dass nur 200 m weiter eine Reifenreparaturwerkstatt unseren Reifen (oder besser das Ventil) reparieren konnten. Also konnten wir erst um 14 Uhr losfahren. Wir haben es bis Evora geschafft, wo wir einen ausgezeichneten Park- und Übernachtungsplatz nur einige Minuten von der Altstadt entfert gefunden habe: es liegt auf der rechten Seite der Ausfallstraße nach Estremoz, wenn man von dem Stadtring kommt. Nachdem wir zu Abend in der Innenstadt gegessen und ein Theaterstückaufführung auf dem Hauptplatz beigewohnt haben, folgte eine ruhige Nacht auf dem höheren Etage von dem was mal sicher früher Teil einer Burg war.
October 5, 2004: Evora - Elvas (P) - Cáceres (SP)
Actually we wanted to come further a good way today, but already at Elvas we got stuck. We found out there is a Megalith tour and the people arranged one just for us at 3 PM. So there we were off in a Nissan 4x4 with a guide that took us around the Barbacena area, showing us the best remains of dolmens etc. We also enjoyed this lovely olive tree rolling landscape and the absolute quietness of this end-of-the world place. We then drove to Spain and stopped at Cáceres where we stayed on the parking lot of the fairgrounds. A short drive into town amazed us with its dense traffic at 7.45 PM, and all the inhabitants of this town (about 85.000) must have been outside, walking on the streets or chatting in cafés!
5. 10. 2004: Evora - Elvas (P) - Cáceres (SP)
Heute wollen wir ein wenig Strecke machen. Pustekuchen. Schon bei Elvas bleiben wir stecken. Denn wir möchten an eine Megalithen-Tour teilnehmen, die dann nur für uns organisiert wird um 15 Uhr. Wir fahren also mit einer privaten Führung in einem Nissan-Allradfahrzeug in die Barbacena-Gegend rum und erkunden die besten Dolmen und genießen gleichzeitig die wunderschöne Hügellandschaft und die absolute Ruhe auf den Olivenhaine. Danach Fahrt nach Spanien bis Cáceres, wo wir auf dem Parkplatz vom Festplatz außerhalb der Stadt übernachten. Eine kurze Fahrt in die Stadt zeigte Verkehrchaos, und alle Einwohner dieser Stadt (ca. 85.000) müssen draußen beim Spazierengehen oder in Cafés gewesen sein!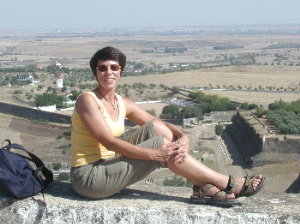 . . . . .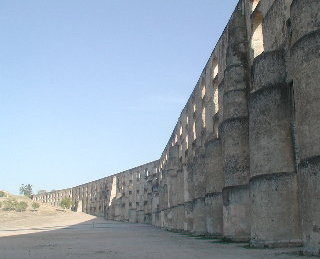 Enjoying the view up from the Elvas and the spectacular aqueduct that took about 100 years to be built in the 16th century. / Der Blick von Elvas aus und das Aquaedukt aus dem 16. Jh, das fast 100 Jahre gebraucht hat, um gebaut zu werden.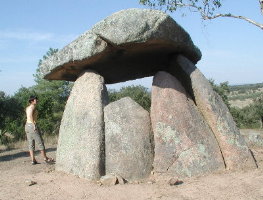 . . . . .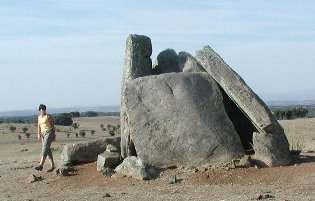 Dolmen de Coutada (left) and Dolmen do Torrão, Barbacena, Alto Alentejo. / Dolmen de Coutada und Dolmen do Torrão, Barbacena, Alto Alentejo.
October 6, 2004: Cáceres (Extremadura) - La Pola (Castilla y León)
Today we drove about 500 km from Cáceres to the Cantabrian Mountains) passing Salamanca, Tordesillas, and León. At the end of the day we were up to some adventure, so we exited the freeway at La Magdalena and drove to La Robla. The whole area is a mining industry. After a short stop at la Robla, we decided to take a turn north on the N630 and stopped at La Pola de Gordon. We tried to contact the campground Bosque de Gordon, but there was nobody to attend us so we just parked in front on the parking spaces for the municipal swimming pool. We discovered the head of a hiking trail we might go on the next day.
6. 10. 2004: Cáceres (Extremadura) - La Pola (Castilla y León)
Heute sind wir über 500 km von Cáceres zu dem Kantabrischem Küstengebirge über Salamanca, Tordesillas und León. Zum Schluss waren wir ein wenig explorierfreudig und haben die Autobahn bei La Magdalena verlassen, einen kurzen Stopp in La Robla eingelegt und dann entschieden die N630 nach Norden zu fahren. Wir haben aber gleich in La Pola de Gordon gestoppt, versucht in den Campingplatz zu kommen, aber es war keiner da. Dann haben wir einfach davor geparkt, und zwar auf den Parkplätzen des Gemeinde-Schwimmbades. Wir haben einen Wanderweg entdeckt, den wir vielleicht morgen laufen wollen.
October 7, 2004: La Pola - Riaño (Cordillera Cantábrica)
We hit the trail to "Coto de Cuervo" which was described on a panel a few yards away, and we just loved this hike. It took us 4,5 hours to climb up 600 m, to enjoy gorgeous views and the fascinating landscape. In short: this is the sort of hike we love. Then, we continued our drive, but we changed to the CL 626 going east, then up the N 625 towards Picos de Europa. We made it up to Riano which lies on a dam lake and which we liked from the beginning. We found a fantastic overnight place in the down part of town close to the sports plain at the edge of the water. We had a drink in a bar after doing some grocery shopping and founding the hiking maps for Picos de Europa (1:25,000).
7. 10. 2004: La Pola - Riaño (Kantabrische Gebirgskette)
Wir haben den Wanderweg, der auf dem Plakat in der Nähe unseres Stellplatzes gemacht, Coto de Cuervo, und es war ganz toll! Wir waren 4,5 Stunden unterwegs, haben 600 m Höhenunterschied überwunden und eine fantastische Aussicht genossen. Dazu war auch noch die Landschaft sehr abwechslungsreich. Kurzum: eine Wanderung, wie wir sie gerne haben. Danach sind wir weitergefahren, allerdings dann doch auf die CL 626, die quer nach Osten geht und dann die N 625 hoch ins Gebiet der Picos de Europa. Uns hat das Dorf Riano, das an an einem Stausee liegt, gut gefallen. Wir haben auch einen ausgezeichneten Stellplatz in der "Unterstadt" in der Nähe vom Sportplatz am Wasser gefunden, so dass wir uns hier gemütlich gemacht haben. Noch einen Drink bei einer Bar, nachdem wir einige Einkäufe getätigt haben und endlich die Wanderkarten 1:25000 von den Picos de Europa in einem Estanco (Tabakladen) gefunden haben. So, dann kann's ja richtig losgehen.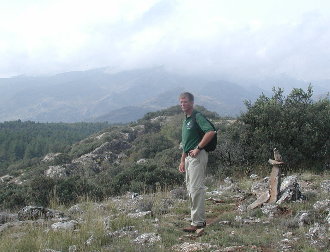 . . . . . .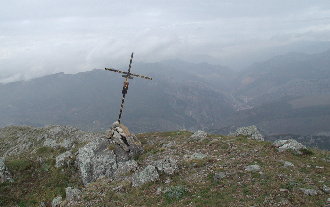 The ascent to the Coto de Cuervo (1,609 m) in the Cantabrian Mountain range. / Die Besteigung des Coto de Cuervo (1.600 m) in der Kantabrischen Gebirgskette.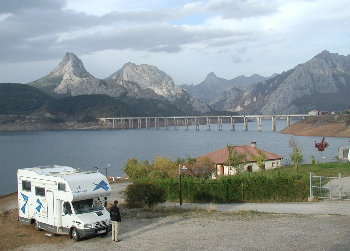 The view from our RV on the Riaño dam and the Cantabrian Mountain range / Der Blick von unserem Stellplatz auf die Kantabrische Gebirgskette und den Riaño-Stausee.
back to homepage / zurück zur Homepage
to previous page / zur vorigen Seite . . . . to next page / zur nächsten Seite