Minas de Riotinto, Aracena, Alájar, Almonáster del Real (SP)
back to homepage / zurück zur Homepage
---
October 31 to November 1st, 2003: Montegordo (P) - Minas de Riotinto - Aracena (SP)
Drive to Tavira where we visited our friend Klaus and then to Montegordo where we decided to stay overnight at the Praia de Adão e Eva. On the next day we headed to Minas de Riotinto north of Huelva to visit the Aventura Minaparque. Seeing a sign "Dolmen del Soto" on our way, we could'nt resist making a detour. Unfortunately the site was closed, but we managed to climb over the gates and peep through into the long gallery. The town of Minas de Riotinto has a mining history of more than 5000 years! The mining museum in town exhibits many archeological remains and documents from the industrial exploitation that took place at the end of the 19th, beginning of the 20th century. At that time the mining business was owned by an English company which had imported all its laborers and engineers from England and Wales. These people created their own English quarter in town. Corte Atalya is one of the highlights when visiting Minas de Riotinto: it is the largest open-air mine in Europe. The view down to the mine with its colorful walls is very impressive. Most mines are exhausted, so all mining activity has been stopped last year. Nevertheless, all the machinery is being maintained, the mines drained, so in case prices for copper go up, they can start over with the mining again. Driving out of town towards Aracena leads you to a place where the Romans had a necropolis with burial stones that are scattered around in the forest. In the late afternoon we enjoyed the small town of Aracena with its lovely atmosphere, bought some special ham from the Iberian pigs -jamón de Pata Negra- and enjoyed it with a good Spanish red wine of Valdepeñas in our RV. Overnight stay at the fair grounds.
31. - 1. 11. 03: Montegordo (P) - Minas de Riotinto - Aracena (SP)
Fahrt nach Tavira, wo wir einen Überraschungsbesuch unserem Freund Klaus abgestattet haben. Danach Fahrt nach Montegordo, wo wir uns auf dem schönen Stellplatz am Strand Adão e Eva für die Nacht installiert haben. Am nächsten Tag stand der Besuch des Aventura Minaparque in Minas de Riotinto auf dem Programm, das nördlich von Huelva in den Hügeln der südlichen Sierra de Aracena liegt, und das Zentrum eines uralten Bergbaugebiets ist. Als wir in Triguero waren, haben wir uns von einem Schild zu einem Umweg verführen lassen, welches "Dolmen del Soto" anzeigte. Dem sind wir gefolgt und sind tatsächlich an einem geschlossenen Gelände angekommen, über dessen Tor wir ohne Probleme steigen konnten. In den Dolmen selbst konnten wir jedoch nicht rein. Aber der Blick in die Galerie hat sich gelohnt. In Minas de Riotinto angekommen, haben wir uns das Museum angeschaut sowie den Corte Atalaya, der größte Übertage-Abbautrichter in Europa. Das Museum gibt einen ausgezeichneten Einblick in die Bergbaugeschichte von Riotinto: seit mehr als 5000 Jahren werden in der Umgebung Gold-, Silber- und vor allem Kupfererz abgebaut. Bis letztes Jahr war die letzte Mine in Riotinto aktiv. Die Maschinen werden jedoch weiter gewartet und die Minen drainiert, damit jederzeit die Arbeit wieder aufgenommen werden kann, wenn der Preis für Kupfer wieder steigen sollte. Bis ins 20. Jh. wurden die Kupferminen von der englischen Firma Rio Tinto Company Ltd. ausgebeutet. Die aus England und Wales importierten Mitarbeiter wohnten im Barrio de Bellavista, dem "englischen Stadtviertel". Man kann gut die Häuser und die anglikanische Kirche aus dem 19. Jh. erkennen. Wenn man weiter in Richtung Aracena fährt, kommt man noch an einer römischen Nekropolis vorbei. Am späten Abend, in Aracena angekommen, haben wir den berühmten Jabugo-Schinken, Jamón de Pata Negra (von schwarzen iberischen Schweinen) gekauft, auch noch frisches Brot und einige tolle Gebäckstücke und haben uns auf dem Stellplatz in Aracena - auf dem Jahrmarktplatz - mit Valdepeñas-Rotwein gemütlich gemacht.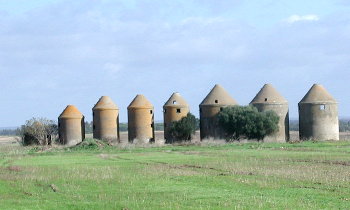 . . . . .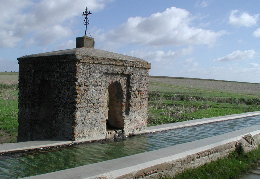 Some interesting sights on our drive from Trigueros to the Dolmen del Soto / Einige Interessante Blicke auf dem Weg von Trigueros zum Dolmen del Soto.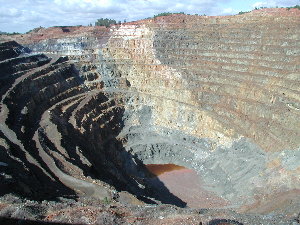 Corte de Atalaya - the largest open-air mining field of Europe (1,200 m long x 900 m wide x 335 m deep) / Die Tagebaugrube Corte de Atalaya, der größte Übertage Abbautrichter in Europa ist ca. 1200 m lang, 900 m breit und 335 m tief.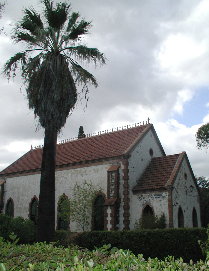 . . . . .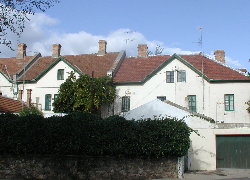 "Barrio de Bella Vista", the English quarter with its Anglican Church and 19th century houses in Victorian colonial style. The laborers and engineers that came from England and Wales lived in this part of town in a secluded area. / "Barrio de Bella Vista", das englische Stadtviertel, mit Häusern und der anglikanischen Kirche aus dem 19.Jh im viktorianischen Stil. Hier wohnten ehemals die vielen aus England und Wales nach Riotinto gekommenen Bergarbeiter und Ingenieure in einem geschlossenem Areal.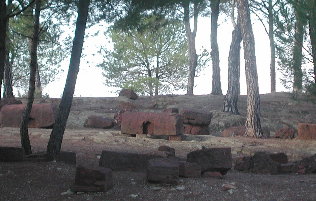 . . . . . .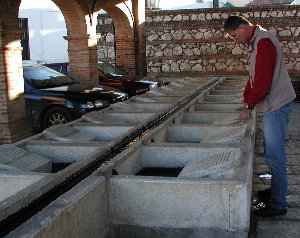 Left picture: Roman Necropolis: burial stones in the forest just outside Minas de Riotinto. Right picture: communal laundry place in Aracena. / Linkes Bild: die römische Nekropolis mit Grabsteinen im Wald am Stadtrand von Minas de Riotinto. Rechtes Bild: der öffentliche Waschplatz von Aracena.
---
November 2, 2003: Aracena, Alájar, Almonaster la Real
Walk up to the castle of Aracena where we enjoyed a very nice view of the hilly surroundings of the Sierra de Aracena. After lunch we drove 12 km to Alájar which was packed with people and cars strolling through this cute mountain town on their Sunday excursion. We parked our RV and went for a walk along the Alájar River which brings you by 6 old water mills and through splendid vegetation to a look-out platform in a gorge (7 km, 2 hours). On this very pleasant walk we were lucky to see 4 Egyptian Mongoose that crossed our path! Back in town, we continued to Almonaster la Real where -this was really a contrast to Alájar- there was nobody on the streets... We walked up to the old city fort which has a mosque from the 10. century, one of the best preserved country mosques in Andalusia. Overnight stay just outside the town on a parking lot with a great view on Almonaster!
02.11.2003: Aracena, Alájar, Almonaster la Real
Spaziergang hoch auf die Burg der Tempelritter in Aracena, durch den unten abgebildeten Glockenturm. Von oben kann man die Gegend mit den Hügeln der Sierra de Aracena wunderbar genießen. Nach dem Mittagessen sind wir 12 km nach Alájar gefahren. Die Stadt war voll mit Leuten und Autos auf einem Sonntagsausflug. Wir parkten unser Wohni und sind entlang des Alájar-Flusses, der uns an 6 Wassermühlen vorbei und durch sehr vielfältige Vegetation bis zu einem Aussichtspunkt in einer Schlucht führt, 7 km / 2 Stunden gelaufen. Wir haben noch das Glück gehabt, bei diesem wirklich schönem Spaziergang vier Ägyptische Mongoose zu sehen. Von da aus sind wir noch 15 km bis Almonáster la Real gefahren. Besonders interessant dort ist die Moschee vom 10. Jh. in der alten Stadtfestung, die zu den wenigen erhaltenen Landmoscheen Andalusiens zählt. Übernachtung auf einem großen Parkplatz gegenüber der Stadt, von dem wir einen fantastischen Blick auf Almonaster la Real haben.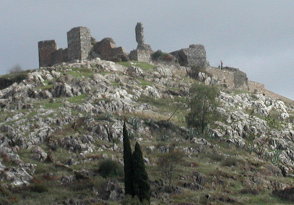 . . . . .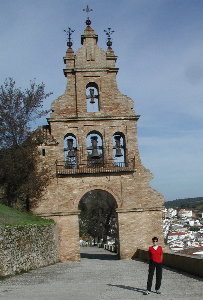 The view up to Aracena Castle from our RV, and entrance tower / Die Burg von Aracena von unserem Wohni aus gesehen und der Eingangs-Glockenturm.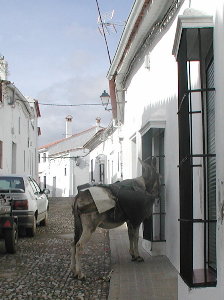 Cars and donkey parked in Aracena / Autos und Esel werden in Aracena geparkt.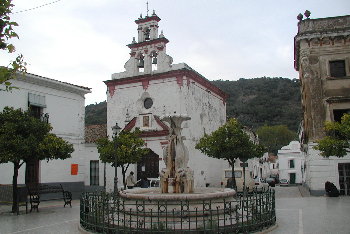 . . . . .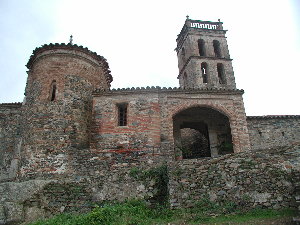 Almonaster la Real with its main square and the mosque at the fortress. / Almonáster la Real mit seinem Hauptplatz und die Moschee auf der Stadtfestung.
back to homepage / zurück zur Homepage
to previous page / zur vorigen Seite . . . . to next page / zur nächsten Seite