Aljezur to Cabo Pontal (P)
Huelva: La Rábida, P. Natural Marismas de Odiel (SP)
back to homepage / zurück zur Homepage
---
July 12 - 14, 2003: Aljezur, Praia do Monte Clérigo, Praia da Amoreira, Praia da Arrifana, Cabo Pontal
Drive to Aljezur where we went grocery shopping at the local market. Prices for fish are much higher than where we live! So we decided we would have lunch in a restaurant -which sometimes is less expensive than buying and cooking yourself!. We found a beautiful place between Praia do Monte Clérigo and Praia da Amoreira. Our siesta was due at Cabo Pontal, a little further down the Alentejo coast. This is as such a beautiful place to stay with the RV and enjoy the gorgeous views on top of the cliffs. We watched the local fishermen climb down the cliffs, walk over to the stone islands and scrap for sea food and specifically for sea shells and we decided to stay overnight.
12. - 14.07.03: Aljezur, Praia do Monte Clérigo, Praia da Amoreira, Praia da Arrifana, Cabo Pontal
Fahrt nach Aljezur, wo wir in der lokalen Markthalle einige Einkäufe getätigt haben. Allerdings waren die Preise für Fisch viel höher als da wo wir leben! So entschieden wir uns, fürs Mittagessen ein Restaurant aufzusuchen - was oft billiger ist als die Lebensmittel selber zu kaufen und zu kochen! Da sind wir auf das Restaurant Gabriel zwischen Praia do Monte Clérigo und Praia da Amoreira gestoßen, wo wir sehr gut gegessen haben. Bei Cabo Pontal, das ein Stück weiter südlich an der Alentejo-Küste liegt, haben wir oberhalb der Klippen eine erholsame Siesta eingelegt. Es ist überhaupt eine wunderschöne Stelle, um mit dem Wohni zu stehen: man hat einen atemberaubenden Blick aufs Meer, man kann den Fischern bei der (nicht ungefährlichen) Muschelsammlung inkl. Felsenrunterklettern beobachten, selber rüber zu den Felseninseln bei Ebbe laufen etc. Deshalb haben wir auch dort übernachtet.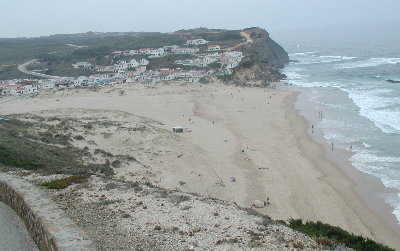 . . . . .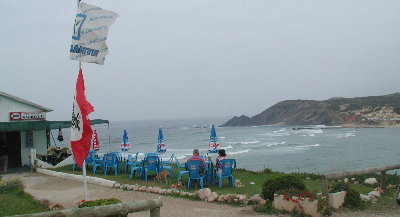 Praia do Monte Clérigo, Aljezur, Alentejo; Lunch at Gabriel's with beautiful views on Praia da Amoreira / Die Praia do Monte Clérigo bei Aljezur im Alentejo; sehr gutes Mittagessen bei "Gabriel" mit wunderschönem Blick hinunter auf Praia da Amoreira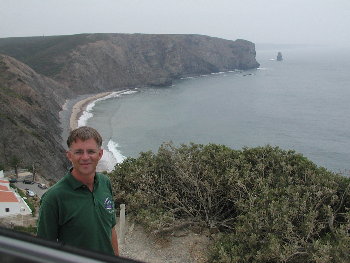 . . . . .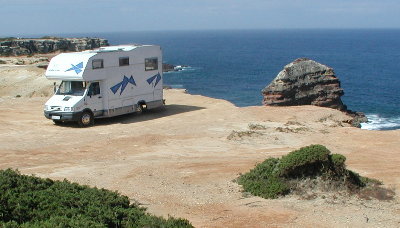 Praia da Arrifana and overnight stay at Cabo Pontal / Praia da Arrifana und Übernachtung am Cabo Pontal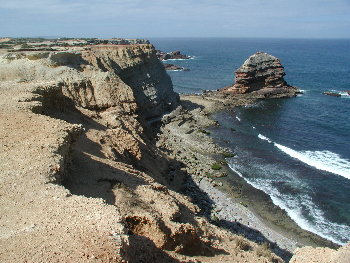 . . . . . .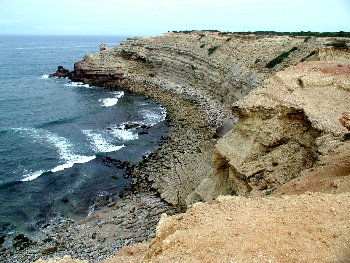 Viewing down from our RV at Cabo Pontal (Atlantic Coast Alentejo) towards the south and towards the north - that was our overnight stay / Der atemberaubende Blick nach unten von unserem Wohni am Übernachtungsplatz am Cabo Pontal (Alentejo-Atlantikküste), einmal Richtung Süden, einmal Richtung Norden.
---
October 24 - 27, 2003: Tavira, La Rábida (Huelva), Parque Natural Marismas de Odiel, El Rompido
Drive to the old town of Tavira which we explored during the evening time. Julia drank the local schnaps "medronho" and was a little drunk after the second glass. We stayed overnight at the parking lot of the ferry going to Ilha de Tavira. The next day began with heavy storms and rains, so we decided to drive to Huelva and see what the Carrefour shopping center has to offer. And it is really huge with lots of spanish goodies like the jamón serrano, cheese, wine etc. So we spent probably some two hours with grocery shopping. After that, we chose the Gofy tapas restaurant inside the shopping mall to have some great tapas. It was still raining... We decided to change our initial idea of driving up north of Huelva for the next time. With this weather we could visit the monastry "Santa Maria de la Rábida" where Columbus settled down after having been turned down in Portugal with his idea of sailing to India and China towards west. We didn't manage to get to the pier with the three reconstructed ships because of the heavy rains. But we were able to visit the lovely monastry where Columbus worked on his plan (2,50 €/each. opened every day from 10:00 to 13:00 and 16:00 to 19:00, except Monday). He finally was succesful presenting his ideas to the king and queen of Castilla and was able to start his first trip in 1492. A little stroll through the area ended our day and we stayed overnight just in front of the "Forum Iberoamericano" in front of the pier with the reconstructed ships. When we woke up next morning we were happy to see that the weather was perfect for visiting the ships: blue sky, warm and sunny. So we did - and we enjoyed a more informative exposition about Columbus. It is incredible that these ships were so small! In the afternoon we drove to the National Park Marismas de Odiel just across Huelva, had a good lunch and a small nap. Due to the change from summer to winter time, the afternoon was pretty short and we drove towards El Rompido where we spent the night on the sea shore. On the next day we drove back to Loulé, Portugal.
24. - 27.10.2003: Tavira, La Rábida (Huelva), Parque Natural Marismas de Odiel, El Rompido
Wir sind erst spät los, das ist unsere erste Reise mit dem Wohni nach 3 Monaten. Diesmal starten wir von unserem Grundstück in Loulé. Fahrt nach Tavira, dessen Altstadt wir dann abends erkundet haben. Julia hat den lokalen Schnaps "Medronho" getrunken und war nach dem zweiten Glas ein wenig betrunken... Wir haben bei der Fähre, die zur Ilha de Tavira (Tavira-Insel) fährt übernachtet. Als wir am nächsten Morgen aufwachten, stürmte und regnete es ganz schön. Wir entschieden uns, statt eine Tour nördlich von Huelva zu unternehmen das Carrefour-Einkaufszentrum in Huelva zu besuchen. Ist wirklich nicht übel, mit den schönen spanischen Spezialitäten wie dem Schinken "jamón serrano", tolle Käsesorten, Wein etc. Nachdem wir sicher zwei Stunden in diesem Supermarkt verbracht haben, gönnten wir uns paar ganz leckere Tapas im Restaurant Gofy im Einkaufszentrum. Es regnet immer noch ganz schön... Na gut, wir besichtigen das Kloster "Santa Maria de la Rábida", wo sich Kolumbus nach den Enttäuschungen endloser Vorstöße und Ablehnung seiner Idee, Indien auf einer Westroute zu erreichen, zurückzog. Dort hat er sich wieder gefangen und neue Pläne für eine Überseefahrt Richtung Indien von Westen aus geschmiedet. Auch war er diesmal erfolgreich und konnte in 1492 mit seiner Expedition unter dem Segen von dem König und der Königin von Kastilien starten. Wir versuchten erst, das Pier mit den 3 rekonstruierten Schiffen zu besichtigen, aber durch den Regen war dies nicht möglich. Also rein ins Kloster, was übrigens sehr schön ist, jedoch wenig Information zu Kolumbus bietet (2,50 €/p.P. täglich geöffnet außer Montag von 10:00 - 13:00 und 16:00 - 19:00). Abends noch einen Spaziergang durch die Anlage beim Pier, Übernachtung vor dem Amphitheater "Forum Iberoamericano" genau gegenüber des Piers. Der nächste Tag erfreute uns mit schönem, warmen, sonnigen Wetter. Also konnten wir uns nun die rekonstruierten Schiffe anschauen. Unglaublich, die sind so klein! Nachmittags sind wir zum Nationalpark Marismas de Odiel gefahren, das gegenüber Huelva liegt, haben schön gegessen und eine kleine Siesta gemacht. Da heute die Änderung von Sommer auf Winterzeit erfolgt ist, ging der Tag schnell um, denn es wird früh dunkel. Zum Übernachten sind wir dann die Küste entlang bis El Rompido gefahren, wo wir uns direkt am Strand gestellt haben. Am nächsten Tag zurück nach Loulé, Portugal.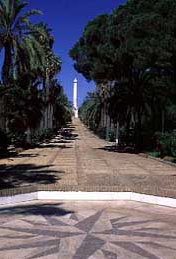 . . . . .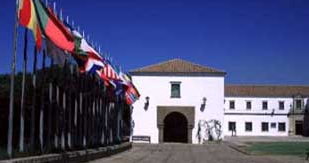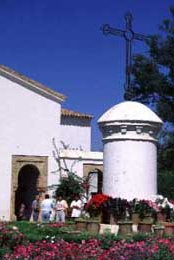 . . . . .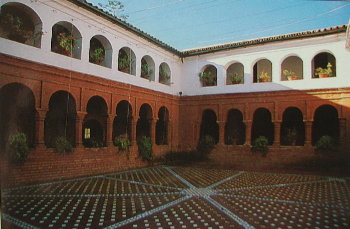 Monastery La Rábida where Columbus prepared his sailing trip. / Das Kloster "La Rábida", in dem Columbus seine Entdeckungsreise vorbereitete.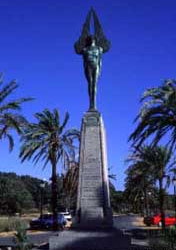 . . . . .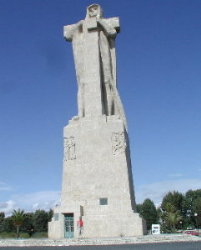 Monuments commemorating Columbus and the discovery of America. / Monumente zum Andenken von Kolumbus und der Entdeckung Amerikas.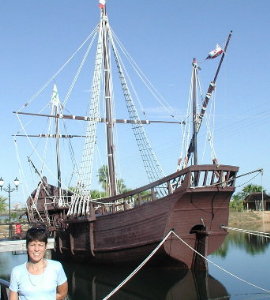 One of the replicas of the caravels used by Columbus to cross the ocean./
Nachbildung einer der Karavellen, mit denen Kolumbus den Ozean überquert hat.
---
back to homepage / zurück zur Homepage
to previous page / zur vorigen Seite . . . . to next page / zur nächsten Seite