Our trip / Unsere Reise
back to homepage / zurück zur Homepage
Baltimore 16/03 - 17/03/00
A stretched limousine taxi brought us to the Best Western Hotel, O'Donnel Street, North Baltimore, where we spent our first night. The next day we went to fetch our "alpha & car". Paid US$ 75 to get the motorhome out of the harbour on St. Patricks Day. Fortunately everything was OK! Incredible: the customs didn't show any interest in our stuff, they couldn't even look inside, as we had everything locked up in the back! Went to a gas station for diesel, propane gas and water. Did some food shopping at a Giant Supermarket. Spent the night on the Greenbelt Park Maryland Campground. Since we have arrived many people asked us where we come from, that they have never seen such a motorhome..
Eine Stretch-Limousine hat uns zum Hotel Best Western, O'Donnell Street, North Baltimore, gebracht, wo wir unsere erste Nacht verbracht haben. Am 17/03 unser "alpha & car" abgeholt. US$ 75 "Schmiergeld" bezahlt, dafür, dass Wagen am St. Patricks Day vom Hafen rausgeholt wurde. Wir haben alles in Ordnung vorgefunden! Nicht einmal der Zoll hat sich für unsere Sachen interessiert, obwohl wir eine abschliessbare Tür zum Aufbau hatten (vielen Dank, Herr Barth!). Getankt für US$ 1,58/Gal, beide Gasflaschen mit Propangas für US$ 23 gefüllt, Wasser aufgefüllt, Einkauf im Supermarkt Giant, Übernachtung auf dem Campground vom Greenbelt Park Maryland. Seitdem wir angekommen sind, haben uns schon lauter Leute (u. a. die Polizei) gefragt, woher wir denn kommen, dass die noch nie so ein Wohnmobil gesehen haben...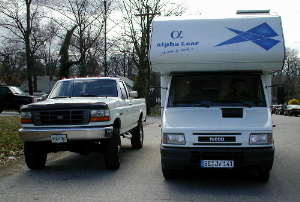 ... on the road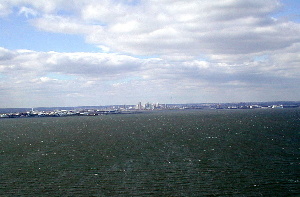 View of Baltimore from Key Bridge / Blick auf Baltimore von der Key Bridge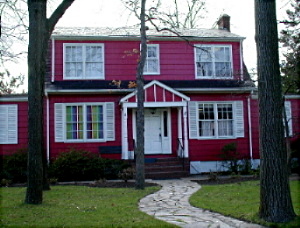 Typical architecture / typische Architektur
Washington, D.C.
18/03/00 Very cold, but sunny. We took the Metro from College Park to Federal Triangle Station in Washington, D.C. (day ticket for US$ 5). Had a look at the White House only from the outside, as the line was about 3 hours long. As Clinton is in South Africa, it isn't even worthwhile visiting him. Walk to Washington Monument, Vietnam Veterans Memorial, Korean War Veterans Memorial, Lincoln Memorial, and to the Capitol. At the Union Station we did a break in the "Capitol Brewing Company" and ate some excellent smoked baby spare ribs and drank a beer tray (see photo below). Back with the Metro and with our RV to our Campground.
18/03/00 Sehr kalt, aber auch sehr sonnig und schön. Fahrt mit der Metro in die Stadt, Station Federal Triangle (Tagesticket US$ 5/Person). Blick auf das Weisse Haus nur von Aussen, 3 Std. Wartezeit, und da Clinton sowieso in Südafrika ist, lohnt es sich nicht, ihn besuchen zu wollen. Spaziergang zum Washington Monument, Vietnam Veterans Memorial, Korean War Veterans Memorial, Lincoln Memorial, Capitol. An der Union Station in der "Capitol Brewing Company" Spare Ribs gegessen mit einem Bierkarussel (siehe Foto). Zurück mit der Metro zur College Park Station und Fahrt zum Campground Greenbelt Park Maryland.
19/03/00 We thought today is Sunday so we can take the risk to drive down to Washington, D.C. without too much traffic. Had our RV parked at the Washington Channel. We decided that this would be our museums day: in the morning we saw "Piano 300" -all about pianos in the last 300 years- in the Freer Gallery of Art, then went to the National Air & Space Museum. Both Museums belong to the Smithsonian Institution. The National Air & Space Museum is so huge that we'll have to come back again. In the afternoon we drove to the "Newseum" (Wilson Ave.), that shows you everything about Press, TV, Reporter etc. You can even try yourself as a speaker, have it recorded and you can see how it looks like!
19/03/00 Heute ist Sonntag, da können wir riskieren, mit dem Wohni in die Stadt zu fahren ohne zuviele Staus zu befürchten. Am Washington Channel geparkt. Heute ist Museumstag: Vormittags zur Sonderausstellung "Piano 300" - alles über das Pianoforte und Ähnliches in den letzten 300 Jahren - in der Freer Gallery of Art, dann zum National Air & Space Museum. Beide Einrichtungen gehören dem Smithsonian Institut. Das National Air & Space Museum ist so vielseitig und umfangreich, dass wir nochmal kommen müssen. Heute wollen wir nicht mehr, da es sehr voll ist. Nachmittags sind wir dann ins "Newseum" (Wilson Ave.) gefahren, das alles über "News", also Nachrichten, Presse, Fernsehen etc. berichtet. Da kann man sogar selber Moderator spielen, wird aufgenommen und man kann sich anschließend auf Video betrachten.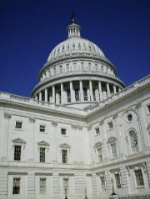 Capitol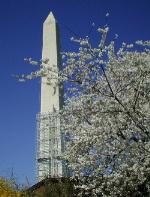 Washington Monument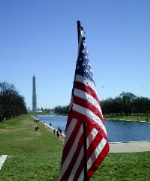 Reflection pool & Washington Monument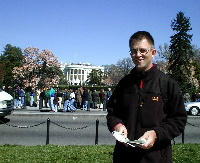 Volker in front of the White House. / Volker vor dem Weissen Haus.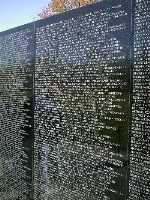 Vietnam Veterans Memorial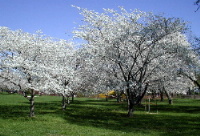 . . . . .

Cherry blossom and squirrel in downtown Washington, D.C. / Kirschblüte und Eichhörnchen mitten in der Stadt.
Beer tray in the Capitol Brewing Company / "Bierkarussel" im Capitol Brewing Company.
back to homepage / zurück zur Homepage
to previous page / zur vorigen Seite . . . . to next page / zur nächsten Seite