20/03 - 22/03/00
back to homepage / zurück zur Homepage
Annapolis, MD
20/03/00 After doing some basic shopping and calling home from the Shopping Center in Greenbelt, we took the I 95 south / I 50 East to Annapolis, and had our first stop at the Annapolis RV Center, 2027 Industrial Drive. A small repair was done and, of course, Julia couldn't resist buying some gadget for our RV (this time a camp stove toaster). We continued downtown and parked our RV at the Monticello Ave. with a great view on the small bay. We walked up through some small, cute streets to West Street and Main Street, and went way down to the harbor. There we had a good italian cappucino to warm up and afterwards walked to the US Naval Academy. As it was already late, we decided we would take the guided tour on the next day in the morning, before fetching Isabel at the International Airport Dulles. As we had already have many problems connecting our laptop to Compuserve at the hotel, we went to Kinko's to try it again, but unfortunately this time it didn't work either -we must check with Compuserve. That's why you may wonder why you don't get any news from us! In the evening we had the famous crab cake at Buddy's Crabs & Ribs, 105 Main Street. Then we had a beer at Brien's until we were very tired, and went "home".
20/03/00 Nachdem wir einige Einkäufe im nahegelegenem Shopping Center von Greenbelt und einige Anrufe in die Heimat getätigt haben, sind wir über die I 95 und I 50 East nach Annapolis gefahren. Unser erster Stopp war am Annapolis RV Center, 2027 Industrial Drive, bei dem wir eine kleine Reparatur haben ausführen lassen, und natürlich Julia irgendetwas für das Wohni kaufen musste (diesmal einen Toaster für den Herd). Wir sind dann weiter in die Stadt gefahren, haben unser Wohni an der Monticello Avenue abgestellt, wo wir einen idyllischen Blick auf die kleine Bucht hatten. Zu Fuss dann zur West Street und Main Street bis runter zum Hafen, wo wir gleich in einem italienischem Café einen Cappucino zum Aufwärmen getrunken haben. Danach weiter zur US Naval Academy, wo wir uns dann entschlossen haben, die Führung am nächsten Tag mitzumachen, da es schon zu spät war. Da wir enorme Probleme hatten, unser Notebook an Compuserve anzuschließen, sind wir zu Kinko's gefahren und haben es dort nochmal probiert. Leider funktioniert es immer noch nicht, so dass Ihr alle noch keine Nachricht von uns erhalten könnt. Abends zu Buddy's Crabs & Ribs, 105 Main Street, wo wir die obligatorische Crab Cake (eine Art Krebsboulette, sehr gut!) gegessen haben. Danach noch ein Bier bei Brien's eingenommen, bis wir todmüde "nach Hause" gegangen sind.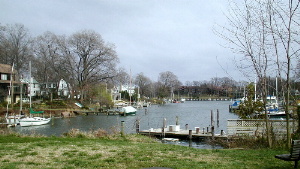 Annapolis, Maryland: Small bay / Kleine Bucht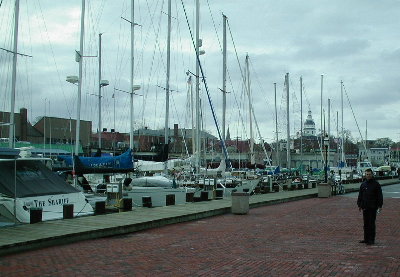 Annapolis harbor / Am Hafen von Annapolis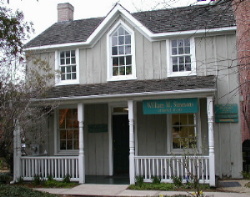 Attorney office / Anwaltspraxis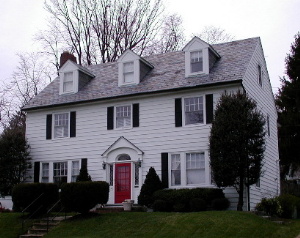 Is this where "American Beauty" was filmed (red front door)? / Wurde hier American Beauty gedreht (rote Haustür)?

US Naval Academy, Annapolis, Maryland.
21/03/00 Today it's pooring with rain! We decided to leave the guided tour to next time and drove to the Pentagon where we checked for a guided tour. During 1 hour our guide walked backwards so he could observe us. This was hilarous! In the afternoon we went to fetch Isabel from the International Airport Dulles and did with her a tour near Centreville and Bull Run Park region. Then we drove back to our Greenbelt Park Campground.
21/03/00 Sehr verregneter Tag! Somit haben wir unseren Besuch von der US Naval Academy für nächstes Mal verschoben, sind dafür zum Pentagon gefahren und haben eine geführte Tour gemacht. Nachmittags Isabel am International Airport Dulles von Washington DC abgeholt. Mit ihr dann eine kleine Tour bei Centreville und Bull Run Park-Region gemacht, danach zu unserem Stamm-Campingplatz am Greenbelt Park.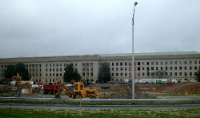 Pentagon, Washington, D.C.
22/03/00 Breakfast with delicious french toasts at Denny's! We offered a short Washington, D.C. sightseeing tour for Isabel, and showed her all the interesting points from the car. Then we headed West and made a stop at Manassas battlefield, where the first Civil War battle took place. We drove then to the Skyline Drive, but unfortunately the Shenandoah National Park was closed because of ice and snow. So we continued towards Blue Ridge Park Way. In Harrisonburg we had a wonderful steak diner at the Steak House "Texas" and drove to the KAO Campground at Verona.
22/03/00 Frühstück bei Denny's mit viel French Toast und Ahornsirup. Sightseeingtour mit den Hauptsehenswürdigkeiten ohne Aussteigen in Washington D.C. für Isi. Bis hier 570 km. Fahrt zum Schlachtfeld von Manassas, wo die erste Schlacht des Sezessionskrieges (Bürgerkrieg 1861) stattgefunden hat. Fahrt zum Shenandoah National Park, der allerdings wegen Eis und Schnee geschlossen war. Also weiter Richtung Blue Ridge Park Way. Abendessen im Steakhouse Texas in Harrisonburg (sehr schön) und Fahrt zum KAO-Campground bei Verona.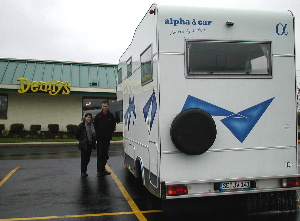 Breakfast at Denny's.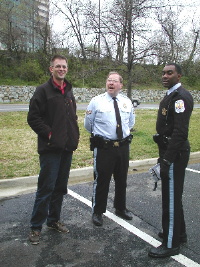 The policemen are very interested in our RV / Staatsinteresse am Wohni.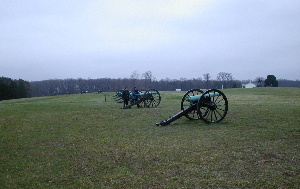 Manassas battlefield / Das Schachtfeld von Manassas.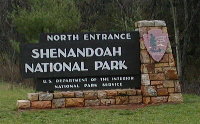 The closed Skyline Drive / Der geschlossene Skyline Drive
back to homepage / zurück zur Homepage
to previous page / zur vorigen Seite . . . . to next page / zur nächsten Seite