26/05 - 01/06/00
back to homepage / zurück zur Homepage
26.-28.05.00 After enjoying the morning in our inofficial campground, we drove to Las Vegas with a pause at Pahranagat Wildlife Refuge along one of the lakes. Las Vegas: We had been in Las Vegas 3 years ago, but a lot changed since then! There are new Hotels/Casinos like the Bellagio, Paris, New York New York, Monte Carlo and others. We "stayed" at the New York New York Hotel (on the covered parking). As it was very hot (day 40 °C, night 33 °C), during the day we would stroll through the casinos, shops, restaurants, bars, shopping malls etc., and in the evening we would go to shows. Afterwards we would walk along the strip and amuse ourselves until 3-4 in the morning. On the last day we left "our" hotel at 8 p.m. after doing some shopping all the afternoon -I found a nice outfit that I will wear to Stella's birthday in a fancy fashion store right in "our" hotel. We had the engine oil of our camper changed at 9 p.m. and our car washed at a professional truck wash place at 10 p.m.! Can you imagine that in Europe? Have your car washed on a sunday night before a holiday (tomorrow is Memorial Day). Overnight parking at Humboldt Toiyaba National Forest (Charleston Mountain) to have a cool and quiet night after hot and noisy Las Vegas.
26.05.00 Nachdem wir den Vormittag noch auf unserem schönen Stellplatz verbracht haben, sind wir nach Las Vegas gefahren, haben zwischendurch einen Stopp am Pahranagat Wildlife Refuge an einem See eingelegt. Las Vegas: Schließlich waren wir dort vor 3 Jahren gewesen, es hat sich aber sehr viel verändert seitdem, insbesondere viele neue große, natürlich pompöse Hotel/Casinos. Z.B. Bellagio, Paris, New York New York, Monte Carlo. Wir sind im New York New York "geblieben" (auf dem überdachten Parkplatz). Da es sehr heiß war (ca. 40 °C tagsüber, 32 °C nachts) haben wir meistens den Tag in den Casinos, Geschäfts, Bars, Restaurants, Shopping Centers etc. verbracht. Abends sind wir dann zu Shows gegangen und danach, d.h. gegen 1 Uhr morgens sind wir noch am "Strip" entlang spaziert, so daß wir gegen 3 bis 4 Uhr morgens erst ins Bett gegangen sind. Am letzten Tag haben wir "unser" Hotel gegen 20 Uhr verlassen, nachdem ich den ganzen Nachmittag Shopping gemacht habe - und auch was Nettes für Stella's Geburtstag in einem sehr schönen Modegeschäft in "unserem" Hotel gefunden habe-. Danach haben wir noch Ölwechsel machen lassen um 21 Uhr und unser Wagen waschen lassen (um 22 Uhr). Könnt Ihr Euch das vorstellen? In der Nacht von Sonntag auf Montag, wobei morgen auch noch ein großer Feiertag hier in USA ist (Memorial Day)? Übernachtung im Humboldt Toiyaba National Forest (Charleston Mountain), um eine kühle und ruhige Nacht zu haben nach dem heißen und lauten Las Vegas.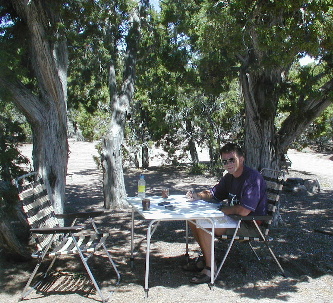 . . .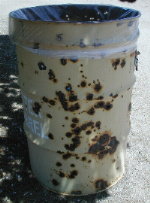 Our site near Oak Springs Summit with the shooted trash can / Unser schöner Platz in der Nähe von Oak Springs Summit mit dem geballertem Mülleimer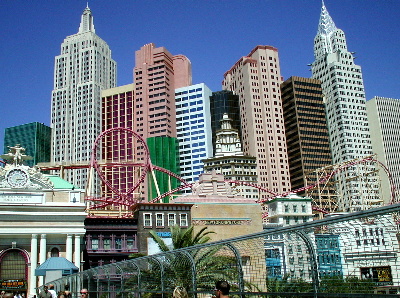 Las Vegas, Nevada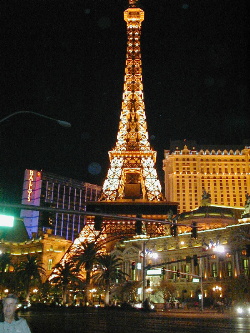 New York New York, Las Vegas, Nevada.
Yes, we did a ride on this roller coaster, and I can tell you, we were scared to death. No more roller coaster or anything of that kind after that, even I had planned to go on a 3D-Imax Simulation ride, and a tunnel skydiving ride. / Ja, wir sind mit dieser Achterbahn gefahren, und ich kann Euch sagen, daß die ganz schön heftig war. Obwohl ich ursprünglich noch andere aufregende Sachen auf dem Programm hatte, z.B. eine 3D-Imax Simulationsfahrt und eine Art Skydiving in einem Tunnel, hatte ich nun endgültig meine Adrenalindosis an dem Tag gehabt.
29.05.00 After a cool and confortable night at Charleston Mountain we drove to Beatty and visited again Rhyolite (we had been there 3 years ago). We drove around Death Valley, passed by the Nevada Test Site where testing of nuclear explosives devices is conducted and entered the Inyo National Forest. We spent the night just a few miles ahead of Big Pine.
29.05.00 Nach einer kühleren, angenehmen Nacht auf der Charleston Mountain Fahrt nach Beatty und zur Geisterstadt Rhyolite, die wir vor 3 Jahren schon besichtigt hatten. Fahrt entlang des Death Valleys Richtung Bishop, am Nevada Test Site vorbei -hier werden Nukleartests durchgeführt- über die Inyo National Forest, wo wir dann kurz vor Big Pine übernachtet haben.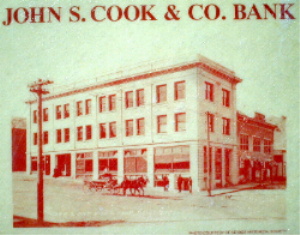 . . .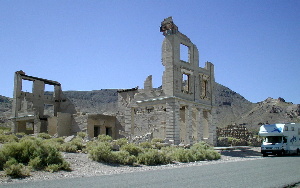 Rhyolite Ghost Town: John S. Cook & Co. Bank 80 years ago and the remains of it. / Ein Foto von der Bank vor 80 Jahren und was davon heute übrig ist.
30.05.00 A short stop at Bishop after which we were headed to Mammoth Lakes, where my uncle Jack was waiting for us. He took us for a "sightseeing tour" around Mammoth to the Lakes Basin and we saw Twin, Mary, and Mamie Lakes. In the evening we went to Angel's Restaurant -where Jack has got his own personalized beer mug with CAIPIRA (who doesn't know what 'caipira' means should ask me). Everything Jack has to give a name to he will call it CAIPIRA (his car, his bird, his eMail address, his beer mug etc.)
30.05.00 Nach einem kurzen Stopp in Bishop sind wir nach Mammoth Lakes gefahren, um dort meinen Onkel Jack zu besuchen. Er hat uns erstmal die Gegend gezeigt, der Lakes Basin (Seenkessel) mit den Twin Lake, Mary Lake und Mamie Lake. Abends sind wir ins Angel's Restaurant gefahren, wo er Stammkunde ist und einen eigenen personalisierten Mug mit der Prägung "CAIPIRA" hat (wer nicht weiß, was das bedeutet, soll mich fragen). Alles, was Jack einem Namen geben muß, benennt er CAIPIRA, z.B. sein Auto, seinen Wellensittich, seine Email-Adresse etc.).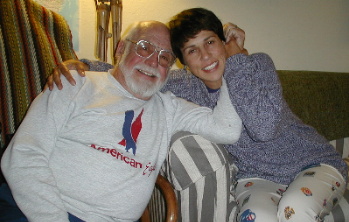 Here I am with my favorite uncle "Tio Jack" / Das ist mein Lieblingsonkel "Tio Jack".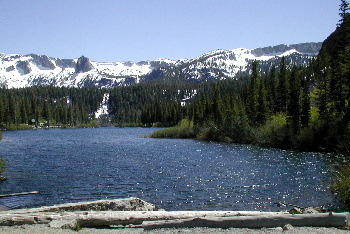 Mammoth Lakes, California: Twin Lakes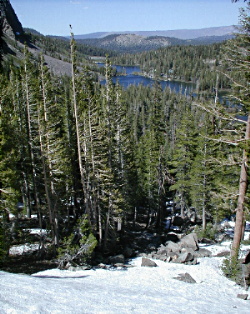 31.05.00 After having a wonderful breakfast at Jack's place, I answered my emails, surfed in the Internet on Jack's Web TV which I like very much because it's so convenient. In the afternoon Volker and I drove to June Lake and did the June Lake Loop passing by at Gull Lake, Silver Lake and Grant Lake up to Mono Lake and back to Mammoth Lakes. When we came back, Jack had prepared a fantastic 4 course dinner. Apéritif was a caipirinha and mixed nuts, appetizer was melon and smoked ham, entrée broccoli and beef on the wok, dessert Haagen-Dazs ice cream with those big American cookies (very rich). We had so much fun together, even at doing the dishes!
31.05.00 Nachdem wir ein sehr schönes Frühstück bei Onkel Jack bekommen haben, habe ich einige Emails beantwortet und ein wenig auf Jacks Web TV-System im Internet gesurft. Nachmittags sind Volker und ich zum June Lake gefahren und haben dort den June Lake Loop gemacht, der entlang dem Full Lake, Silver Lake und Grant Lake bis zum Mono Lake führt. Onkel Jack hatte uns ein 4-Gänge-Menü zum Abendessen vorbereitet: Apéritif war Caipirinha mit Nüssen. Vorspeise: Melone mit Parmaschinken, Hauptspeise Rindfleisch mit Brokkoligemüse im Wok, Nachspeise Haagen-Dasz-Eiskreme mit dicken amerikanische Keksen ('very rich'). Wir haben sehr viel Spaß bei diesem Abendessen gehabt, sogar beim Geschirrabwasch!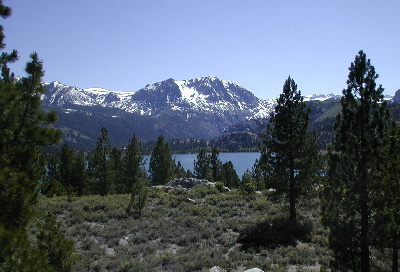 June Lake, California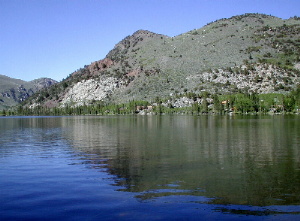 Silver Lake, California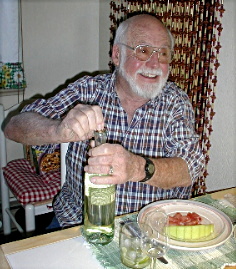 Chef Cook Jack
01.06.00 Today Volker and I did the same tour we did on our first day but this time with our camera... After taking a nap we -finally- took our bicycles and went for a short tour along the paved bike path that led us up to a beautiful panorama view up East of town (airport, Crowley Lake, and Convict Lake). In the evening we enjoyed the absolutely wonderful Japanese food at Shogun Restaurant. Huge sashimi with lots of tuna, yellowtail, salmon, and more fish.
01.06.00 Heute sind Volker und ich nochmal die Strecke gefahren, die wir mit Jack am ersten Tag gefahren sind, aber diesmal hatten wir unseren Fotoapparat dabei... Nachdem wir einen kleinen Mittagsschlaf gemacht haben, haben wir - endlich - unsere Fahrräder rausgeholt und eine Fahrradtour auf einem der gepflasterten Fahrradwege zu einem sehr schönem Aussichtspunkt im Osten der Stadt mit Blick auf den Flughafen, Crowley Lake und Convict Lake, gemacht. Abends sind wir ins japanische Restaurant "Shogun" gefahren und haben dort fantastisch gegessen. Die Portion Sashimi, die ich bekommen habe, war unglaublich groß mit viel Thunfisch, Yellowtail (soll eine Art kleiner Thunfisch sein), Lachs und mehr.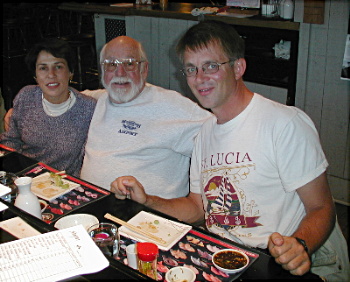 Sushi dinner at the fantastic Shogun Restaurant, Mammoth Lakes, California.
back to homepage / zurück zur Homepage
to previous page / zur vorigen Seite . . . to next page / zur nächsten Seite