05/06 - 07/06/00
back to homepage / zurück zur Homepage
05.06.00 I didn't think I'd do it: the hike to Half Dome - a strenous 27.5 km round trip hike with 1,463 m elevation gain!! Can you imagine? Actually only Volker wanted to do this hike (because he did it 20 or so years ago). I decided to join him for the first part as the trail begins with the popular John Muir and Mist Trail to the Vernal and Nevada Falls -which already sums up to 11.5 km, 570 m elevation gain and means 6 to 8 hours round trip. Well, both of us did it up to the top with cabling ourselves up (and of course down) the steep Half Dome. See proof pictures below! Needless to say, we were very tired after this 12 hours excursion...
05.06.00 Ich hätte nie gedacht, daß ich das schaffen würde: die Wanderung zum Half Dome, eine anstrengende 27,5 km langen Wanderung mit 1.463 m Höhenunterschied!! Könnt Ihr Euch das mal vorstellen? Eigentlich wollte nur Volker diese Wanderung unternehmen (weil er das vor 20 Jahrens oder so schon mal gemacht hatte). Ich wollte ihn beim ersten Teil begleiten, da er über den bekannten John Muir und Mist Trail hoch zu den Vernon- und Nevada-Wasserfällen führt - was allerdings auch schon 11,5 km und 570 Höhenunterschied und 6 bis 8 Stunden Marsch ausmacht. Na ja, wir beide haben es bis oben zum Half Dome (dem steilsten Felsen Nordamerikas). Dafür mußte man zum Schluß den steilen Abhang mit Seilen hoch- und runterklettern. Siehe Beweisbilder unten. Ich brauche es kaum zu sagen, daß wir am Ende dieser 12stündigen Expedition völlig fertig waren.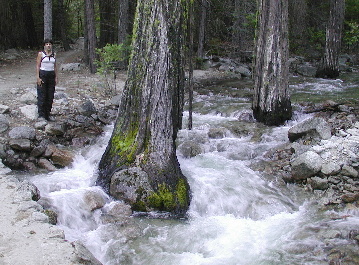 John Muir Trail, Yosemite Natl. Park, California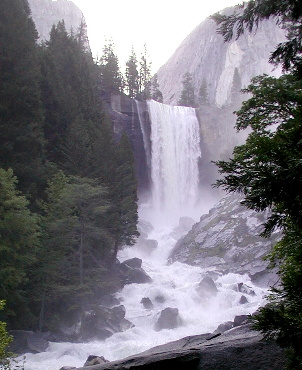 Mist Trail at the Vernon Falls, Yosemite Natl. Park, California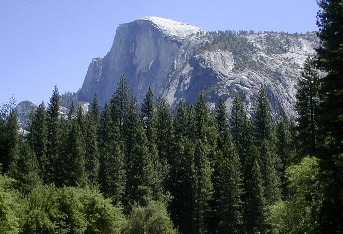 Half Dome: view from Yosemite Valley / Half Dome: Blick vom Tal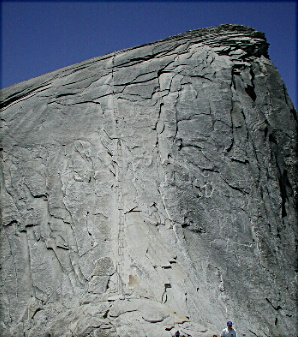 ... and from almost on top (right)/
... und von fast oben (rechts)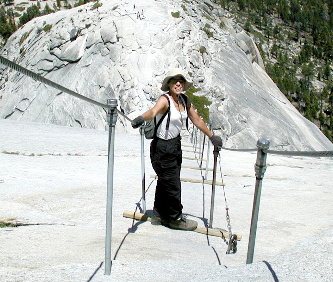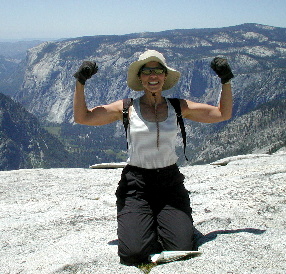 Climbing up the steep slope - I did it to the top of Half Dome!/ Steiler Aufstieg - ich habe es geschafft!
06.06.00 A relaxing day after the Half Dome hike. Julia analyzed all the stores of Yosemite Valley and together we made a bycicle tour of the valley on the nice bike trails.
06.06.00 Ein erholsamer Tag nach der anstrengenden Wanderung zum Half Dome. Julia hat die ganzen Geschäfte im Tal analysiert und zusammen sind wir Fahrrad gefahren auf den sehr schönen Fahrradwegen hier im Tal.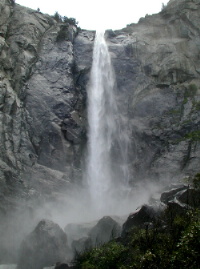 Bridal Veil Falls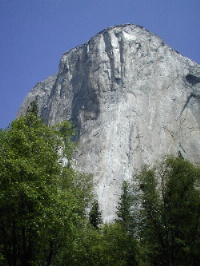 El Capitán
07.06.00 Drive to Wawona in the south of Yosemite National Park to see the Giant Sequoias in the Mariposa Grove. These trees get very old (about 3,000 years) and very high (about 88 meters).
07.06.00 Fahrt nach Wawona südlich vom Yosemite National Park, um die Riesen-Sequoias im Mariposa Grove zu sehen. Diese Bäume werden sehr alt (ca. 3.000 Jahre alt) und und sehr hoch (ca. 88 m.)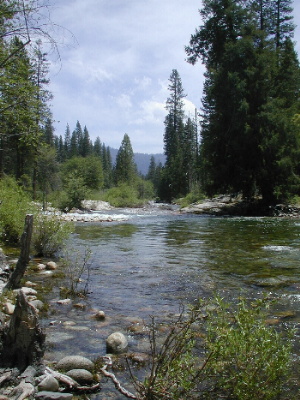 Picnic in paradise (near Wawona) /
Picknick im Paradies (in der Nähe von Wawona)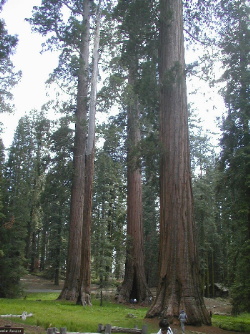 Upper Grove, a forest with many sequoias /
Upper Grove, ein Wald mit vielen Sequoias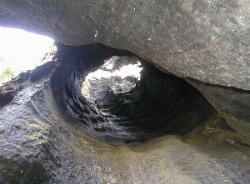 Quiz: What is that? / Was ist das? (* see answer / siehe Antwort / je donne ma langue au chat)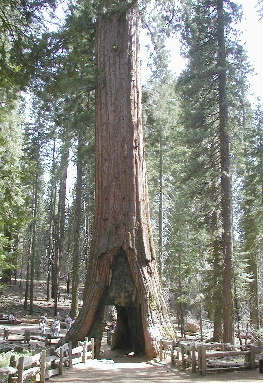 California Tunnel Tree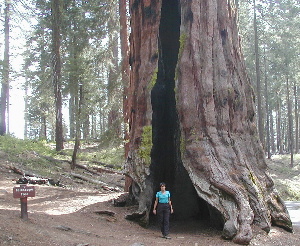 * It's the inside of this sequoia tree, Telescope Tree. This amazing tree is still alive and producing viable seeds. (back) / Die Innenseite von diesem Baum, "Telescope Tree". Dieser unglaublicher Baum lebt noch und produziert lebensfähige Samen. (zurück)
back to homepage / zurück zur Homepage
to previous page / zur vorigen Seite . . . to next page / zur nächsten Seite