08/06 - 20/06/00
back to homepage / zurück zur Homepage
08.- 09.06.00 Drive via Highway 140, 99 and 580 to San Francisco. And there we were: All the way across the continent from the Atlantic to the Pacific Ocean in 84 days. Arrived at 8.40 pm at Mikey's house in Tam Valley (North of San Francisco across Golden Gate Bridge) and met his wife Maribeth and the very sweet daughters Gina (11) and Rachel (9). On the next day, Gina and Rachel had breakfast with us in the camper and we drove them to school. Later, Volker and I took the Larkspur Ferry to downtown San Francisco. We walked through the Financial District, China Town -where we had a wonderful Dim Sum Lunch- and continued to Union Square. I couldn't resist all those nice stores and spent many hours shopping at Saks 5th Avenue und Macy's. In the evening we went to visit Mike Palmieri in his beautiful appartment and he took us to a wine party in SoMa (= South of Market), a very fancy area nowadays. It was fun and we took the last ferry back at 11.45 pm. The ferry takes about 50 minutes, I slept all the time, needless to say that I had tried many wines and some (real Antartica!) Guaraná... It was late when we got to bed.
08. - 09.06.00 Fahrt via Highway 140, 99 und 580 nach San Francisco. Einmal quer durch den amerikanischen Kontinent: vom Atlantik zum Pazifik in 84 Tagen. Um 20.40 Uhr waren wir bei Michael Levy in Tam Valley (nördlich von San Francisco über die Golden Gate Brücke) angekommen und haben seine Frau Maribeth sowie die sehr süßen Mädels Gina (11) und Rachel (9) kennengelernt. Am nächsten Tag haben Gina und Rachel bei uns im Wohni gefrühstückt, und wir haben beide in die Schule gefahren. Danach sind Volker und ich mit der Larkspur-Fähre nach San Francisco rübergefahren, sind ein wenig durch den Financial District, China Town gelaufen - haben auch dort ein fantastisches Dim-Sum-Mittagessen eingenommen - und sind dann zum Union Square gelaufen, wo es so viel schöne Geschäfte gibt, z.B. Saks 5th Avenue und Macy's. Ich habe diesen nicht widerstehen können, bin ein paar Stunden Shopping gegangen. Abends haben wir Mike Palmieri in seiner sehr schönen Wohnung besucht, und er hat uns zu einer Wein-Party geführt in SoMa (= South of Market), eine In-Gegend heutzutage. Wir haben viel Spaß gehabt und konnten die letzte Fähre um 23.45 Uhr erwischen. Die braucht etwa 50 Minuten, ich habe die ganze Zeit geschlafen, denn ich war nicht mehr ganz nüchtern mit all den Weinen, die ich probiert hatte + (echten Antartica) Guaraná... Es war sehr spät, als wir zu Bett gegangen sind...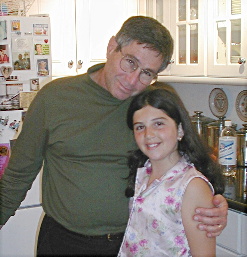 . . .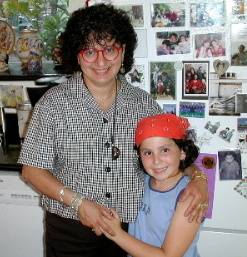 Mikey & Gina (11); Maribeth & Rachel (9) in Mill Valley, California.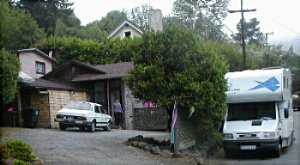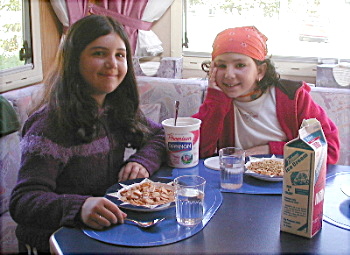 Gina and Rachel having breakfast in our camper / Gina und Rachel frühstücken bei uns im Wohni.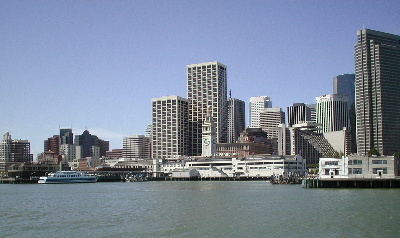 . . .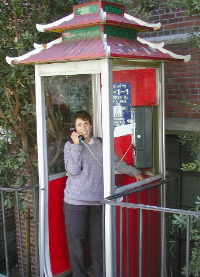 View of San Francisco from the ferry and a Chinese telephone booth / Blick von San Francisco von der Fähre und eine chinesische Telefonzelle.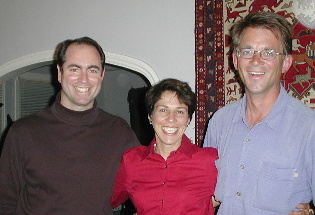 With Mike Palmieri in his appartment /
Mit Mike Palmieri in seiner Wohnung.
10.06.00 Drive from Tam Valley over the Golden Gate Bridge along Ocean Beach to Golden Gate Park. We took our bicycles and rode through all parts of the Park. We saw a "black" rodeo, and there was an African-American Music Festival taking place at the Spreckels Temple of Music.
10.06.00 Fahrt von Tam Valley über die Golden Gate Bridge entlang der westlichen Küste - Ocean Beach - zum Golden Gate Park. Dort haben wir unsere Fahrräder rausgeholt und sind durch alle Teile des Parks geradelt. Es gab an dem Tag gerade einen "Black Rodeo" (alle Teilnehmer waren Schwarz-Amerikaner) sowie einen African-American Music Festival.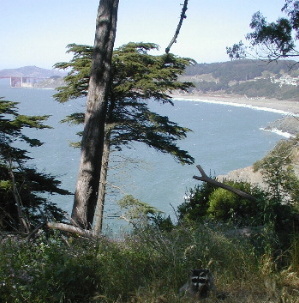 Beautiful bay view. But there is something else you should see in this picture. Can you find it? (* go to answer) / Wunderschöner Blick auf die Bucht. In diesem Bild ist aber auch etwas anderes zu sehen. Könnt Ihr das finden? (* Auflösung)
11.06.00 - 19.06.00 Julia went to Europe to celebrate her sister's 40th birthday in Brussels. In the meantime Volker drove to Lake Tahoe and spent a few days there relaxing. On June 19 -day of my return- we celebrated Mikey's 49th birthday!
11.06.00 - 19.06.00 Julia ist nach Hamburg zurückgeflogen, um an Stella's 40. Geburtstagsfeier in Brüssel teilzunehmen. Volker ist zum Lake Tahoe gefahren, und hat sich dort ein paar Tage entspannt. Am Tag meiner Rückkehr haben wir Mikey's 49. Geburtstag gefeiert!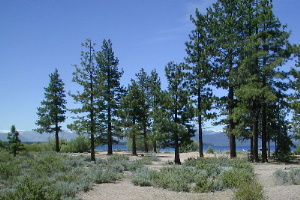 View from the camper on Lake Tahoe / Blick vom Wohnie auf Lake Tahoe
20.06.00 We drove with our camper to the Marina in San Francisco and parked it there, took our bicycles and rode to Fisherman's Wharf. Actually today we wanted to visit the Alcatraz, but tickets were sold out until Friday, so we decided that this is something we will (again) keep for our next visit to San Francisco. Instead we took a cable car and went to the Cable Car Museum where you can see how everything works. All the cables from all cable car lines run through this place! Then we walked down to North Beach and had lunch in an Italian Restaurant. After that we strolled through Pier 39 with all its stores and amusement places, saw the movies "The great San Francisco Adventure" (I wasn't so good) and continued down to Ghirardelli Square. We took our bikes and rode back to our camper through Fort Mason Park. In the evening we went with Mikey, Maribeth and Gina to a very good Chinese Restaurant in Tam Valley.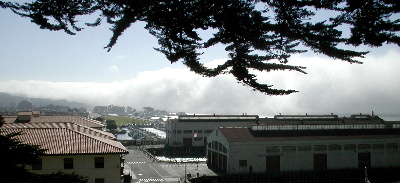 The famous fog rolling in off the Bay like a magical floating blanket. / Der berühmte Nebel, der durch die San Francisco Bucht schießt.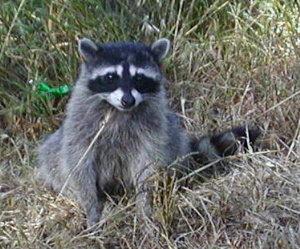 . * A racoon at the bottom of the picture! (back) / Einen Waschbär unten auf dem Foto! (zurück)
back to homepage / zurück zur Homepage
to previous page / zur vorigen Seite . . . . to next page / zur nächsten Seite