23/03 - 25/03/00
back to homepage / zurück zur Homepage
Shenandoah Valley
23/03/00 A day off at the KAO Campground near Verona with hot tub during the morning. There were many rabbits, squirrels and ducks on this campground. This is the first sunny and warm day since we arrived. Isabel and Volker did a big campfire and we had marshmellow cooked on it.
23/03/00 Ein Tag Pause auf dem sehr schönen Campground KOA mit Baden im Whirlpool, vielen zutraulichen Kaninchen, Eichhörnchen und Enten. Das ist unser erster sonniger und warmer Tag, seitdem wir angekommen sind. Abends Lagerfeuer mit Marshmellows.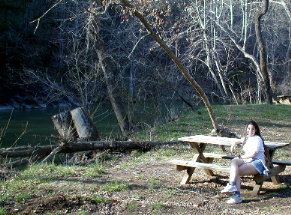 Isabel is having a sun bath / Isabel sonnt sich.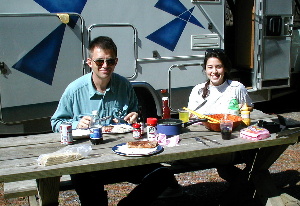 Grill party
Blue Ridge Parkway
24/03/00 Finally we are able to go up to the mountains to the Blue Ridge Parkway. There are millions of gorgeos overlooks up there, you can see some animals -especially by night: deers, racoons, opossums, squirrels etc.- as well as not yet blooming rhododendrons and old farms. A crazy trail took us to the Otter Creek where there were no otter. We stayed at the only campground opended at that time -Otter Creek. Isabel and Julia drove to buy some meat for the barbeque about 40 miles to find all we need in Lynchberg. When we came back it was already dawn, Volker was really hungry and totally frozen. Well, we were only absent for 3 hours!
24/03/00 Endlich ist das Wetter gut, so dass wir überhaupt raufkönnen (in Gedenken an den Skyline Drive...). Man sieht: Millionen von tollen Overlooks (=Aussichten über die Täler), totgefahrene einheimische Viecher (Waschbären, Opossums, Eichhörnchen..., bei Nacht auch viele lebendige Rehe) und nichtblühende Rhododendronbüsche und alte Siedlerfarmen. Außerdem unternahmen wir eine chaotische Wanderung an einem Ottercreek ohne Otter. Übernachtet haben wir an dem einzigen geöffneten Campingplatz namens Ottercreek (ohne Otter). Isabel und Julia haben für einen kurzen Einkauf das nahgelegene Lynchburg (schlappe 60 km durch die Berge) besucht, so daß sie beim Wiederkommen Volker in der Dunkelheit fast nicht mehr erkannt haben (ganz ausgehungert und erfroren, nach nur 3 Stunden!). Gegrillt wurde trotzdem.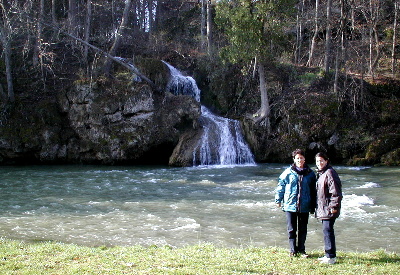 That's our campground. / So schön war unser Campingplatz.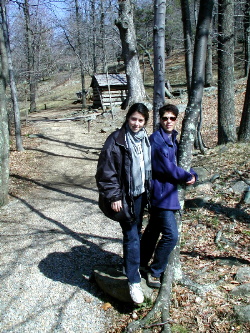 An old settler farm / Eine alte Siedlerfarm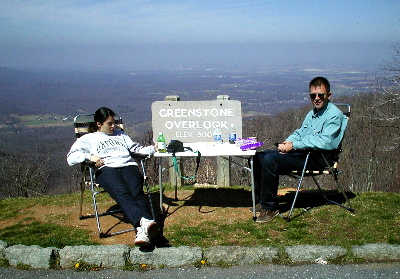 Picnic on an overlook / Picknick an einem Overlook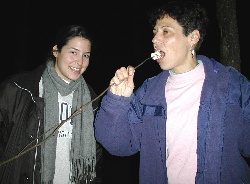 Again roasted marshmellow! / Schon wieder Marshmellow-Braten!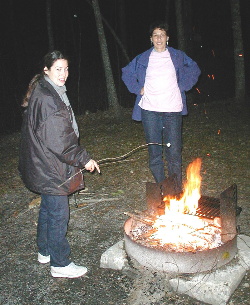 25/03/00 Natural Bridge. On the parking lot we met people coming from Norderstedt, it's incredible! Isabel still hasn't got her sneakers.
25/03/00Natural Bridge. Kommerzialisiertes Naturwunder (angrenzendes Wachsmuseum, Riesenhotel und Mega-Giftshop), welches sehr beeindruckend war. Man trifft aber auch überall Norderstedter! Seit ihrer Ankunft versucht Isabel Turnschuhe zu kaufen, heute hat es schon wieder nicht geklappt.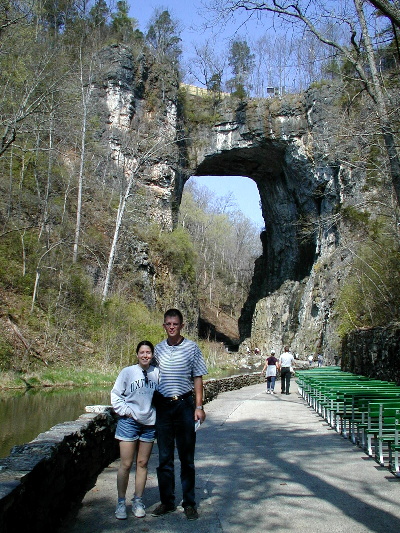 Natural Bridge, Virginia.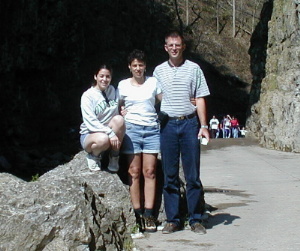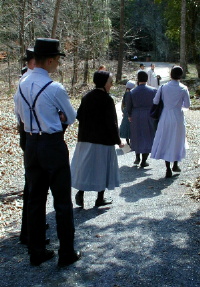 Mennonite people also go on a week-end excursion / Auch Mennoniten machen Ausflüge.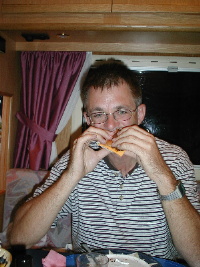 Volker tries to eat his Cheeseburger decently. / Volker versucht, ordentlich einen Cheeseburger zu verschlingen.
back to homepage / zurück zur Homepage
to previous page / zur vorigen Seite . . . . to next page / zur nächsten Seite