12/09 - 15/09/00
back to homepage / zurück zur Homepage
12.09.00 From Rocky Mountains National Park we headed to the summit of Mt Evans on the "Road to the Stars" (elevation 4347 m), the highest paved road in North America! It was a fine drive with the exciting sight of Bristlecone pine which are the oldest living organisms on earth, because they can be more than 2000 years old. Coming down we were granted with much wildlife viewing: lots of yellow-bellied marmots, mountains goats, bighorn sheep, and even a long-tailed weasel! Drive on I-70 to Frisco where we just made it before it was completely dark on the Campground along the Dillon Lake. We are still at about 2800 m elevation!
12.09.00 Unser nächstes Ziel nach dem Rocky Mountains Nationalpark war die höchste Straße Nordamerikas, die "Road to the Stars" (4347 m Höhe) auf den Mount Evans mit unserem Wohni zu erklimmen. Es war wirklich eine wunderschöne Fahrt, mit Höhenpunkten wie die Bristlecone Pinien, die die ältesten lebenden Organismen der Erde sind, denn die können bis zu 2000 Jahre alt werden. Auf der Rückfahrt haben wir so viele Tiere gesehen: lauter Murmeltiere, Steinböcke, Dickhornschafe, und sogar einen Wiesel! Fahrt auf der I-70 nach Frisco, wo wir gerade noch auf einem Campingplatz am Dillon See reingefahren sind, bevor es absolut dunkel war. Wir sind immer noch auf 2800 m Höhe!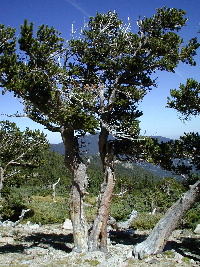 . . . . .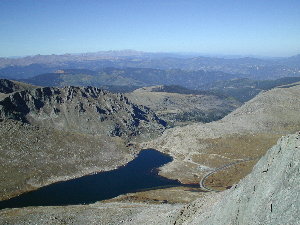 Bristlecone Pine -some 2000 years old- can be seen on the "Road to the Sun" (4347 m), the highest road in North America / Ganz seltene Bristlecone Pinienbäume, - einige 2000 Jahre alt - sind auf der höchsten Straße Nordamerikas, die "Road to the Sun"(4347 m), zu bewundern.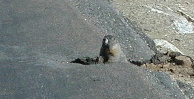 . . . . .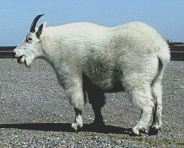 (Left:) Curious marmot peeking out of his den right on the road. (Right:) No, this is not a mounted animal, it's a real mountain goat! /
(Links:) Neugieriges Murmeltier, guckt aus seiner Höhle raus, genau vor uns auf der Straße! (Rechts:) Nein, das ist kein ausgestopftes Tier, sondern ein echter Steinbock.
13.09.00 Drive to Aspen (ca. 2800 m elevation) over the Independence Pass (3630 m). On our way back we stopped for overnight on a nice spot along the river at 3200 m elevation (see picture below on the right).
13.09.00 Fahrt nach Aspen (ca. 2800 m Höhe) über den Independence Pass (3630 m). Auf dem Rückweg haben wir einfach an einer schönen Stelle entlang eines Flußes bei 3200 m Höhe für die Übernachtung angehalten (siehe Foto unten rechts).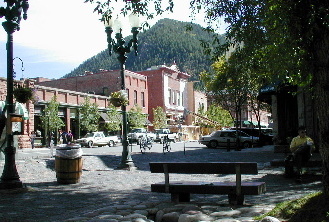 . . .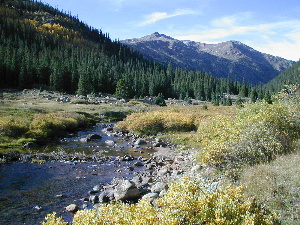 Aspen & Independence Pass Road, Colorado.
14.09.00 We started early today because we wanted to end up early on a nice campground. Drive to Gunnison National Recreational Area with lunch stop at the Neversink picnic ground. After a long time we saw again a snake: a racer. After taking a nap, we went swimming in the Blue Mesa Lake at Elk Creek and settled down early at the adjacent campground. We got the visit of many animals on our site: prarie dogs, pikas, rabbits, black-billed magpies and chipmunks.
14.09.00 Wir haben heute früh gestartet, denn wir wollten auch früh auf einem schönen Campingplatz Schluß machen. Fahrt zur Gunnison National Recreational Area mit einem Mittagsstop am Neversink-Piknikplatz. Nach langer, langer Zeit haben wir wieder eine Schlange gesehen (eine "Racer"). Nach der Siesta sind wir dann im Blue Mesa Lake schwimmen gegangen und haben uns danach am Campingplatz nebenan installiert. Wir haben uns ein wenig wie in einem Zoo gefühlt, denn lauter Tiere haben uns auf unserem Platz besucht: Prairiehunde, Pikas, Hasen, Magpies und Ringelhörnchen.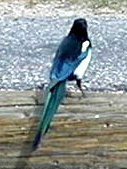 Magpie . . . .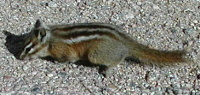 Chipmunk / Ringelhörnchen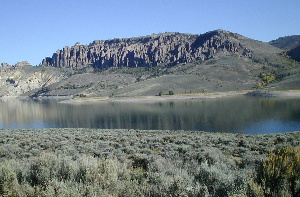 Curecanti National Recreation Area: "Pinnacles".
15.09.00 On this beautiful day we drove to Pioneer Point on the north rim of the upper Black Canyon of the Gunnison and we hiked the Curecanti Creek trail which descends from the rim and follows the banks from Curecanti Creek to Morrow Point Lake, almost to the Curecanti Needle (6,6 km / 2,5 hours). Lunch at the Pioneer Point, short nap, then drive to Black Canyon of the Gunnison National Park. On our way we stopped at the "Pleasant Valley" store and ate a delicious pie -this had been recommended to us by two rangers, and indeed they were really good! After registering at the campground of the National Park we drove along the south rim of the Black Canyon, stopping at almost each turnout. A High Point -the last turnout (2523 m)- we hiked the Warner Point Nature Trail up to Warner Point (5 km / 1,5 hour) where we enjoyed fantastic views on the Uncompahgre valley.
15.09.00 An diesem wunderschönen Tag sind wir zum Pioneer Point am Nordufer des oberen Black Canyon of the Gunnison gefahren und sind den "Curecanti Creek" Weg gewandert. Wir sind vom Ufer des Black Canyon of the Gunnison runter zum Curecanti Creek und dem Morrow Point See bis fast zur Curecanti Needle gelaufen und wieder hoch (6,6 km / 2,5 Stunden). Mittagessen am Pioneer Point, kurze Siesta dann Fahrt zum Black Canyon of the Gunnison National Park. Auf dem Weg dorthin haben wir beim Geschäft "Pleasant Valley" angehalten und dort ein Stück Obsttorte zu essen - dies wurde uns von zwei Ranger empfohlen, und ich muss zugeben, die Torten waren wirklich sehr gut! Nachdem wir uns auf dem Campingplatz des Nationalparks registriert haben, sind wir den Süduferweg des Black Canyons entlang gefahren und haben an fast jedem Aussichtspunkt angehalten. Am "High Point", dem letzte Aussichtspunkt (2523 m), sind wir den Warner Point Nature Trail hoch zum Warner Point gewandert (5 km / 1,5 Stunden). Von dort haben wir fantastische Ausblicke auf den Uncompahgre Tal genossen.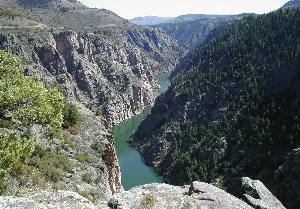 . . . . .

Curecanti National Recreation Area: Black Canyon of the Gunnison; Curecanti "Needle".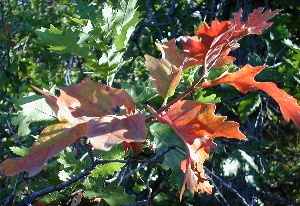 Gambel oak leaves changing to fall colors / Herbstverfärbung der Eichenblätter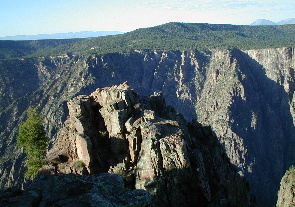 Black Canyon of Gunnison National Park
back to homepage / zurück zur Homepage
to previous page / zur vorigen Seite . . . . to next page / zur nächsten Seite