18/05 - 21/05/02
back to homepage / zurück zur Homepage
18.05.02: The Trossachs - Loch Lomond
We drove through Glasgow to the "Trossachs", a small mountain range north of Glasgow. There we hit a 7.5 km long (2h) trail up to the mountain Ben A'an. It was a welcome exercise after this much driving. A beautiful view awaited us up at the mountain. Of course (being in Scotland) we were exposed to a very cold wind, often quite wet. After the hike we drove to our CL near Loch Lomond, with a nice view of the lake, near Drymen.
18.05.02: The Trossachs - Loch Lomond
Fahrt über Glasgow zu den "Trossachs", wo wir eine sehr abwechslungsreiche, 7,5 km lange (2 Stunden) Wanderung hoch auf den Berg Ben A'an gemacht haben. Von dort oben hatten wir einen panoramischen Blick auf Loch Katrine und Loch Achray. Wir hatten typisches, schottisches Wetter: 10°C, manchmal Nieselregen, keine Sonne, eine Menge Wind... Danach Fahrt zu unserem Übernachtungs-CL mit Blick auf Loch Lomond in der Nähe von Drymen.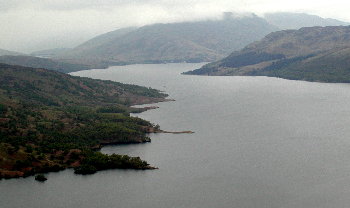 View from Ben A'an at the Trossachs on Loch Katrine, Scotland / Aussicht vom Ben A'an in den Trossachs auf Loch Katrine, Schottland.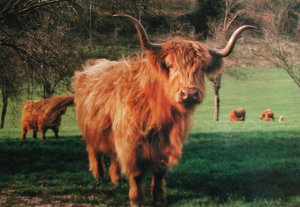 Scottisch Highland cattle. / Schottische Highland-Rinder
---
19.05.02: Loch Lomond - Loch Long - Glen Croe - Inveraray - Loch Awe - Loch Etive - Firth of Lorn
A short drive (in rain) and we were in jail - well, in the Jail Museum in Inveraray. We continued along various Lochs to our campground north of Oban (North Ledaig Caravan Club, £ 8) and were very lucky to finally enjoy the sun with warm temperatures until sunset.
19.05.02: Loch Lomond - Loch Long - Glen Croe - Inveraray - Loch Awe - Loch Etive - Firth of Lorn
Eine kurze Fahrt (im Regen) und wir waren im Gefängnis - im Gefängnismuseum von Inveraray, um genauer zu sein. Danach ging es an verschiedenen Lochs entlang bis zu unserem Campingplatz nördlich von Oban (North Ledaig Caravan Club, £ 8) . Dort angekommen wechselte das Wetter sprunghaft auf sonnig und warm. Bis zum Sonnenuntergang haben wir die Sonne draußen genossen.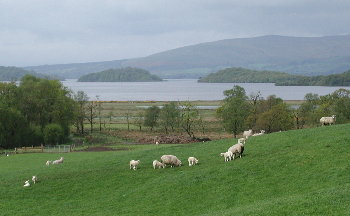 . . . . . . .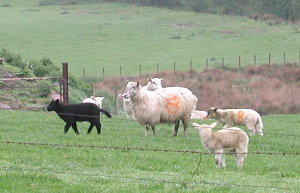 This is the view on Loch Lomond from our motorhome; we love looking at the baby sheep: sometimes there is a black one in the herd. / Das ist der Blick auf Loch Lomond aus unserem Wohni. Sehr süß sind die Lämmer, witzig ist dieser einzige schwarze Schaf in der Herde.
Kilchurn Castle, Loch Awe.
---
19.05.02: Glen Coe - Glen Nevis (Fort William)
We first drove up to Glen Coe and were eager to hike up there, but unfortunately, the weather was really bad: heavy rains and wind made us continue our way to Fort William. We drove through Glen Nevis and hoped we could do some hiking over there. And we finally really did. We parked our motorhome at a good parking lot and walked to the gorge of the Water of Nevis up to the Steall Falls. To reach them, there was an adventurous pedestrian bridge. We decided to overnight at the parking lot with lovely views on the surrounding mountains.
19.05.02: Glen Coe - Glen Nevis (Fort William)
Wir begannen den Tag damit, in das Tal "Glen Coe" zu fahren, um dort zu wandern. Der heftige Regen zusammen mit dem starken Wind veranlassten uns jedoch, weiter zu Fort William zu fahren. Dort wanderten wir in die "Water of Nevis" Schlucht zu den Steall Falls. Unterwegs mussten wir über eine abenteuerliche Hängebrücke den Fluß überqueren. Übernachtung in diesem Wanderparkplatz.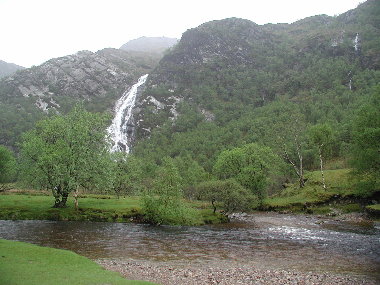 . . . . . . .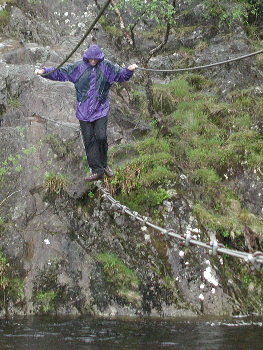 Our hike to the Steall Falls along the Water of Nevis and a gorge (near Fort William)/ Unsere Wanderung zu den Steall-Wasserfällen entlang dem Fluss des Nevis und einer Klamm (bei Fort William)
---
21.05.02:
Big hiking day. In (for Scotland) beautiful weather we climbed all the way to the peak of Ben Nevis, the highest mountain in Great Britain. It took us 6h 45 min roundtrip, with 1330 m elevation gain. On the top we even had to walk over snow. But we were lucky and had a beautiful view during most of the hike. When we came back, we did some grocery shopping and stayed overnight at the big parking lot of the Nevis Range Ski Development. In this parking lot we met the Meinzinger family,who spend also the night at this location in their motorhome. We had a nice evening together.
21.05.02:
Großer Wandertag. Bei (für Schottland) hervorragendem Wetter sind wir auf den Gipfel des Ben Nevis gestiegen, des höchsten Berges von Großbritannien. Wir brauchten 6 h 45 min für die ganze Wanderung, mit 1330 m Höhendifferenz. Am Gipfel hatten wir sogar größere Schneegebiete zu überwinden. Jedoch hatten wir für den größten Teil der Wanderung hervorragende Sicht. Nach unserer Rückkehr fuhren wir zum Safeway-Supermarkt zum Einkaufen und übernachteten anschließend auf dem großen Parkplatz der Nevis Range Ski Development. Dort trafen wir die Familie Meinzinger, die ebenfalls in Ihrem Wohnmobil auf diesem Parkplatz übernachteten. Wir verbrachten einen schönen Abend zusammen.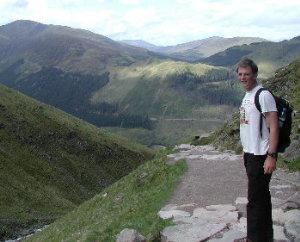 . . . . .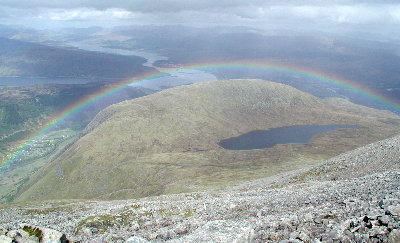 Hiking up to Ben Nevis, 1344 m high -the highest mountain in Great Britain; a spectacular rainbow circling the hill over Fort William/ Wanderung hoch zum Ben Nevis, mit seinen 1344 m der höchste Berg in Großbritannien; ein spektakulärer Regenbogen, der den Hügel über Fort William umschließt.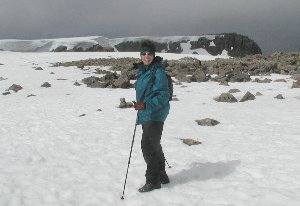 . . . . .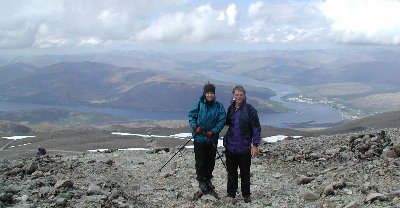 We made it! View from Ben Nevis (1344 m) upon Loch Eil and Loch Linnhe / Wir haben's geschafft! Blick vom Ben Nevis (1344 m) auf Loch Eil und Loch Linnhe.
---
back to homepage / zurück zur Homepage
to previous page / zur vorigen Seite . . . . to next page / zur nächsten Seite