Santiago de Cacém, Lisboa
10 - 13/03/06
back to homepage / zurück zur Homepage
---
March 10th, 2006: Loulé - Santiago de Cacém
Drive to Santiago de Cacém (East of Sines on the West coast) where we spent a quiet night near the market hall.
10. 03. 06: Loulé - Santiago de Cacém
Fahrt nach Santiago de Cacém (östlich von Sines an der Westküste), wo wir einige ruhige Nacht auf dem Parkplatz in der Nähe der Markthalle verbracht haben.
March 11th, 2006: Santiago de Cacém - Lisboa
After we had breakfast with fresh tasty rolls Volker got from a small supermarket on the side of the market hall, we drove to the Roman site Minóbriga (entrance fee: 3 € - open daily from 10 am-5 pm, except monday). It is always amazing to see what the Romans did 2000 years ago... Drive to Lisbon where we first stopped at the Docas da Marina, located under the bridge "25 de Abril" over the Tagus. We had a nice lunch with good wine, and enjoyed very much the atmosphere. We then drove to our parking and overnight place between the Torre de Belém and the monument "Padrão dos Descobrimentos", the memorial of discoveries. Diesmal standen wir eher beim Padrao dos Descobrimentos. Our cousins Thierry and Ivone joined us, and we all went to eat the famous pastéis de Belém before going to see Thierry's new boat. We spent a nice evening in Tacoen's home in Sassoeiros, enjoying the spaghetti bolognese Ivone cooked for us all.
11. 03. 2006: Santiago de Cacém - Lisboa
Nachdem wir unser Frühstück mit leckeren frischen Brötchen eingenommen haben, die Volker in einem Tante-Emma-Laden an der Seitenstraße von der Markhalle gekauft hatte, sind wir zu den römischen Ruinen von Minóbriga (Eintritt: 3 €, täglich geöffnet 10-17 Uhr, ausgenommen Montag). Es ist schon toll zu sehen, was die Römern so vor 2000 Jahren bauten... Fahrt nach Lissabon, wo wir zuerst an einem Parkplatz fast neben der Brücke "25 de Abril" gestellt haben, und sind zu der Doca da Marina gegangen. Dort gibt es wirklich nette Restaurants, und wir haben ein schönes Mittagessen mit gutem Weißwein aus dem Douro eingenommen haben. Danach sind wir zu unserem Stellplatz zwischen der Torre de Belém und dem "Padrão dos Descobrimentos", dem Denkmal der Entdeckungen, gefahren. Wir standen diesmal eher neben dem Padrão dos Descobrimentos. Unsere Cousins Thierry und Ivone sind zu uns gekommen, und zusammen haben wir erstmal wieder die berühmten und super-leckeren Pastéis de Belém gegessen und danach haben wir uns das neue, hübsche Segelboot von Thierry angeschaut. Den Abend haben wir bei den verbracht, und Ivone hat uns allen leckere Spaghetti Bolognese zum Abendessen vorgelegt.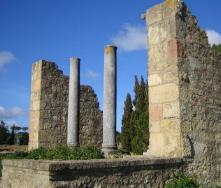 . . . . .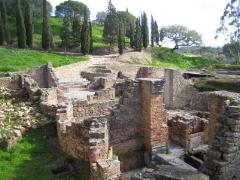 . . . . .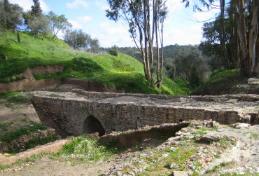 Roman ruins of Miróbriga, Santiago de Cacém / Die römische Ruinenstadt Miróbriga, Santiago de Cacém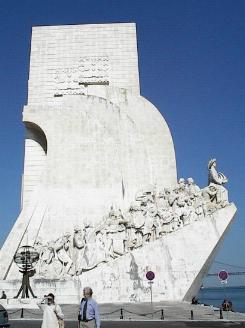 . . . . .

Like the prow of a caravel from the Age of Discovery, the Memorial to the Discoveries (Padrão dos Descobrimentos) stands on the Tagus, looking ready to strike out across the Sea of Darkness. Notable explorers, chiefly Henry the Navigator, are immortalized in stone along the ramps. In the inside, you can take a lift up to the 7th floor and enjoy the view. On the right picture you can see from our RV from above the memorial (we are the first coach on the left) and the Torre de Belém./ Wie der Bug einer Karavelle aus der Entdeckerzeit, steht das Denkmal der Entdeckungen (Padrão dos Descobrimentos) auf dem Tejo bereit aufzubrechen. Die berühmten Personen aus dem Zeitalter der Entdeckungen, als erster Heinrich dem Seefahrer, sind sind auf den Flanken des Schiffes dargestellt. Ein Fahrstuhl bringt Besucher auf die Aussichtsplattform im 7.Stock. Von da aus kann man gut unser Wohni sehen (der erste von links) und die Torre de Belém ganz hinten.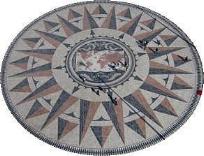 . . . . .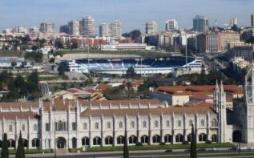 View from the top of the Memorial to the Discoveries: windrose with a map of the discoveries, and the convent of Hieronymus. / Blick von Denkmal der Entdeckungen: Windrose mit der Karte des Entdeckungen und das Hieronymus-Kloster.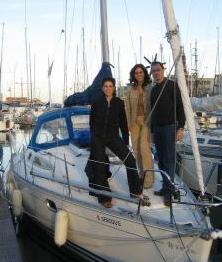 . . . . .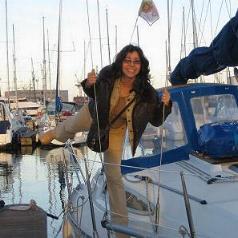 . . . . .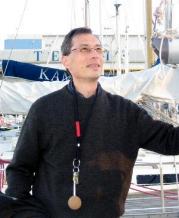 Julia, Thierry, and Ivone on Thierry's beautiful new sailing boat. / Julia, Thierry und Ivone auf dem schönen neuen Segelschiff von Thierry
March 12th, 2006:
What a beautiful day today! It is like summer, and we decide to take this lift up to the Memorial of the Explorers (opens at 10 a.m.) and have a gorgious view from above. Then we went into town and enjoyed Lisbon, especially from the look outs, sipping coffee. In the evening we went to the Coliseu dos Recreios to watch the Musical "Opera do Malandro" from Chico Buarque, and we enjoyed it very much.
12. 03. 2006:
Was für ein herrlicher Sommertag heute. Wir haben uns entschieden, den Fahrstuhl zum 7. Stock im Denkmal der Entdeckungen zu nehmen, und genießen den tollen Blick von da oben. Dann sind wir in die Innenstadt gefahren, und haben Lissabon so genossen, wie es sich gehört. Am schönsten ist es von den Aussichtsplätzen, die es überall in der Hochstadt gibt - am liebsten bei einem guten Kaffee. Abends sind wir zum Coliseu dos Recreios gefahren, wo wir uns die "Opera do Malandro" von Chico Buarque angeschaut haben. Es hat uns sehr gut gefallen!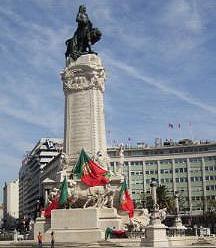 . . . . .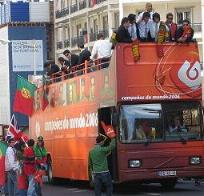 . . . . .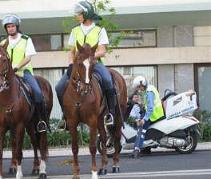 The Largo Marquês de Pombal was decorated for a film stage with soccer fans celebrating the victory of Portugal at the WM 2006. Please have a look on the right picture behind the mounted police: you will see a man on his motorcycle cleaning up the horse shit with his integrated vacuum cleaner! /
Der Largo Marquês de Pombal war so geschmückt wie nach dem Sieg der portugiesischen Manschaft in der WM 2006. Schaut mal auf dem rechten Bild hinter den Pferden: dort saugt ein Mann der Stadtreinigung auf Motorrad die Pferdeäpfel mit seinem integrierten Staubsauger auf!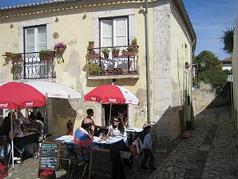 A typical restaurant in the Alfama in Lisbon / Ein Restaurant in der Alfama, Lissabon
March 13th, 2006: Lisbon - Loulé
Visit of the Portugal Cartographic Society. How disappointed we were! They have very old maps (1978!) and couldn't give us any useful information about up-to-date maps. So we went to the big shopping center nearby before going back to our coach and drivin back home.
13. 03. 2005: Lissabon - Loulé
Besuch des Kartographischen Instituts Portugal. Wie enttäuscht waren wir mit ihren uralten (1978!) Karten! Daher sind wir dann zum Shopping Center gelaufen, bevor wir zum Wohni zurück sind und nach Hause gefahren sind.
back to homepage / zurück zur Homepage
to previous page / zur vorigen Seite . . . . to next page / zur nächsten Seite