Sierra de Aracena, Spain
13 - 16/04/06
back to homepage / zurück zur Homepage
---
April 13th, 2006: Loulé - Almonaster la Real, Spain
Drive to Almonaster la Real along the road parallel to the Portugal-Spain border (180 km). Overnight stay on the parking lot of the restaurant in front of the town.
13. 04. 06: Loulé - Almonaster la Real, Spanien
Fahrt nach Almonaster la Real über die Landstraße entlang der Spanien-Portugal-Grenze (180 km). Übernachtung auf dem Parkplatz des Restaurants gegenüber des Dorfes.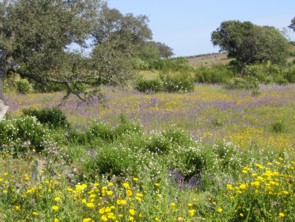 . . . . .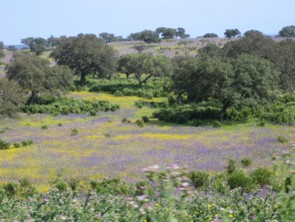 . . . . .

The lovely wild flowers at this time of the year are a beautiful site along the road to the Sierra de Aracena area / Die Wildblumen, die zur Zeit entlang der Straße zur Sierra de Aracena blühen sind eine Augenweide.
April 14th, 2006: Almonaster la Real
Hike to Acebuche and Arroyo and back to Almonaster la Real just before the heavy rains began. We decided to take in some tapas at "Casa Garcia" which were, in fact, excellent. Actually, this restaurant has been recommended in almost all travel guides! The rest of the afternoon was spent in our motorhome relaxing and playing games.
14. 04. 2006: Almonaster la Real
Wanderung nach Acebuche und Arroyo und zurück nach Almonaster la Real gerade vor dem dicken Regen. Wir haben noch einige sehr leckere Tapas im Restaurant "Casa Garcia" eingenommen - übrigens wird das Restaurant in den meisten Reiseführern empfohlen. Danach haben wir den Rest des Nachmittags im Wohni verbracht.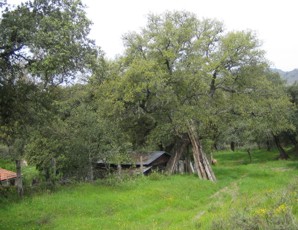 . . . . .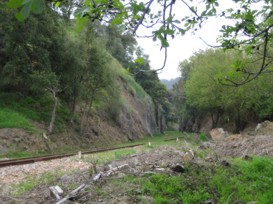 . . . . .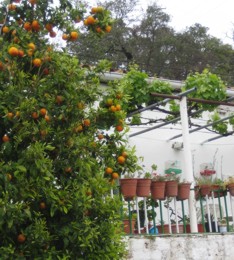 Hike from Almonaster la Real to Acebuche / Wanderung von Almonster la Real nach Acebuche
April 15th, 2006:
After a very rainy night, we drove to Aracena and positioned ourselves on the fair grounds which is a very good place to stay because it is near downtown and it has water as well as dumping. Our neighbours happened to be Lou Avers and Silva Baumann who write travel articles. After chatting for quite a moment, we hit the trail to Linares de la Sierra. We were pretty tired afters this hike, but we still managed to walk into town and, by chance, we assisted to a procession of "Semana Santa" (means Easter). In the evening we still watched a DVD!
15. 04. 2006:
Nach einer regenreicher Nacht, sind wir nach Aracena gefahren, wo wir uns auf dem Messe-Parkplatz gestellt haben. Dieser Platz ist ideal, denn es liegt nahe dem Stadtzentrum, es hat auch noch außerdem Frischwasser und Abwasserrohr. Heute sind wir nach Linares de la Sierra gelaufen. Danach waren wir auch richtig tot! Trotzdem sind wir noch am späten Nachmittag in die Innenstadt von Aracena gelaufen und haben das Glück gehabt, eine Osterprozession sehen zu können. Abends im Wohni haben wir uns noch eine DVD angeschaut.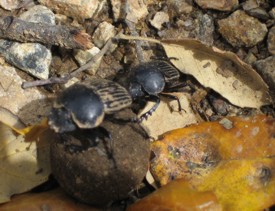 . . . . .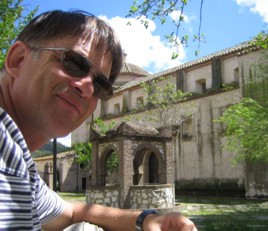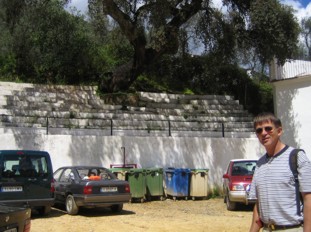 . . . . .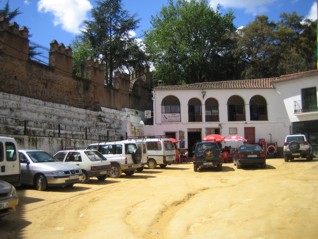 This bug is rolling an earth ball (backwards!). Linares de la Sierra with its bull ring just in the middle of town. / Dieser Käfer rollt ein Erdbällchen (rückwärts!). Linares de la Sierra mit ihrer Stierkampfarena mitten im Dorf
April 16th, 2006: Aracena - Huelva
Drive to ... from where we hit the trail to ? Drive South to Huelva - parking and overnight staz on the big grounds next to the Stadium. In the evening we enjoyed tasting tapas in various bars in town centre
16. 04. 2006: Aracena - Huelva
Fahrt nach ..., von wo aus wir die Wanderung nach ? begonnen haben. Danach Fahrt nach Huelva, Parkplatz mit Übernachtung auf dem großen Grundstück nebem dem Stadium. Wir haben viel Spaß gehabt, Tapas in verschiedenen Bars auszuprobieren.
April 17th, 2006: Huelva - Loulé
After breakfast we drove to Carrefour (where we love to do grocery shopping) and then back home.
17. 04. 2006: Huelva - Loulé
Nachdem wir gefrühstückt haben, sind wir zum Carrefour gefahren (wo wir unheimlich gerne einkaufen) und danach sind wir nach Hause gefahren. <
back to homepage / zurück zur Homepage
to previous page / zur vorigen Seite . . . . to next page / zur nächsten Seite