Salema, Sagres, Lagos (P)
back to homepage / zurück zur Homepage
---
December 12, 2003: Salema, Sagres (P)
After our tire break on our last trip to Spain, we had to have our garage repaired. The impact of the loosen tire strips on the part just behind the tire was so powerful that it had torn out a piece of our garage floor. We had had it repaired a week after at a carpenter downtown of Loulé. This had already been an adventure to drive into the one-way street in the wrong sense, so the carpenter could work from his sidewalk. A few days later we discovered that the piping of the fresh water was not properly sealed. So we had to drive back, and this time the encanador/canalizador who is based just on the other side of the street fixed the problem -working on the street with cars, trucks, bulldozers passing by. It was a dangerous job. But now everything is fixed, we hope.
In the afternoon, we were able to drive to the "Barlavento" side of the Algarve, i.e. to the Windward Coast. We popped down to Salema, a cute little fishing village as long as it is not crowded with tourists. A little stroll along the cliffs put us in sweat, there was no wind and it was incredibly warm! We drove further to Sagres which lies at the western end of the Algarve. The fortress is the first thing you get to see - although it is more impressive from outside than inside, consisting only of a massive front wall and two bastions. After having paid the entrance fee of 3 € you get to see a stone wind rose a small church, two ugly buildings holding a photo gallery, and a self-service restaurant. Even so, we enjoyed walking to the Ponta de Sagres and were delighted by the sunset colors spreading upon the sea and the sky. You see death-defying anglers with huge poles perch atop the cliffs all around -from time to time in local newspapers you hear from some who fell down and lost their lifes... Overnight stay on the parking lot in front of the fortress.
12. 12. 03: Salema, Sagres (P)
Nach unserem Problem mit dem geplatzten Reifen auf unserer letzten Reise nach Spanien, haben wir unsere Garage reparieren lassen müssen. Denn die Wucht der gelösten Reifenteile hatte den Boden an einigen Stellen der Garage zerstört. Die Reparatur bei einem Schreiner in der Innenstadt von Loulé war schon ein Abenteuer gewesen, denn wir mussten mit dem Wagen falsch rum in eine enge Einbahnstraße bis vor die Werkstatt fahren. Nur so konnte der Meister seine Arbeit vom Gehweg aus richten. Einige Tage danach bemerkten wir allerdings, dass die Frischwasserleitung nicht richtig abgedichtet war. So mussten wir noch mal zurück, jedoch hat der Klempner seine Werkstatt auf der anderen Seite der Straße. Diesmal hat dieser Handwerker die Arbeit auf der Straße verrichtet - ein gefährlicher Job war dies. Nun scheint alles in Ordnung zu sein, und so konnten wir nachmittags losfahren.
Fahrt zur "Barlavento"-Seite der Algarve, d.h. die Westküste. Auf unserem Programm war ein Abstecher nach Salema, das ein süßes Fischerdorf ist, solange keine Touristen dort sind. Ein kleiner Spaziergang entlang der Steilküste hat uns ins Schwitzen gebracht, denn heute ist es sehr warm und windstill! Danach sind wir nach Sagres, das ganz am Westen der Algarve liegt, gefahren. Am ersten fällt die Festung auf. Allerdings sieht sie beeindruckender von Außen als von Innen aus. Denn, nachdem man den Eintritt von 3 € gezahlt hat, sieht man nur eine steinerne Windrose, eine alte Kirche und zwei hässliche Gebäude mit einer Fotogalerie und einem Schnellrestaurant. Allerdings haben wir sehr den Spaziergang zur Ponta de Sagres zum Leuchtturm genossen. Man sieht viele lebensmüde Angler, die an den steilen Klippen mit langen Angeln hängen, aber auch die wunderschönen Farben des Sonnenunterganges, die den ganzen Himmel überfluten. Übernachtung auf dem Parkplatz vor der Festung.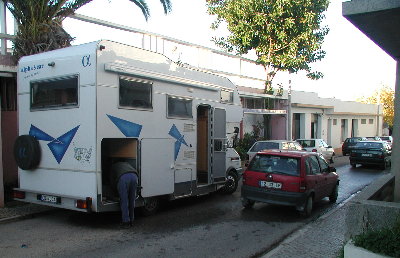 The garage of our motorhome is being repaired in the middle of a narrow street in Loulé! / Die Garage des Wohnis wird mitten auf einer engen Straße in Loulé repariert!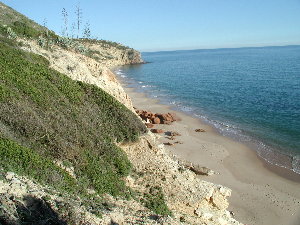 . . . . . .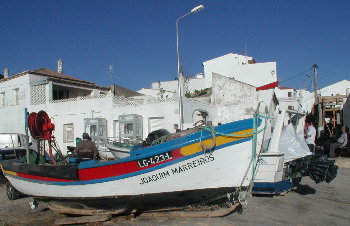 Salema, a small fishing village between Lagos and Sagres, which now in the winter time is very quiet without the crowds of tourists. / Salema, ein hübsches kleines Fischerdorf zwischen Lagos und Sagres - zur Zeit sehr ruhig ohne Touristen.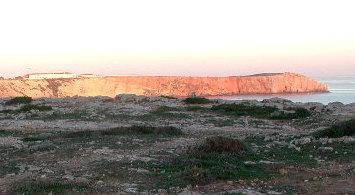 . . . . . .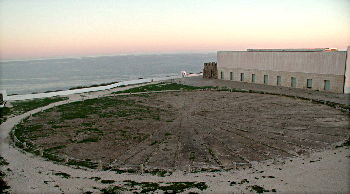 Sunset at Sagres with its dramatic coastline and inside the fort of Sagres with a stone wind rose (43 m in diameter) that was possibly built for Prince Henry the Navigator in the 15th century./ Sonnenuntergang bei Sagres mit der spektakulären Küste und Blick auf die gepflasterte Windrose in der Sagres-Burg. Diese Windrose (43 m Durchmesser) wurde wahrscheinlich für Prinz Heinrich den Seefahrer im 15. Jh. gebaut.
---
December 13, 2003: Sagres - Lagos
Walk through the village of Sagres -which is pretty spread out- to Porto da Baleeira where you get a view up to Ponta da Piedade near Lagos. After having a snack on the main square we drove to Meia Praia at Lagos. And ... it was so warm (24 °C) that we went swimming into the sea. But the water was really cold, we guess about 16 °C. In the evening we went for a dinner meeting of Germans at the Restaurant "O Jardim". Overnight stay across the restaurant on the beach of Meia Praia.
13. 12. 2003: Sagres - Lagos
Spaziergang durch das Dorf von Sagres bis zum Porto da Baleeira. Von dort blickt man bis zur Ponta da Piedade nahe Lagos. Nachdem wir auf dem Hauptplatz von Sagres einen Kleinigkeit zu uns genommen haben, sind wir nach Meia Praia bei Lagos gefahren. Unglaublich wie warm es heute ist, ca. 24 °C im Schatten. Da mussten wir ins Meer springen. Das war allerdings ganz schön kalt... Abendessen im Restaurant "O Jardim", wo wir ein Treffen mit einer deutschen Gruppe hatten. Übernachtung gegenüber dem Restaurant am Meia-Praia-Strand.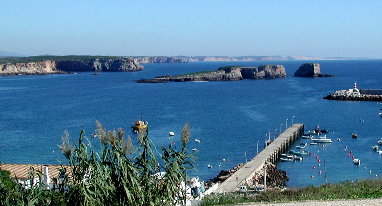 Porto da Baleeira, Sagres
---
December 14, 2003: Meia Praia - Lagos
Waking up with such a beautiful sunrise on a spectacular surrounding is something special. We enjoyed our Sunday breakfast, then went for a little walk, and landed at one of the nice restaurants on the beach for a drink. At noon we visited our friends Luís, Micaela and Marta Fontoura in downtown Lagos. There, we sat for almost 2 hours in a street café, enjoyed the good coffee and talked. Then we drove to our old overnight place at Meia Praia and because it is so warm again we had a refreshing swim again. After that a great lunch-dinner with two tasty kinds of fish that on our grill: salema and tainha.
14. 12. 2003: Meia Praia - Lagos
Einen tollen Sonnenaufgang in einer so spektakulären Umgebung aufzuwachen ist was Besonderes. Wir haben zuerst unser Sonntagsfrühstück genossen, sind dann ein wenig spazieren gegangen, und dann haben wir noch einen Kaffee in eines der schönen Restaurants am Meia-Praia-Strand eingenommen, bevor wir zu unseren Freunden Luís, Micaela und Marta Fontoura in die Innenstadt von Lagos gefahren sind. Danach zurück zu unserem alten Stellplatz. Da es heute wieder so warm ist, sind wir wieder ins Meer gesprungen! Ein tolles Mittag-/Abendessen mit zwei verschiedenen Sorten Fisch (Salema und Tainha) beendeten den heutigen Tag.
.
Lagos and Ponta da Piedade at sunrise as seen from our RV at Meia Praia. / Lagos und Ponta da Piedade bei Sonnenaufgang von unserem Wohni aus gesehen, bei Meia Praia.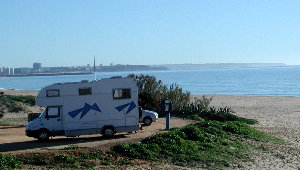 . . . . . .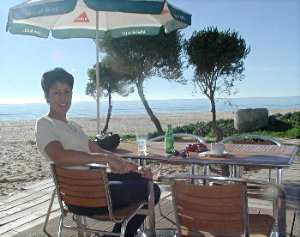 Not only did we enjoy our spectacular overnight place but also the nice restaurants on the Meia Praia. It was so warm (24°C) and sunny today that we even went for a swim in the ocean! / Meia Praia bietet nicht nur tolle Wohni-Stellplätze aber auch gute und schöne Restaurants. Es war wieder so warm (24 °C) und sonnig heute, dass wir im Meer baden waren!
back to homepage / zurück zur Homepage
to previous page / zur vorigen Seite . . . . to next page / zur nächsten Seite