19/04 - 21/04/00
back to homepage / zurück zur Homepage
19.04.00 Today we actually wanted to drive to El Paso. But it was again extremely windy, and we decided to drive over Asteria to Alamogordo, so to avoid driving through the so called "pass". After 5 weeks, we finally managed to find the right place and the right time to wash our RV. In fact, this was a good deal because not only our RV got washed but we too with the strong winds throwing all the water back to us. Entering Lincoln National Forest, we were enchanted (motto of New Mexico: Land of Enchantment) by the suddenly change of vegetation. We decided to make a break in Mayhill, a little "town" with mainly a gas station, a saloon and a snack bar. In Mayhill we were glad to find a nice and cozy campground "Pinaco River" where we could wash our clothes in the laundry and enjoy the nice weather with a barbeque. As the sun disappeared the evening became quite cold and during night the temperature went down to under 0 °C!
19.04.00 Am 19. April war es wieder so windig, daß uns abgeraten wurde, den Pass nach El Paso zu nehmen, so daß wir kurzfristig unsere Route geändert haben: über Artesia und Alamogordo zum White Sands National Park. In Artesia haben wir endlich eine Waschanlage gefunden, in der wir unser Wohni wieder schön sauber hinbekommen haben. Allerdings wurden wir durch die Windböen gleichzeitig mitgewaschen. Wegen des Windes sind wir nur bis Mayhill (hauptsächlich bestehend aus einer Tankstelle, einer Kneipe und einer Snack Bar) im Lincoln National Forest gekommen, wo wir einen schönen, ruhigen, leeren und gemütlichen Campingplatz gefunden haben (Pinaco River). Wir haben ausgenutzt, unsere Wäsche zu waschen und das schöne Wetter zu genießen. Am Abend wurde es deutlich kühler und nachts ist die Temperatur sogar unter den Gefrierpunkt gesunken!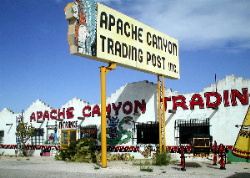 . . . . .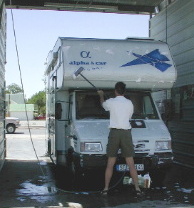 20.04.00 It was very hard for us to leave this lovely area of Lincoln National Forest, so we decided to somehow delay our departure from this area and hike up the Osha trail nearby Cloudcroft (1 1/2 hours). To start with we could look down to the Old Trestle railroad and our trail led us to splendid views down to White Sands. Curious about how it would look like from nearby we drove down to White Sands National Park and spent the afternoon on these real strange gypsum dunes until sunset.
20.04.00 Es fiel uns sehr schwer, diese wunderschöne Gegend des Lincoln National Forest zu verlassen. Wir haben versucht, unsere Abfahrt zu verzögern und haben eine Wanderung (Osha Trail, 1 1/2 Stunde) unternommen. Gleich am Anfang kann man die alten Eisenbahnschienen der Old Trestle sehen. Weiter oben hat man einen fantastischen Blick auf White Sands. Jetzt doch ganz neugierig geworden, wie das von nahem aussieht, sind wir ins Tal runtergefahren und haben den White Sands National Park bis zum Sonnenuntergang besucht.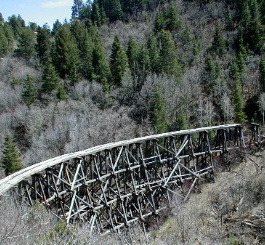 . . . . .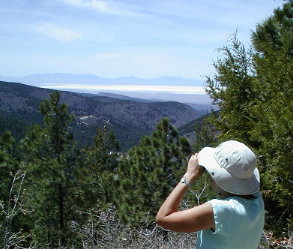 Lincoln National Forest: Old Trestle and view on White Sands from Osha Trail / Old Trestle und Blick auf White Sands vom Osha Trail.
White Sands Natl. Park, New Mexico: Visitor Center / Das Besucherzentrum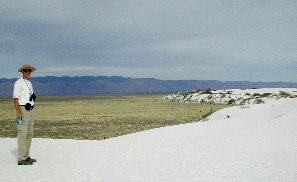 Sharp edge of the gypsum dunes /
Scharfe Grenze der Gipsdünen
...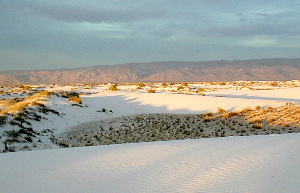 Sunset with Andrew Mountains in the back / Sonnenuntergang mit den Andrew Mountains im Hintergrund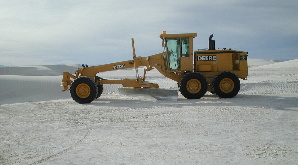 Snow machine used for cleaning up the unpaved road / Schneepflugmaschine, um die Straße im vegetationslosen Teil freizuschauffeln.
21.04.00 After having my favourite breakfast "French Slam" at Denny's : 4 French toasts, scrambled eggs, 2 stripes of bacon and 2 sausages -you wonder if I can eat all that, but I do- we headed to El Paso. After parking our RV on the American side we walked over to Mexico's "Cidade Juarez". It was very hot and crowded, so after 2 hours we were back in El Paso. We drove to City of Rocks State Park with a dramatic landscape of rounded volcanic towers, and spent the night among those stone towers.
21.04.00 Nachdem wir mein Lieblingsfrühstück "French Slam" (4 French toasts, Rührei, 2 Scheiben Speck, 2 Würstchen - ja, Ihr wundert Euch, aber das kriege ich runter, hält auch fast den ganzen Tag...) bei Denny's eingenommen haben, sind wir nach El Paso weitergefahren. Unser Wohni haben wir auf amerikanischer Seite auf einem bewachten Parkplatz abgestellt und sind zu Fuß über die Grenze nach Mexico, Ciudad Juarez, gelaufen. Es war heiß, sehr voll, so daß wir nach ca. 2 Stunden wieder in El Paso waren. Fahrt nach City of Rocks State Park - wie hingeworfen wirkende Felsblöcken in sonst ebener Landschaft. Die Stellplätze des Campingplatzes liegen verstreut inmitten der "Felsstadt".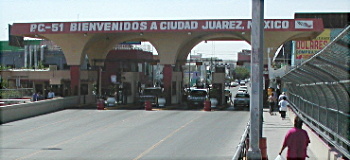 Ciudad Juarez, Mexico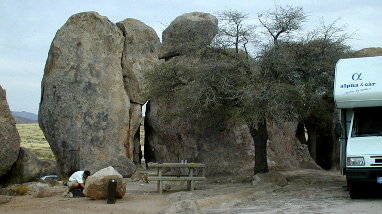 City of Rocks, New Mexico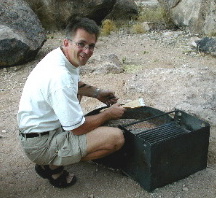 back to homepage / zurück zur Homepage
to previous page / zur vorigen Seite . . . to next page / zur nächsten Seite