14/04 - 19/04/00
back to homepage / zurück zur Homepage
14 - 16/04/00 Drive to Colorado City on the first day through oil fields with many pump wells. Now you could see the desert beginning. On the next day we drove in very windy weather to Carlsbad, where we decided to stay overnight so we could go to the rodeo held on the next day. We were on time at 9 a.m. at the Carlsbad Club high school rodeo at Sheriff's Posse Arena and were able to see everything from wild horse and bull riding to calve wrestling etc. I loved it and we stayed there for almost 4 hours. In the afternoon we walked through the Living Desert State Park with an amazing exhibition of desert flowers and animals. At 4 p.m. we drove to White City near the entrance of Carlsbad Caverns and enjoyed the nice weather on our campground.
14 - 16/04/00 Am ersten Tag Fahrt bis Colorado City durch viele Ölfelder. Ab hier konnte man den Anfang der Wüste gut erkennen. Am nächsten Tag Fahrt bis Carlsbad bei sehr windigem Wetter. Dort haben wie auch übernachtet, damit wir uns am nächsten Tag ein Rodeowettbewerb von verschiedenen Schulen aus New Mexico ansehen konnten. So waren wir rechtzeitig um 9 Uhr morgens in der Sheriff's Posse Arena und haben alle "Disziplinen" sehen können: Wildpferd- und Stier-Rodeo, Einfangen von einem Kalb mit dem Lasso (siehe Bild in der Mitte) sowie Nahkamp mit Kalb (unten rechts). Wir haben es dort fast 4 Stunden ausgehalten! Danach sind wir zum Living Desert State Park gefahren, wo wir verschiedene Wüstenblumen und -tieren bewundern konnten. Anschleißend Fahrt nach White City, das sich in der Nähe der Carlsbad Caverns befindet.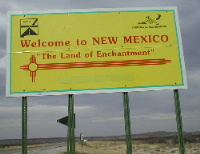 . . .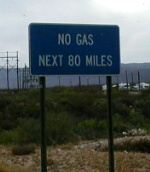 . . .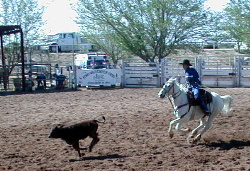 Rodeo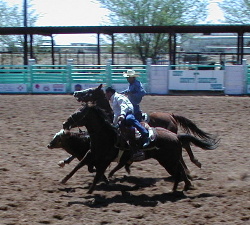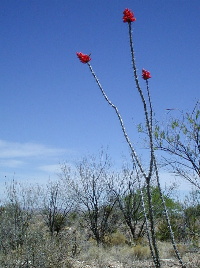 Ocotillo - Living Desert State Park, Carlsbad, New Mexico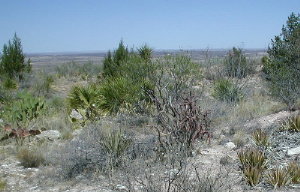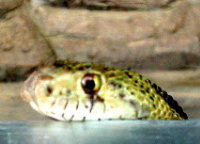 Here I am!/ (Für Isabel und Mario:) "Gucki".
17.04.00 Carlsbad Caverns National Park, New Mexico. We drove for hours across the desert to see these caves and now were really impressed. The park includes over 80 caves; a 2-mile subterranean walk from the cave mouth reaches an underground chamber approx. 600 m long, 80 m high and over 250 m below the surface which is breathtaking. In the late afternoon we drove to Guadalupe Mountains National Park, Texas, and hiked to the Devil's Hall Canyon until sunset.
17.04.00 Carlsbad Caverns National Park, Mexico. Wir sind wirklich stundenlang durch die Wüste gefahren, um diese Höhlen zu sehen und waren nun wirklich beeindruckt. Der Nationalpark umfasst 80 Höhlen. Über einen ca. 3 km langer Fußweg erreicht man eine unterirdische Kammer, die ca. 600 m lang, 80 m hoch und 250 m unter der Erdoberfläche liegt. Am späten nachmittag sind wir zum Guadalupe Mountains National Park, Texas, gefahren, und haben noch eine Wanderung durch den Devil's Hall Canyon bis zum Sonnuntergang unternommen.Übernachtung in Pine Creek Campground.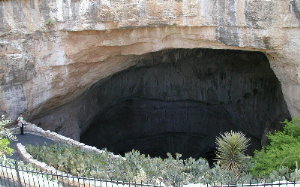 Entrance to Carlsbad Cavern, New Mexico/ Eingang zu der Carlsbad Cavern, New Mexico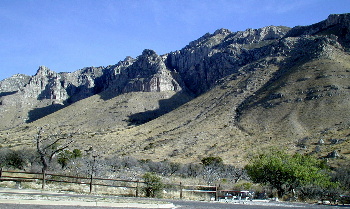 . . .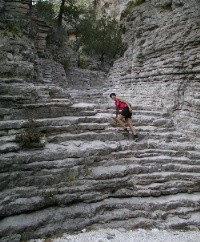 The view from our Campground "Pine Creek" / Blick von unserem Campingplatz "Pine Creek". On Devil's Hall Trail at Pine Creek Canyon. / Auf dem Wanderweg Devil's Hall Train im Pine Creek Canyon.
18.04.00 Since Colorado City, Texas, the air is so dry that our weather station won't show the relative humidity because it doesn't work under 20 %. On our hike to the McKittrick Ridge, our backpack was filled with 4 bottles of water -very unusual for us accostumed to hikes in Switzerland and Austria where you manage to get your one bottle filled regularly at the clear streams you cross. Well, on our way back down from the mountain, Volker suddenly stepped back because in front of us (on the trail) was a blacktail rattlesnake warning us not to go further. We waited for about 10 minutes, then she slowly decided to move on. Though at first it had been a shock, it was fantastic that we had seen one.
18.04.00 Seit Colorado City in Texas ist die Luft so trocken, daß unsere Wetterstation nichts anzeigt, weil der Meßbereich nur über 20 % relativer Luftfeutigkeit liegt. Auf unserer Wanderung zum McKitrick Ridge hatte wir 4 Wasserflaschen in unserem Rucksack. Das ist für uns so ungewohnt, da wir auf unseren Wanderungen in der Schweiz und in Österreich nur eine Wasserflasche mitnehmen, die regelmäßig an den verschiedenen Wasserstellen mit schönen klarem Wasser aufgefüllt wird. Das nur nebenbei. Auf dem Rückweg, springt Volker plötzlich nach hinten und bemerkt eine Klapperschlange, die ihm ihr Ultimatum gibt. Nach ca. 10 Minuten ist sie dann zum Hang geschlichen und hat somit den Weg freigemacht. Obwohl wir uns sehr erschrocken haben, war das eine tolle Erfahrung!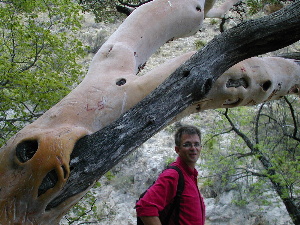 What happened to this tree?* /
Was ist mit diesem Baum passiert?*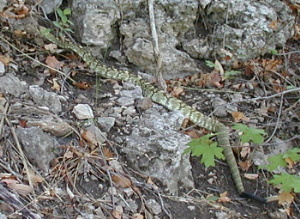 Our rattlesnake / Diesmal war die Klapperschlange nicht nur "Gucki".
* This is the Texas Madrone which has the unusual characteristic of shedding its bark. The white redish underbark is exposed as the outer bark is shed in summer. / Dies ist die Texas Madrone, die im Sommer Ihre Aussenrinde abstoßt, und somit kommt ihre weißrote Innenrinde zum Vorschein.
back to homepage / zurück zur Homepage
to previous page / zur vorigen Seite . . . to next page / zur nächsten Seite