21/06 - 25/06/00
back to homepage / zurück zur Homepage
21.06.00 Drive to "Los Trancos Open Space Preserve" which is located in the Santa Cruz Mountains above Palo Alto. The interesting thing about this place is that the San Andreas fault splits the preserve and there is a trail which shows the landscape features that are specific to the San Andreas fault. Back in Palo Alto we went to the Fish Market, a very good seafood restaurant where we had been 15 years ago. We had pacific red snapper, Idaho trout and California seabrass and everything was excellent. After lunch -it was already 4.30 pm- we drove South to Santa Cruz, again a nostalgic trip (para matar saudades, as you say in Brazil). We love this city, it has a special charm with its beaches. We strolled along the Boardwalk, the oldest beachfront amusement park on the West Coast with a 1923 Giant Dipper coaster and a 1911 Looff caroussel, than walked along the pier where we saw some sea lions, many brown pelicans and huge sea stars.
21.06.00 Fahrt zu "Los Trancos Open Space Preserve", das in the Santa Cruz Bergen über Palo Alto liegt. Das Interessante an diesem Ort ist, daß die San Andreas Faltung den Park teilt. Ein Wanderweg führt entlang der pezifischen Landschaft in der San Andreas Faltung. Zurück in Palo Alto haben wir dort im Fish Market zu Mittag gegessen. Es war ein nostalgischer Tag, denn in diesem Restaurant war Volker früher öfters essen sowie Volker und ich vor 15 Jahren. Danach sind wir - auch wie vor 15 Jahren (para matar saudades, wie man in Brasilien sagt) - nach Santa Cruz gefahren. Diese Stadt gefällt uns sehr gut, denn sie hat einen besonderen Charme mit dem Strand. Wir sind am Boardwalk entlang spazieren gegangen, das ist der älteste Rummelplatz am Strand an der Westküste mit seiner Giant Dipper Achterbahn aus dem Jahre 1923 und das Looff Karussel aus dem Jahre 1911. Dann sind wir die Pier entlang gelaufen, haben einige Seelöwen, viele braune Pelikane und dicke, fette Seesterne gesehen.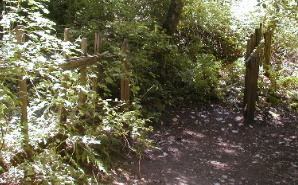 Los Trancos Open Space Preserve: During the 1906 earthquake, faulting moved the right hand segment of this fence as much as 1 meter apart! / Während des 1906 Erdbebens, wurde der rechte Teil dieses Zauns durch die Faltung um ein Meter verschoben!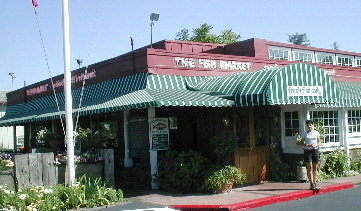 The fantastic Restaurant "Fish Market" in Palo Alto, California / Das fantastische Fish Market Restaurant in Palo Alto, California.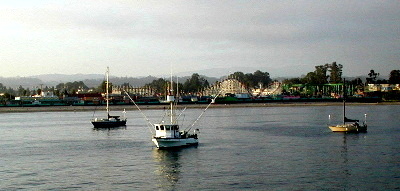 . . .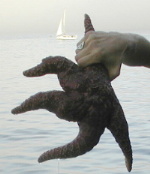 The famous Boardwalk and a fat sea star in Santa Cruz, California. / Der berühmte "Boardwalk" und ein fetter Seestern in Santa Cruz, California.
22.-23.06.00 We were very sad to say good-bye to Mikey, because we felt very comfortable with him and it was as we had known each other for years. After making some grocery shopping we drove to Red Bluff on I-5 with quite a detour over Sacramento - the co-pilot Julia was sleeping over the cabin and Volker didn't have any map so he couldn't notice the shortcut without hitting Sacramento... After hours driving we were happy to find a very nice Campground at Red Bluff Lake. The next day we drove to Lassen Volcanic National Park which features an active volcano landscape: May 1914 Lassen Peak burst into eruption and May 1915 the peak blew an enormous mushroom cloud some 12,000 meter into the stratosphere. The peak ist the southernmost volcano in the Cascade Range, which extends from here into Canada. After having a nice lunch at Lassen Chalet, we drove the Park road up to Manzanita Lake and were able to view most of the interesting places. We ended our tour on Manzanita Lake Campground. I called in sick today (severe cold, no voice any more)....
22.-23.06.00 Der Abschied von Mikey ist uns sehr schwer gefallen, denn wir haben uns prächtig verstanden, und es war, als hätten wir uns schon jahrelang gekannt. Nachdem wir wieder mal richtig einkauft haben, Fahrt nach Red Bluff über die I-5 mit einem Umweg über Sacramento - die Copilotin Julia hat nämlich oben im Alkoven geschlafen und Volker hatte keine Karte, um diese erhebliche Abkürzung zu erkennen... Wir waren glücklich, als wir nach dieser langen Fahrt den sehr schönen Campingplatz "Red Bluff Lake" gefunden haben. Am nächsten Tag sind wir dann weiter über Mineral zum Lassen Volcanic National Park gefahren, ein Gebiet, das vollaktive vulkanische Aktivität aufweist: Mai 1914 spie Lassen Peak in Eruption Rauch und Asche, Mai 1915 explodierte der Gipfel und aus dem Vulkan schoss eine Pilzwolke auf etwa 12.000 m Höhe in die Stratosphäre. Wir haben sehr schön am Lassen Chalet mittag gegessen und sind danach die Parkstraße bis Manzanita Lake hochgefahren, dabei haben wir die meisten Sehenswürdigkeiten bewundern können. Übernachtung am Manzanita Lake Campingplatz. Julia hat sich heute allerdings bei Ihrem Urlaubgeber krank gemeldet, denn die Erkältung ist auf ihrem Höchstpunkt (keine Stimme mehr, starke Halsschmerzen etc.).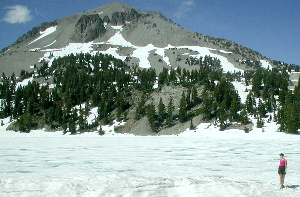 . . .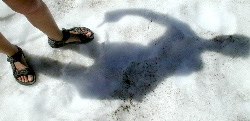 Lassen Peak and frozen Helen Lake; Julia walking with sandals on snow / Lassen Peak mit dem gefrorenem Helen Lake; Julia mit Sandalen auf Schnee.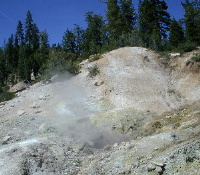 Sulphur Works: steam vents / Sulphur Works: Dampfdüsen
24.06.00 After doing the Nature Trail in front of the Visitor Center we drove out of the Park on SR 89 towards Mount Shasta and then hit I-5. This was all the way from Lassen a scenic route! Near Yreka we entered Klamath National Forest and stayed at the Campground "Tree in Heaven" which was located along the river.
24.06.00 Nachdem wir den Naturpfad gegenüber dem Besucherzentrum abgeklappert haben, sind wir auf der SR 89 in Richtung Mount Shasta und dann auf die I-5 gefahren. Die ganze Zeit hatten wir wunderschöne Landschaften und Ausblicke! In der Nähe von Yreka sind wir westlich ins Klamath National Forest reingefahren und haben uns den Campingplatz "Tree in Heaven" für die Nacht ausgesucht.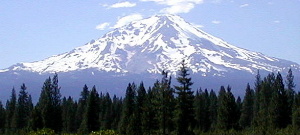 Mount Shasta, California
25.06.00 Entered Oregon. Drive to Ashland and, wow, it was love at first sight! Ashland is a pretty town with much vegetation, is a cultural center and famous for its Oregon Shakespeare Festival. We were very lucky to get 2 tickets for the evening performance of Twelfth Night at the outdoor Elizabethean Theater. And even the pre-show was an excellent modern sort of musical ballet performed outside the theater. We had lunch along the creek at Greenleaf Restaurant, walked through the pleasant, shady Lithia Park and went shopping at Main Street's beautiful small stores. In the afternoon, we drove to Emigrant Lake Recreation Area, chose a nice campground site and went swimming at the beach from the lake. Beeing week-end, there were many people enjoying the beach, and many were on the water with their boat, or were riding on a jet-ski or doing waterski.
25.06.00 Oregon. Fahrt nach Ashland, wir waren sofort verliebt in diese hübsche, grüne kleine Stadt. Ashland ist ein Kulturzentrum und bekannt für das Oregon Shakespeare Festival. Wir haben Glück gehabt, noch zwei Eintrittskarten für die Abendvorstellung "Zwölfte Nacht" im Open-Air Elizabeth Theater zu bekommen. Sogar die Pre-Show, eine Art Ballet-Musical, die außerhalb des Theaters stattgefunden hat, war ausgezeichnet! Wir haben entlang dem Fluß im Greeleaf Restaurant mittaggegessen, sind durch den sehr gepflegten, schattigen Lithia Park spazieren gegangen und haben an der Main Street in den kleinen gut sortierten Geschäften Shopping gemacht. Nachmittags sind wir zum "Emigrant Lake Recreation Area" gefahren, haben uns dort einen schönen Platz auf dem Campingplatz ausgesucht und sind dann schwimmen gegangen. Da es Sonntag war, waren viele Leute am Strand, und auf dem Wasser waren viele mit ihrem Boot, Jet-Ski oder haben Wasserski gemacht.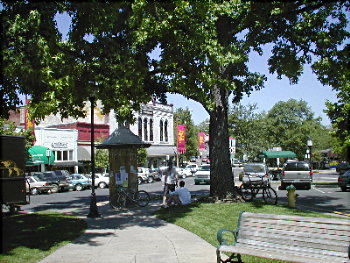 . . .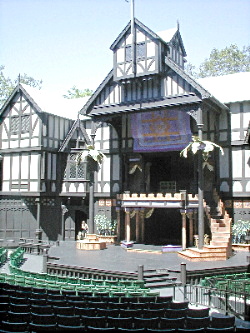 Downtown Ashland & Elizabethan Theater, Oregon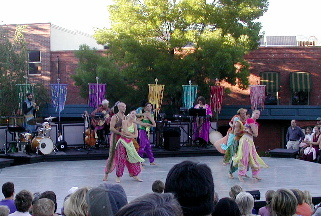 The "Green Show", Ashland, Oregon
back to homepage / zurück zur Homepage
to previous page / zur vorigen Seite . . . . to next page / zur nächsten Seite