10/08 - 13/08/00
back to homepage / zurück zur Homepage
10-11.08.00 Drive to Whitehorse, Yukon, Canada, where we finally had the oil of our Iveco-Truck changed as well as the 40,000 inspection done in the garage specialized in foreign brands which was recommended by Joel. And, indeed, everything was very well done, and above all, we were happy that everything is ok with our truck. We also visited the Yukon Beringia Interpretive Centre which traces the Ice Age in Yukon featuring the humans and the animals that lived in the area about 14,000 years ago. I was very disapointed not to find a saber-tooth -a kind of tiger some 9 times larger than the tiger we know today, with powerful claws and a pair of sharp upper teeth almost 1 m long- among the displays. But there were the great woolly mammoth, the giant short-faced bear, the scimitar cat, camels and the huge Jefferson's Ground Sloth. We drove the Alaska Highway for about 100 km to Squanga Lake Yukon government campground, and of course, made a campfire and barbeque.
10-11.08.00 Fahrt nach Whitehorse, Yukon, Kanada, wo wir endlich den Ölwechsel von unserem Iveco-Fahrzeug sowie die 40.000 km-Inspektion an der von Joel empfohlenen Werkstatt (die auf ausländischen Fabrikaten spezialisiert ist) anständig durchgeführt bekommen haben. Wir waren sehr glücklich, dass alles OK ist. Wir haben auch das Yukon Beringia Interpretive Centre, das die Lebensart der Menschen und Tieren in der Eis-Zeit vor ca. 14.000 Jahren veranschaulicht, besucht. Ich war sehr enttäuscht, keinen Säbelzahn-Tiger dort zu finden. Das ist eine Art Tiger, der etwa 9 mal so groß ist wie der Tiger, den wir heutzutage kennen, mit mächtigen Krallen und ein Paar 1 m lange scharfe Oberzähne. Dafür haben wir aber den Großen Wollenen Mammuth, den Riesenkurzkopfbär, die Scimitarkatze, Kamele und der Riesen Jefferson's Maulwurf, gesehen. Wir sind den Alaska Highway noch für 100 km bis zum Squanga Lake Yukon government campground gefahren und haben natürlich ein Lagerfeuer mit Grill gemacht.
11.08.00 Drive to Watson Lake where you can't miss the Signpost Forest. It was started by a U.S. Army Soldier working on the construction of the Alaska Highway in 1942. Travelers are still adding signs to the collection (many of them are stolen street or city signs) . At this point, we decided to leave the Alaska Highway and continue South on the Cassiar Highway 37. Overnight stop short before Cassiar Junction.
11.08.00 Fahrt nach Watson Lake, wo man den Schilderwald nicht verpassen kann. Es wurde durch einen US-Soldaten, der 1942 an dem Alaska-Highway-Bau gearbeitet hat, angefangen. Seitdem fügen Reisende ihre eigenen Schildern zu (viele sind geklaute Ortseingangsschilder oder Wegweiser, auch aus Deutschland!). Von hier aus haben wir den Alaska Highway verlassen und den Cassiar Highway 37 nach Süden genommen. Übernachtung kurz vor der Cassiar-Kreuzung.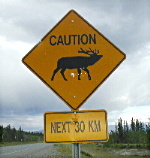 . . .
Alaska Highway: Nisutlin Bay Bridge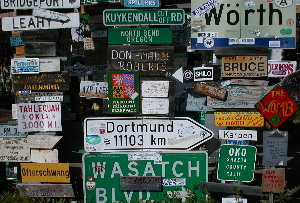 Watson Lake (Yukon, Canada) Signpost Forest has more than 45,000 signs / Es sind mehr als 45.000 Schilder im Schilderwald in Watson Lake (Yukon, Kanada) angebracht.
12.-13.08.00 In two days we drove the 564 km on the Cassiar Highway to the Meziadin Junction, made a lunch stop at the beautiful Meziadin Lake Provincial Park Campground, and turned off on the access road to Stewart, B.C. (Canada) and Hyder, AK (USA). Hyder is the most southerly place in Alaska you can drive to, although only through Canada! Hyder has a population of about 100 and is just 3 km away from Stewart, B.C., Canada. It has no bank, so prices are set in Canadian funds, except at the post office! It has no police, no schools, so children go to school next door in Stewart, B.C., Canada. Driving the 65 km from Meziadin Junction to Hyder is a real pleasure with the Bear Glacier calving its icebergs into the lake and many hanging glaciers. But the highlights today were in Hyder the Fish Creek; we were really lucky to see a grizzly bear with her cub feeding on the spawning salmon (all-you-can eat salmon) right in front of us! Then the drive on the Granduc Road up to the summit viewpoint which lies way above Salmon Glacier, so now we are enjoying a spectacular view upon the glacier right from our rolling home (see below).
12.-13.08.00 In zwei Tagen sind wir die 564 km auf der Cassiar Highway bis zur Meziadin-Kreuzung gefahren, haben heute eine Mittagspause am wunderschönen Meziadin See Provincial Park Campingplatz eingelegt, sind danach auf die Zubringerstraße nach Stewart, B.C (Kanada) und Hyder, AK (USA) eingebogen. Hyder ist der südlichste Ort in Alaska, den man mit dem Auto erreicht, allerdings nur über Kanada! Hyder hat etwa 100 Einwohner und ist nur 3 km von Stewart, B.C., Kanada, entfernt. Es gibt keine Bank in Hyder, so dass die Preise alle in kanadischen Dollars sind, ausgenommen bei der Post! Es gibt keine Polizei, auch keine Schulen, so dass die Kinder im benachbarten Stewart, B.C., Kanada, zur Schule gehen. Die Fahrt von Meziadin Junction bis Hyder ist sehr interessant mit dem Bär-Gletscher, der seine Eisberge in den See wirft und die vielen hängenden Gletscher. Der Höhepunkt war dann aber in Hyder. Im Fish Creek haben wir genau vor unseren Augen einen Grizzly mit Ihrem Baby gesehen, wie sie sich einen Lachs aus dem Fluß genommen haben und ihn gefressen haben. Das war ein Erlebnis! Und danach die Fahrt auf der Granduc Straße zum Salmon-Gletscher. Von unserem Wohni-Fenster haben wir einen fantastischen Blick auf den Gletscher (siehe unten).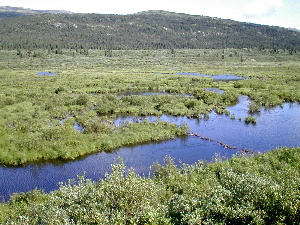 . . .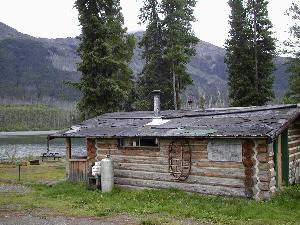 Millions of rivers and ponds on Cassiar Highway, British Columbia, Canada / Tausende Flüsse und Seen entlang der Cassiar Highway, British Columbia, Canada.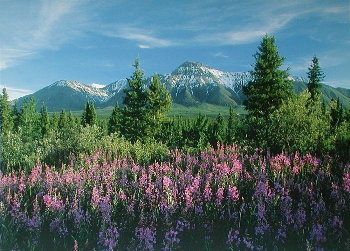 . . .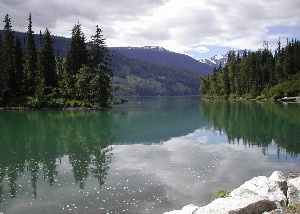 Cassiar Highway: Fireweed (left) and Meziadin Lake (right) / Cassiar Highway: Fireweed (links) und Meziadin Lake (rechts)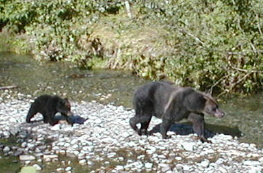 Grizzly bear with cub in the Fish Creek, Hyder, Alaska / Grizzly Bär mit ihrem Baby im Fish Creek, Hyder, Alaska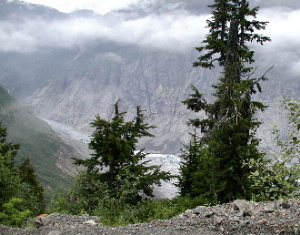 Salmon Glacier Valley, Hyder, Alaska / Salmon-Gletscher-Tal, Hyder, Alaska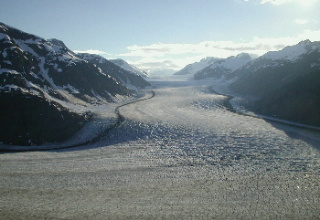 View from our RV on Salmon Glacier / Blick von unserem Wohni auf den Salmon Gletscher.
back to homepage / zurück zur Homepage
to previous page / zur vorigen Seite . . . . to next page / zur nächsten Seite