25/08 - 28/08/00
back to homepage / zurück zur Homepage
25.08.00 Glacier National Park, Montana, USA. Drive on the "Going-to-the-Sun Road" West to East from Apgar to Rising Sun. On our way we hiked: St. Johns Lake Loop (7 km, 2 hrs), Trail of the Cedars & Avalanche Lake Trail (8 km, 2,5 hrs), Hidden Lake Trail on the Logan Pass at 2100 m (2,5 km, 1,5 hrs). Overnight at Rising Sun Campground.
25.08.00 Glacier National Park, Montana, USA. Fahrt auf der "Going-to-the-Sun-Road" von Westen nach Osten von Apgar nach Rising Sun. Unterwegs haben wir drei Wanderungen unternommen: St. Johns Lake Loop (7 km, 2 Stunden), Trail of the Cedars und Avalanche Lake Trail (8 km, 2,5 St.), Hidden Lake auf dem Logan Pass, 2100 m (2,5 km, 1,5 St.). Übernachtung am Rising Sun Campingplatz.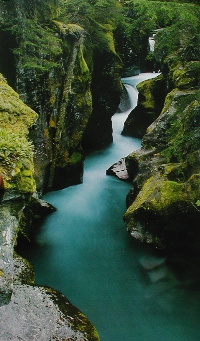 . . .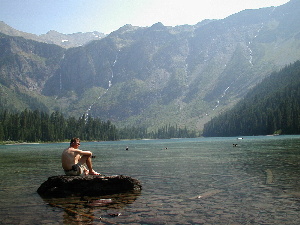 Glacier National Park, Montana, USA: Avalanche Creek; Avalanche Lake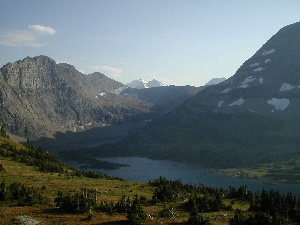 Hidden Lake, Glacier Natl. Park, Montana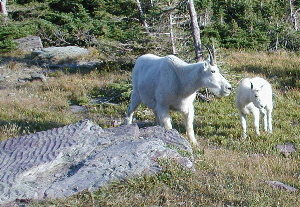 Mountain Goat with her cub next to a real old sediment stone -the ripples were formed by an ancient sea that covered this area millions of years ago! / Bergziege mit Jungem neben einem uralten Sedimentstein. Die Wellen sind durch ein uraltes Meer (Millionen von Jahren) entstanden, welches die ganze Gegend früher bedeckte.
26.08.00 Glacier National Park, Montana: ranger guided hike to Siyeh Pass (2400 m) and back to St. Mary Lake passing Sexton Glacier, Sunrift Falls and Gorge (17 km, 6 hours). Our group was just the right size: the two of us with the ranger only. Apart from the beautiful scenery, we saw mountain goats, a grizzly bear (far enough from us that we could enjoy him), and ate tons of huckleberries. Overnight at Johnson's of St. Mary Campground.
26.08.00 Glacier Natlional Park, Montana: Ranger-geführte Wanderung zum Siyeh Pass (2400 m) und zurück zum St. Mary See vorbei am Sexton Gletscher, Sunrift-Wasserfällen und -Schlucht (17 km, 6 Stunden). Unsere Gruppe bestand nur aus dem Ranger und wir beiden, das war schön. Abgesehen von der tollen Berglandschaft haben wir Bergziegen und einen Grizzly-Bär (weit genug von uns) gesehen, sowie tonnenweise Huckleberries (ähnlich wie Blaubeeren, schmecken aber anders) gegessen. Übernachtung am Johnson's of St. Mary Campground.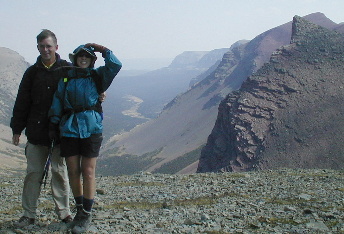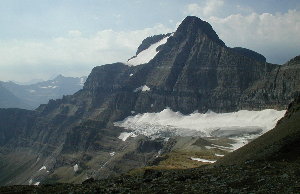 Glacier National Park, Montana, USA: Hike to Siyeh Pass, Sexton Glacier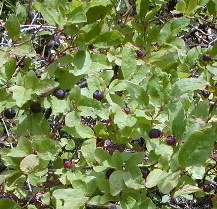 . . .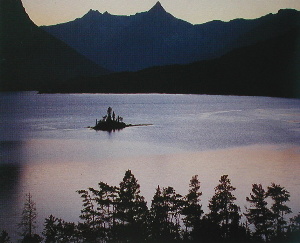 Huckleberries; St. Mary Lake & Wild Goose Island, Glacier National Park, Montana, USA.
27.08.00 Drive from St. Mary (Glacier National Park East Entrance) to Great Falls with a stop in Browning, center of the Blackfeet Indian Reservation, where we visited the Museum of the Great Plains Indians. Entering Great Falls we saw signs of some "Lewis & Clark Interpretive Center". This, of course, we couldn't skip! The Lewis and Clark Expedition was set up to explore the western part of the country between the Mississippi River and the West Coast and in particular to find a trading route to the Pacific. The 4000 mile excursion, from 1804 to 1806, did not find an easy route to the Pacific, but did make clear the great extent of the new lands. The members of the expedition made their way through this unknown country, draw maps, study the Indians they encountered on their way. Lewis and Clark meticulously recorded observations about the characteristics, inhabitants, and resources of the country through which they passed and they collected plants, animals and mineral specimens. Unfortunately, the Museum was already closed so we decided we would come the next day. We drove up to Jaker's Restaurant where we enjoyed an excellent dinner (stuffed avocado, baby BBQ ribs and seafood pasta). This was one of the best restaurants we have been to so far in the States!
27.08.00 Fahrt von St. Mary (Osteingang der Glacier National Parks) nach Great Falls mit einem Stopp in Browning, das Zentrum der Blackfeet Indianer-Reservation (Blackfeet = 'Schwarzfüße'). Dort haben wir das Museum der Great Plains-Indianer besucht. Als wir in Great Falls ankamen, haben wir Schilder mit "Lewis & Clark Interpretive Center" gesehen. Das konnten wir nicht ignorieren! Die Lewis und Clark Expedition wurde aufgestellt, um die unbekannten Gebiete zwischen dem Mississippi Fluss und der Westküste zu erforschen, insbesondere aber, um eine Handelsstrasse zum Pazifik ausfindig zu machen. Die 6700 km lange Expedition (1804 - 1806) hat keinen einfachen Weg zum Pazifischen Ozean gefunden, dafür aber die unglaubliche Größe des Landes festgestellt. Die Mitglieder der Expedition sind durch dieses unerforschte Gebiet durchgedrungen, haben Landkarten gezeichnet und die Indianer, die sie auf ihrem Weg getroffen haben, studiert. Lewis und Clark haben akribisch alle Beobachtungen festgehalten, wie die Landschaft, die Einwohner, und die Ressourcen der Gebiete, die sie durchquerten. Sie sammelten Pflanzen, Tiere und Mineralien. Leider war das Museum schon geschlossen, und wir haben uns entschieden, am nächsten Tag wiederzukommen. Zum Abendessen sind wir zu Jaker's Restaurant gefahren, und haben ein ausgezeichnetes Abendessen gehabt (gefüllte Avocado, Baby Barbequeue Spare Ribs und frische Nudeln mit Meeresfrüchten). Man könnte sagen, es war eines der besten Restaurants, in denen wir hier in USA waren!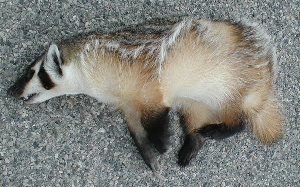 Badger / Einheimische Tierwelt in Montana: Dachs (da mussten wir natürlich an Isabel und den Blue Ridge Parkway denken)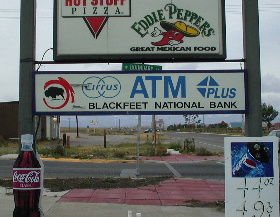 Blackfeet Indian National Bank, Browning, Montana, USA.
28.08.00 Our day began having breakfast with a view on white pelicans and canadian geese on the Missouri River. The Lewis & Clark Interpretive Center was so interesting and so well done that we spent almost the whole day there (from 10 am to 4 pm). Before visiting this museum, I didn't know much about this expedition, but now I'm an expert on the subject... It was great. After this we went to a travel agency and bought tickets for our flight from Phoenix to Baltimore on October 16, 2000. So now the news are official: we are flying back to Hamburg in October and coming back in November. Then we will travel to Mexico until end of January. By March we have to be in Jacksonville where we put our RV on the boat going back to Germany (one year is the maximum stay allowed for our RV in the States). Very happy that everything worked out so well we drove down to White Sulfur Springs and on our way we saw some wildlife: marmots, mule deers, white-tailed deers, and a coyote. Overnight stay at Conestoga Campground, White Sulfur Springs, Montana.
28.08.00 Wir haben den Tag mit einem Frühstück am Missouri-Fluss begonnen. Dort halten sich z.Z. weiße Pelikane und kanadische Gänse auf. Das Lewis & Clark Interpretive Center war hochinteressant und sehr gut gemacht, so dassß wir fast den ganzen Tag dort verbracht haben (10 - 16 Uhr). Bevor ich in diesem Museum war, wußte ich nicht viel über diese Expedition, aber jetzt bin ich eine Expertin in diesem Gebiet... Das war absolut super. Danach sind wir zu einem Reisebüro gefahren und haben Flugtickets von Phoenix nach Hamburg für den 16. Oktober 2000 gekauft. Somit ist es nun offiziell: Wir fliegen zurück nach Hamburg im Oktober, kommen aber im November zurück und werden nach Mexico bis Ende Januar verreisen. März 2001 müssen wir den Wagen in Jacksonville auf das Schiff setzen, denn dann endet die Jahresfrist für das Wohni in USA. Glücklich, daßss das alles so gut geklappt hat, sind wir weiter südlich nach White Sulfur Springs gefahren und auf dem Weg haben wir viele Tiere gesehen: Murmeltiere, Großohrhirsche, Weißwedelhirsche und einen Kojote. Conestoga Campground, White Sulfur Springs, Montana.
back to homepage / zurück zur Homepage
to previous page / zur vorigen Seite . . . . to next page / zur nächsten Seite