03/09 - 05/09/00
back to homepage / zurück zur Homepage
03.09.00 Drive to Devil's Tower National Monument, passing through Sheridan where we had lunch in the municipal park. Today it was pretty hot (29°C), but during the night it will get cold again (ca. 5°C). Arriving at Devil's Tower, a ranger told us the park was closed because of a fire only 1,5 km away from this place. Even the KOA Campground had to evacuate everybody. After trying to settle along a National Forest road -unfortunately it was private property- we moved on to a very nice and original minigolf place where we were allowed to spend the night. So tomorrow we will play minigolf and try to enter the park.
03.09.00 Fahrt nach Devil's Tower National Monument via Sheridan, wo wir im Stadtpark mittag gegessen haben. Heute war es ziemlich heiß (ca. 29°C), aber - Gott sei Dank - kühlt es nachts ja gut ab (ca. 5°C). Als wir in Devil's Tower angekommen sind, war der Park leider wegen eines Feuers in der Nähe geschlossen worden. Auch der KOA-Campingplatz nebenan wurde evakuiert. Wir haben zuerst versucht, uns irgendwo entlang einer Waldstraße hinzustellen (leider war es ein privates Grundstück), so daß wir ein Stück zurückgefahren sind. Wir haben uns die Erlaubnis bei den Besitzern eines tollen Minigolfplatz eingeholt, bei denen auf dem Parkplatz übernachten zu können. So werden wir morgen auch Minigolf spielen...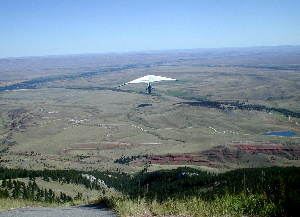 . . .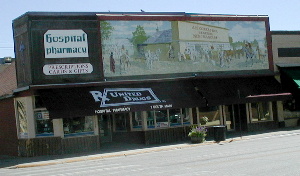 Delta Wing flying off the Bighorn Mountains; old pharmacy in Sheridan, Wyoming / Deltaflieger startet von den Big Horn Mountains; alte Apotheke in Sheridan, Wyoming.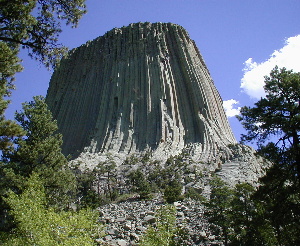 Devil's Tower, Wyoming.
04.09.00 We were the first and only minigolf players for about 1,5 hour and enjoyed this fun place where you sometimes putt through waterholes and caves. Devil's Tower National Monument was opened when we arrived and on our first pull-out we met two German families from Ludwigshafen and Mannheim. After talking for over an hour, we went for a walk around Devil's Tower. It was a beautiful and pretty hot day (38°C), so we settled down early at the Devil's Tower Campground and enjoyed the afternoon and evening looking at all the wildlife around us.
04.09.00 Wir waren die ersten und einzigen Minigolfspieler für ungefähr 1,5 Stunden und haben viel Spaß auf diesem witzigen Minigolfplatz gehabt. Da mußte man z.B. den Ball über Wasser und durch eine Höhle führen. Der Devil's Tower Park war heute geöffnet worden, und gleich bei unserem ersten Stop haben wir zwei sehr sympathische Familien aus Ludwigshafen und Mannheim getroffen. Nachdem wir mit diesen über eine Stunde geklönt haben, sind wir um den Turm gewandert. Es war ein wunderschöner Tag, allerdings ziemlich heiß (38°C), so daß wir uns auf den Campingplatz des Parkes installiert und den Nachmittag und den Abend damit verbracht haben, die ganzen Tieren zu beobachten, die um uns rum waren.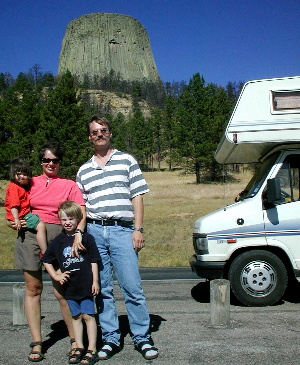 Familie Silvia & Thomas Berg aus Ludwigshafen.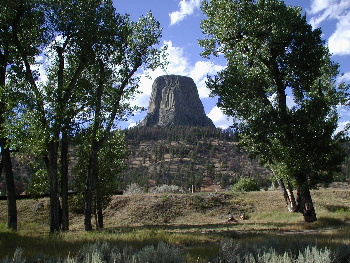 . . .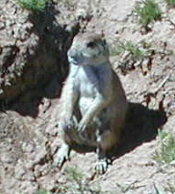 Enjoying our beautiful site on Devil's Tower campground: lots of different kinds of birds, deers, squirrels, and black-tailed prarie dogs showed up for us. / Das ist der Blick von unserem Platz auf dem Devil's Tower Campground: lauter verschiedene Vögel, Rehe, Eichhörnchen und Präriehunde haben uns eine private Vorstellung gegeben.
05.09.00 Drive to Custer State Park, South Dakota (SD) where we saw bisons, big horn sheeps, and begging burros (donkeys). Then we continued to Mount Rushmore National Memorial where the massive granite busts of four American presidents are carved. These carvings are huge and so well done!
05.09.00 Fahrt zum Custer State Park, South Dakota (SD), wo wir viele Bisons, Dickhornschafe und bettelnde Esel gesehen haben. Dann sind wir zum Mount Rushmore National Memorial gefahren und haben die bekannten Skulpturen aus massivem Granit der vier amerikanischen Präsidenten bewundert.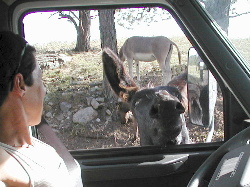 . . . . . .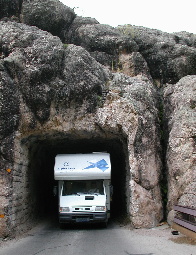 Begging Burros, Custer State Park, South Dakota; scary tunnels on our way to Mt Rushmore, South Dakota /
Bettelnde Esel, Custer State Park, South Dakota; angstmachende Tunnels auf unserem Weg zum Mount Rushmore, South Dakota.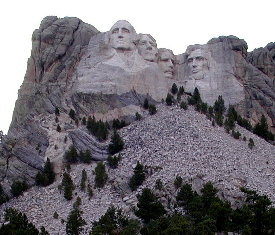 Mount Rushmore, South Dakota
4 American presidents carved in South Dakota's Black Hills: George Washington, Thomas Jefferson, Theodore Roosevelt, Abraham Lincoln. / Vier amerikanische Presidentenköpfe wurden hier im Stein der Black Hills in South Dakota gehauen: George Washington, Thomas Jefferson, Theodore Roosevelt, Abraham Lincoln.
06.09.00 This morning we noticed that our front license plate has been stolen. It must have happened during our hike at Devil's Tower (we were able to track it with our pictures). With a stop at the "world famous" Wall Drug in Wall -at the same time we had our rear license plate theft-secured-, we reached Badlands in the afternoon. It was pretty hot and extremely windy. Suddenly during the evening the wind stopped at once.
06.09.00 Heute morgen haben gemerkt, daß unser Vorder-Autokennzeichen gestolen wurde. Das muss am Devil's Tower passiert sein, als wir den Rundweg gewandert sind (wir konnten das ganz gut durch Fotos nachvollziehen). Nach einen Stop beim "weltbekannten" Wall Drug (eine Art Ansammlung von Geschäften mit Museum) in Wall, wo wir auch unser hinteres Kennzeichen haben diebstahlsicher befestigen lassen, haben wir die Badlands am Nachmittag erreicht. Es war ziemlich heiß und sehr windig. Plötzlich hat der Wind während des Abends nachgelassen.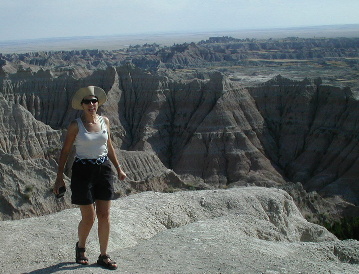 Badlands, South Dakota. I had a hard time fighting against the wind! / Ich bin fast vom Wind weggeweht worden!
back to homepage / zurück zur Homepage
to previous page / zur vorigen Seite . . . . to next page / zur nächsten Seite