24/09 - 27/09/00
back to homepage / zurück zur Homepage
24.09.00 We spent the late morning at the Old Taos Trade Fair at the Hacienda of the Martinez near Taos, New Mexico. The most interesting thing was the food court with lots of New Mexican food stuff -of course we tried a lot of it. In the afternoon we drove to Taos Pueblo, which is a Native American Community with is own government. There are several of them in New Mexico. After doing some shopping in Taos we drove to Capulin Campground.
24.09.00 Den Vormittag haben wir beim Fest der Old Taos Trade Fair in der Hacienda of the Martinez in der Nähe von Taos verbracht, denn dort gab es ein Traditionsfest. Das Interessanteste war allerdings die Fressbuden mit New Mexican Gerichte - natürlich haben wir einiges gekostet. Nachmittags sind wir zum Taos Pueblo, eine indianische Siedlung mit eigener Regierung. Davon gibt es mehrere in New Mexico. Nachdem wir noch einige Einkäufe in Taos getätigt haben, sind wir auf den Capulin Campingplatz gefahren.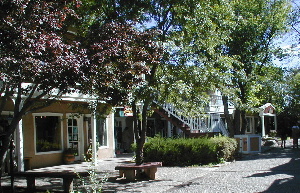 . . . . .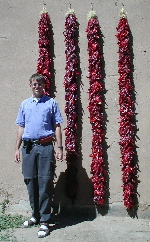 Taos, New Mexico: Small shopping plaza and chili ristras / Kleine Einkaufsstraße und Paprikabündel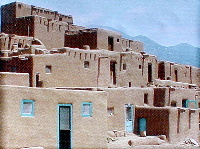 Taos Pueblo, New Mexico, is a one of the most interesting Native American village because of its ancient multistory adobe homes. / Besuch des Taos Pueblo, New Mexico, eines der interessantesten Indianerdorf wegen seiner alten mehrstöckigen Lehmhäuser.
25.09.00 Drive to Los Alamos with a stop in Las Trampas to see the San José de Gracia church and in Chimayó where we had an excellent New Mexican style lunch at the famous Rancho de Chimayó and visited Ortega's handweaving factory. When we arrived in Los Alamos we were very surprised to hear that the whole city had been evacuated in May 2000 due to the wildfire! We drove up to the Pajarito Mountain Ski Area and chose a very quiet place for overnight.
25.09.00 Fahrt nach Los Alamos mit einem Stopp in Las Trampas wegen der San-José-de-Gracia-Kirche und in Chimayó, wo wir ein ausgezeichnetes New-Mexican-Mittagessen im bekannten Rancho de Chimayó genossen haben und Ortega's Handwebefabrik besucht haben. Als wir in Los Alamos angekommen sind, waren wir sehr überrascht zu hören, dass bei dem Großfeuer im Mai 2000 die ganze Stadt evakuiert wurde! Wir sind hoch zum Pajarito Mountain Skigebiet gefahren und haben uns eine sehr ruhige Ecke für die Übernachtung ausgesucht.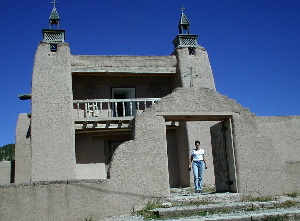 Our drive from Taos to Los Alamos through Las Trampas with the oldest hispanic colonial church in New Mexico. Unsere Fahrt von Taos nach Los Alamos hat uns durch Las Trampas mit der ältesten spanischen Kolonialkirche in New Mexico geführt.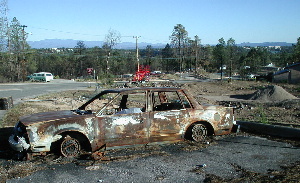 In Los Alamos there are whole residencial areas that were burnt down during the wildfire in May 2000. / In Los Alamos sind ganze Wohngegenden durch das Feuer im Mai 2000 weggebrannt worden.
26.09.00 We spent more than half a day in the Bradbury Science Museum. This museum explains the history of Los Alamos National Laboratory, its scientific research, and especially the "Manhattan Project" -the code name for research and development of the atomic bomb. In 1943, Los Alamos, then a boy's school perched on a 2260 m-foot-mesa, was chosen as the top-secret headquarters of the Manhattan Project. On July 16, 1945, its scientists detonated the world's first atomic bomb at the Trinity Site in southern New Mexico and on August 9, 1945 an atomic bomb was thrown on Hiroshima, Japan. After lunch -a picnic at Ashley Pond- we went to the public library and then drove down to Bandelier National Monument.
26.09.00 Wir haben über einen halben Tag im Bradbury Science Museum verbracht. Dort wird die Geschichte vom Los Alamos National Laboratory erklärt, ebenso die dort betriebene Forschung, insbesondere das "Manhattan-Projekt" - ein Deckname für die Forschung und Entwicklung der Atombombe. 1943 wurde Los Alamos, das damals nur aus einer Jungenschule auf einer Mesa in 2260 m bestand, als das geheime Hauptquartier für das Manhattan Project gewählt. Am 16. Juli 1945 war es soweit, die Wissenschafter dieses Projekts haben die erste Atombombe am Trinity Site im Süden New Mexico explodieren lassen. Daraufhin wurde am 9. August 1945 die Atombombe auf Hiroshima, Japan, geworfen. Nach dem Mittagessen - ein Picknick am Ashley Pond - sind wir noch zur öffentlichen Bücherei gegangen und danach zum Bandelier National Monument gefahren.
27.09.00 Ranger-guided walk to the Tyuonyi ruins and Frijoles Canyon cliff dwellings (talus houses). Hike up to the ceremonial cave. Lunch at the former Frey Lodge. At 3.30 pm we hit the Falls Trail that tooks us through the Canyon to the Rio Grande (8 km, 2,5 hours). We saw the unusual-looking Abert or tassel-eared squirrel and many new kinds of birds (that we haven't identified yet). Overnight at the Santa Fe National Forest on our way to Jemez Springs.
27.09.00 Ranger-geführte Wanderung zu den Tyuonyi-Ruinen und den Frijoles-Canyon-Felsenwohnungen (Talus-Häuser). Wanderung zu der Zeremonienhöhle. Mittagessen in der früheren Frey Lodge. Um 15.30 Uhr haben wir die Falls-Trail in Angriff genommen; dieser Weg durch den Canyon hat uns zum Rio Grande geführt (8 km, 2,5 Stunden). Wir haben den außergewöhnlichen Abert-Eichhörnchen gesehen und viele Vogelarten (die wir bis jetzt noch nicht identifiziert haben). Übernachtung im Santa Fe National Forest auf dem Weg zu den Jemez Heißquellen.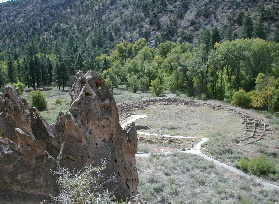 . . . . .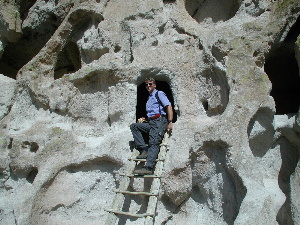 Bandelier National Monument in Frijoles Canyon, New Mexico: The Tuyonyi community dwelling (left) is 3 stories high in places and contained some 400 rooms. Ladders (right) provide access to cave dwellings; stone homes once stood in front of many caves. / Die Tuyonyi-Siedlung (links) war teilweise 3stöckig und beihaltete ca. 400 Zimmer. Über Leiter gelangt man in die Felsenwohnungen; manche hatten noch ein Steinhaus vor der Höhle.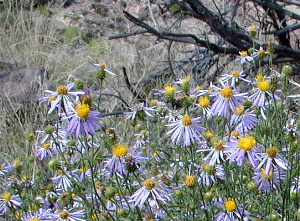 . . . . .


Bandelier National Monument: Hiking the Falls Trail led us down through the Frijoles Canyon to the Rio Grande, to many different vegetation areas -here some Bigelow's Aster with its purple floreets- and to a huge Western Diamondback rattlesnake (about 5 feet long)! / Die "Falls-Trail"-Wanderung hat uns durch das Frijoles-Canyon runter zum Rio-Grande-Fluß, zu verschiedenen Vegetationszonen - hier einige Bigelow's Asters - und zu einer Riesen-Klapperschlange (Western Diamond Klapperschlange - etwa 1,5 m lang) geführt!
28.09.00 Today was our warm and hot springs day. After visiting the Jemez Falls we hiked about 3 km from the picnic ground near the Jemez Falls Campground to reach the McCauley wild warm springs (30 °C) which we had all for ourselves. In the afternoon we walked to the Sense Hot Springs which are close to Jemez Springs and hanged around on the several pools with lots of interesting people. Overnight at the River Access "Las Conchas".
28.09.00 Heute war unser Warm- und Heißquellen-Tag. Nachdem wir zuerst zu den Jemez-Wasserfällen gelaufen sind, sind wir den etwa 3 km langen Weg vom Picknickplatz neben dem Jemez-Falls-Campingplatz zu den McCauley Warm Springs runtergelaufen und haben die Warmwasserquellen (30 °C) für uns ganz alleine gehabt. Nachmittags sind wir in der Nähe von Jemez Springs zu den Heißwasserquellen Sense Springs gelaufen und haben dort mit vielen interessanten Leuten in den verschiedenen Quellen rumgelungert. Übernachtung am River Access "Las Conchas".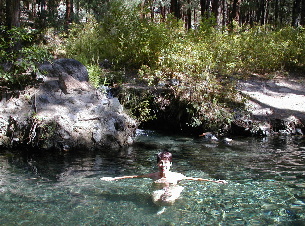 Enjoying the wild McCauley warm springs, New Mexico / Wir genießen dieMcCauley-Warmwasserquelle frei in der Natur, New Mexico.
back to homepage / zurück zur Homepage
to previous page / zur vorigen Seite . . . . to next page / zur nächsten Seite