01/01 - 06/01/01
back to homepage / zurück zur Homepage
01.01.01 After a late morning and a short night we drove on to the Toniná Ruins, near Ocosingo, Chiapas. Again a big ruin area on a hill in the middle of the jungle. Nearby was a very nice guest ranch, Rancho Esmeralda, where we stayed overnight.
01.01.01 Nach einem etwas späteren Aufstehen und einer kurzen Nacht fuhren wir weiter zu den Toniná-Ruinen, in der Nähe von Ocosingo, Chiapas. Wieder eine riesige Anlage auf einem Hügel inmitten vom Dschungel. Nahebei war eine Gast-Ranch "Rancho Esmeralda" in einer Farm. Dort haben wir sehr ruhig übernachtet.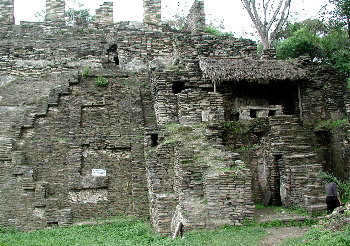 .....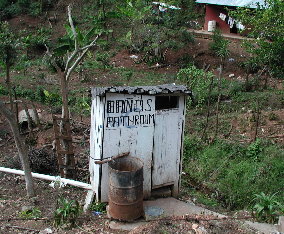 The ruins of Toniná, Chiapas. Along the streets you sometimes find nice restaurants with interesting looking outhouses (from the outside)/ Links die Ruinen von Toniná, Chiapas. An der Straße gibt es manchmal nette Gaststätten mit (von aussen) interesanten Toiletten.
---
02.01.01 Our first stop this day is Agua Azul, a big cascade area about 20 km before Palenque, Chiapas. After a lot of rain the whole place was quite muddy, but still the cascades were very nice. Around 30 km further was Misol Ha, a big waterfall, you could even hike behind it. After these excursions, we went on to the campground Mayabell in Palenque and had a very nice dinner with Mike and Terri.
02.01.01 Unser erster Stopp heute waren die Kaskaden von Agua Azul etwa 20 km vor Palenque, Chiapas. Nach einer Menge Regen in den letzten Tagen war die ganze Gegend sehr lehmig und glitschig, trotzdem waren die Kaskaden sehr eindrucksvoll. Danach ging es weiter zum Wasserfall Misol Ha, wo man sogar hinter den Wasserfälle gehen kann. Danach zum Campingplatz Mayabell in Palenque, wo wir gemeinsam mit Mike und Terri ein schönes Abendessen genossen haben.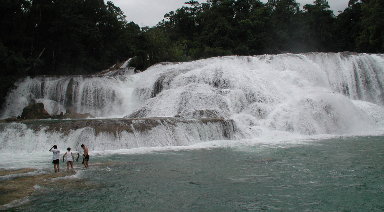 The lower cascades at Agua Azul near Palenque, Chiapas. Some people swam in the water / Die unteren Kaskaden von Agua Azul nahe Palenque, Chiapas. Einige Leute schwammen darin.
At Misol Ha, you see the people behind the waterfall / Bei Misol Ha sieht man die Leute hinter dem Wasserfall.
---
03.01.01 Palenque, Chiapas
Of course, the tour through the ruins of Palenque was our main task today. Together with a guide we visited first the museum, and than he brought us right into the tropical rain forest. There we walked through the jungle, the guide showing us plants and some Mayan pottery pieces. Suddenly we were standing right in front of one of the many ruins and pyramids in this area. There are many excavated and non-excavated ruins in this jungle region, and we walked around for 4 hours to some of them. Our guide explained that the Mayas came from Egypt, India, Southeast Asia and China and it's really amazing to see sculptures like Chinese dragons, as well as dresses similar to those the Egyptians wore, and Buddha representations in these ruins. After having a good lunch at our Mayabell campground we returned into the jungle on our own, and Volker even found a figurine of a Maya wearing an Egyptian hat on the floor! In the evening we stayed at the Los Leones Trailer Park.
03.01.01 Palenque, Chiapas
Natürlich stand die Besichtigung der Ruinen von Palenque auf dem heutigen Programm, eine der Hauptruinenstädten in Mexiko. Zusammen mit einem Führer haben wir erst das Museum besucht. Danach ging er mit uns mitten in den tropischen Dschungel, der die Pyramiden umgibt, hat uns Pflanzen und einige Töpferei-Stücke gezeigt, die da einfach auf dem Waldboden liegen. Auf einmal standen wir vor einer der zahlreichen Pyramiden, die es in diesem Dschungel gibt. Es gibt hier viele ausgegrabene und nicht ausgegrabene Ruinen. uch unser 4-stündiger Rundgang brachte uns nur zu einem Teil von diesen. Der Führer - ein Historiker - hat uns erklärt, daß die Mayas von Ägypten, Indien, Südostasien und China stammen. Es ist auch tatsächlich erstaunlich, daß man jede Menge Skulpturen von chinesischen Drachen, Buddhas sowie Kleidung, wie die von Ägyptern getragen wurde, überall sieht. Den Abend und die Nacht verbrachten wir im Los Leones Trailer Park.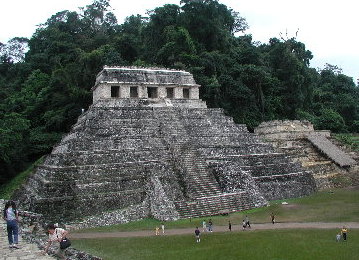 .....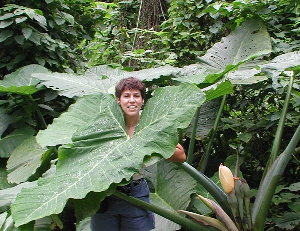 Palenque, Chiapas; the ruins, and Julia in the Dschungel / Palenque, Chiapas; die Ruinen und Julia mitten im Dschungel.
---
04.01.01 Palenque - Campeche
The drive to our next city, Campeche, was on surprisingly good roads. However, it still took us most of the day. Of course we had a fun time running into Terri and Mike Church along the road. Together we went to a movie (Bedazzled) in Campeche and stayed at the Samula Trailer Park, where we had a nice cheese and wine dinner.
04.01.01 Palenque - Campeche
Die Fahrt zur unserem nächsten Ziel, Campeche, war auf überraschend guten Straßen. Trotzdem hat es uns den größten Teil des Tages gekostet. Entlang des Weges haben wir Terri und Mike Church getroffen, die auch nach Campeche fuhren. Zusammen sind wir am Abend in ein Kino (der Film "Bedazzled") und haben die Nacht im Samula Trailer Park verbracht.
---
05.01.01 Campeche - Uxmal
After a nice walk trough the city in the morning, including a guided tour in a trolley, we drove on to the ruins of Uxmal. We arrived just in time to see a sight and sound show in the ruins, with lot of interesting illumination and a nice story about the Mayas. In the evening we ate the traditional cake for the day of the three kings. Overnight in the SacBe Trailer Park.
05.01.01 Campeche - Uxmal
Nach einer Stadtbesichtigung von Campeche, teilweise mit einer Stadtrundfahrt, ging es weiter zu den Mayaruinen von Uxmal. Wir kamen gerade rechtzeitig an, um die "Licht und Sound-Show" in den Ruinen zu sehen. Am Abend haben wir den traditionellen Kuchen der Drei Könige gegessen. Übernachtung im SacBe Trailer Park.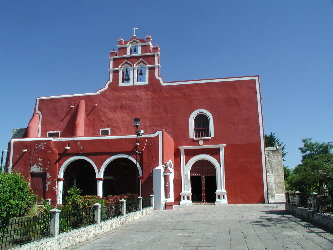 .....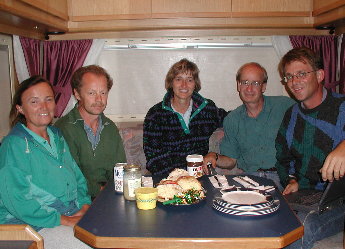 One of the churches in Campeche. In the evening, Terri, Mike, Irena, and Marek helped us with the big Rosca de Reyes cake. / Eine der Kirchen in Campeche. Am Abend haben uns Terri, Mike, Irena und Marek beim traditionellen Kuchen zum Drei-Könige Fest geholfen.
---
06.01.01 Uxmal - Mérida
The huge ruin complex of Uxmal took us half a day to visit. This site has lots of buildings, most of them build around A.D. 800. Then we moved on to Mérida, the capital of the province Yucatán. In the evening, we were invited to a nice Taco dinner by Terri and Mike, including a blended Margarita! We stayed in the Rainbow Trailer Park for the night.
06.01.01 Uxmal - Mérida
Der riesige Ruinenkomplex von Uxmal hielt uns einen halben Tag in Atem. Es ist eine sehr große Ansammlung mit vielen großen Gebäuden, die meisten davon erbaut um die 800 A.D. Danach ging es weiter nach Merida, die Hauptstadt der Provinz Yucatan. Am Abend waren wir zu einem hervorragendem Taco-Essen von Terri und Mike eingeladen, inklusive Margaritas! Übernachtung im Rainbow Trailer Park.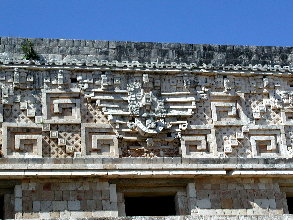 .....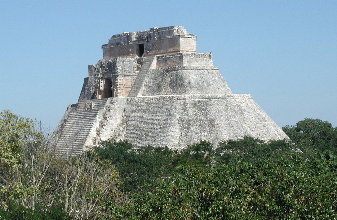 Uxmal, with its decorations and huge buildings is a fascinating visit. / Uxmal, mit seinen Fassaden und großen Gebäuden, ist ein faszinierender Besuch.
back to homepage / zurück zur Homepage
to previous page / zur vorigen Seite . . . . to next page / zur nächsten Seite