12/03 - 16/03/01
back to homepage / zurück zur Homepage
12.03.01 Honolulu, Oahu, Hawaii
Just before midnight we arrived in Honolulu, Oahu, on Hawaii. We stayed at the prearranged Hotel Best Western Plaza near the airport. This morning after some telephone calls we moved to the Queen Kapiolani Hotel in Waikiki, near the famous beach. A visit to the USS Arizona Memorial was very interesting, the site of the Japanese attack on Pearl Harbor on December 7, 1941. Back in Waikiki, we were lucky to see a Hawaiian show along the beach walk -and we even learnt how to dance the hula! We ended the evening with a good meal in a Japanese restaurant. Actually, there are more Japanese than American restaurants in this area.
12.03.01 Honolulu, Oahu, Hawaii
Kurz vor Mitternacht sind wir in Honolulu angekommen. Glücklicherweise hatten wir ein Hotel in Flughafennähe vorgebucht. Heute morgen haben wir nach einigen Telefonaten das Queen Kapiolani Hotel in Waikiki bezogen. Dieses ist in der Nähe des berühmten Strandes. Danach ein Besuch des Arizona Memorials in Pearl Harbor. Diese Gedenkstätte wurde errichtet in Erinnerung an den verherrenden Angriff der Japaner auf Pearl Harbor am 7. Dezember 1941. Eine Musikshow an der Strandpromenade, bei der wir auch noch gelernt haben, Hula zu tanzen sowie ein hervorragendes Essen in einem japanischen Restaurant beendeten den Abend. Hier gibt es mehr japanische Restaurants als amerikanische, aufgrund der vielen japanischen Touristen hier (Hawaii liegt auf halber Strecke zwischen Japan und USA).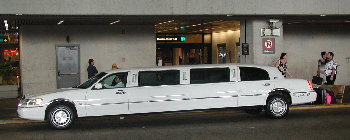 One of the many stretch limousines you see all over Honolulu / Eine der vielen langgestreckten Limousinen, die man ständig hier sieht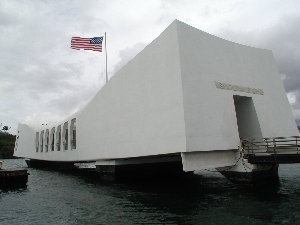 The Memorial at Pearl Harbor. It sits directly above the sunken battleship USS Arizona, with has still around 1000 bodies buried inside the sunken ship. / Die Gedenkstätte von Pearl Harbor. Diese ist direkt über dem gesunkenen Schlachtschiff USS Arizona errichtet. In diesem Schiff sind noch um die 1000 Leichen begraben.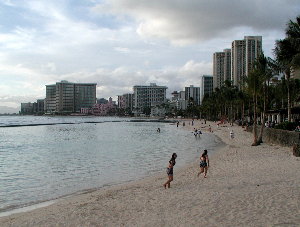 .....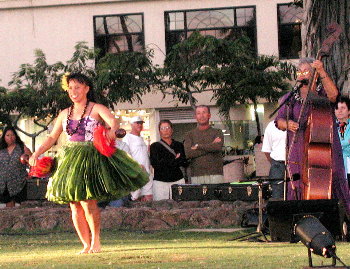 Kuhio Beach near our hotel in Waikiki, Hawaii, in the evening and a Hawaiian hula dancer wearing a typical ti-leaf dress during the evening show./ Der Strand von Kuhio in Waikiki, Hawaii, am Abend. Rechts eine hawaianische Tänzerin, die "Hula" mit einem aus "Ti"-Blättern genähten Rock tanzt.
---
13.03.01 Honolulu, Oahu, Hawaii
A tour around the Island Oahu gave us a pretty good idea about this island. We drove up to the North Shore with a stop at the Dole pineapple farm, a visit of Waimea Valley Adventure Park with a spectacular show of cliff divers, and lunch at the Crunching Lion Restaurant. Then we drove down the east coast -called the winward shore- along the awesome Koolau range, visited the Byodo-In Buddhist Temple, and drove into Diamond Head Crater.
13.03.01 Honolulu, Oahu, Hawaii
Eine organisierte Fahrt um die Insel Oahu herum gab uns ein Überblick über diesen Teil von Hawaii. Auf dem Weg zum North Shore haben wir an der Dole-Ananas-Farm angehalten, dann am Waimea Valley Adventure Park, wo wir u.a. Klippenspringer sehen konnten. Mittagessen im Crunching Lion, dann runter entlang der Koolau-Bergkette an der Ostküste mit Besuch des buddhistischen Tempels Byodo-In. Am Ende sind wir noch in den Krater des Diamond Head gefahren.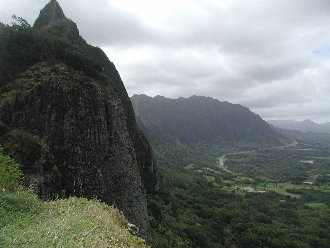 The Island of Oahu, Hawaii, with its beautiful green mountain rainge on the east side. / Oahu, Hawaii, und die wunderschöne grüne Bergkette auf der Ostseite.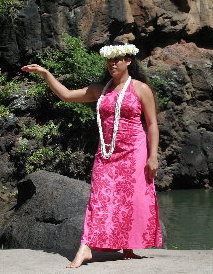 .....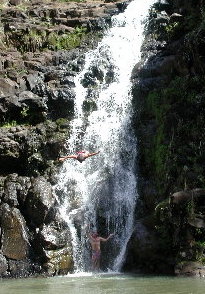 Hula dancer and the cliff diver at the northern part of Oahu, Hawaii/ Eine Hula Tänzerin und die Klippentaucher am nörlichen Ende von Oahu, Hawaii.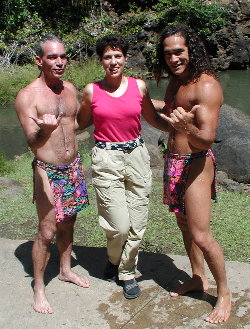 "Hang loose": Because you can't see anything anyway on the picture above, here are my Tarzan cliff divers on a close shot (not bad, hey? -Julia)/ "Hang loose", heisst es hier auf Hawaii: Da man eh nichts oben auf dem Bild sehen kann, hier eine Nahaufnahme der zwei Tarzan-Klippenspringer (nicht übel, kann ich Euch sagen -Julia)
---
14.03.01 Honolulu, Hawaii - Hilo, Big Island Hawaii
A 45 min flight brought us to Kona on Hawaii (name of the island) in Hawaii (name of the state). This is the biggest island in Hawaii and geologically very interesting, due to its active volcanoes. Our rental car brought us along the northern part of the island to Hilo. In the evening we drove on to the Hawaii Volcanoes National Park to observe the active lava flow. We got there just on time when it was getting dark, because in the evening you see the reddish glow of the lava flow from our observation point, 2 miles away, very clearly.
14.03.01 Honolulu, Hawaii - Hilo, Big Island Hawaii
Ein 45 min Flug brachte uns von Honolulu nach Kona, auf der Insel Hawaii (die größte Insel in der Inselgruppe Hawaii). Diese Insel ist geologisch aufgrund der aktiven Vulkane sehr interresant. Mit unserem Mietwagen fuhren wir über die nördlichen Teile der Insel zur anderen Seite, nach Hilo. Am Abend sind wir dann direkt zum Hawaii Volcanoes National Park gefahren, um uns die aktiven Lavaflüsse anzuschauen. Wir kamen gerade rechtzeitig, um in der beginnenden Dunkelheit die rotglühende Lava und einige Flammen zu sehen. Wir sind bis auf etwa 3 km an diesen Lavafluss herangewandert.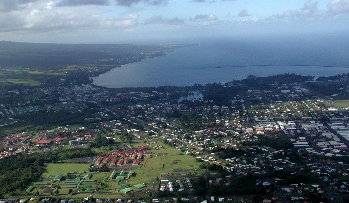 The city of Hilo, Big Island's capital, Hawaii, sits on the wet side of the island. Tsunamis (huge tidal waves) in 1946 and 1960 destroyed most businesses that were on the waterfront, so now parks, gardens and recreational facilities occupy the former waterfront. / Die Stadt Hilo, die Hauptstadt der "großen Insel" Hawaii, befindet sich auf der nassen Seite der Insel. Tsunamis (riesen Flutwellen) haben die Stadt in 1946 und 1960 heimgesucht und die meisten Geschäfte an der Wasserfront zerstört. Nun werden diese Flächen als Parks, Gärten und Freizeitplätze benutzt.
---
15.03.01 Hilo, Big Island Hawaii
A visit to the photogenic Akaka Falls near Hilo on the east side of the island in the morning, with a short hike through some lush foliage, gave us an opportunity to experience the rain forest. This was followed by a visit to the local zoo which features animals of the jungle, in Hilo. In the afternoon we took a helicopter tour over the vast lava fields to observe the lava flow and the active Pu'u O'o crater up close. The devastation of the various lava flows in the last 20 years is quite amazing: in 1983 the whole village of Kalapana and at least 180 homes were destroyed by lava flows. There are still some stretches of the coastal road that were not overrun by lava. Overnight we changed our hotel and stayed in the nice Volcano House Hotel inside the Hawaii Volcanoes National Park on the edge of the Kilauea crater. This park features volcanoes, craters, and lava fields with lush rainforest. This unusual combination makes it very interesting.
15.03.01 Hilo, Big Island Hawaii
Ein Besuch zu den Akaka Wasserfällen, inmitten von tropischen Dschungel, startete unseren Morgen. Danach zum lokalen Zoo, der auf Dschungeltiere spezialisiert ist, in Hilo, ebenfalls inmitten eines tropischen Regenwaldes. Am Nachmittag dann eine Hubschrauber-Tour über die Lavafelder und zum Pu'u-O'o-Krater, der noch aktiv ist. Die Verwüstung durch die Lavafelder in den letzten 20 Jahren ist erstaunlich. 1983 wurden das Dorf Kalapan und mindestens 180 Häuser durch Lava verwüstet. Man sieht nur noch manchmal Reste von Straßen (und die Lava fließt immer noch). Am Abend haben wir unser Hotel gewechselt und übernachten jetzt direkt im Volcanoes National Park, direkt am Kraterrand des Vulkans Kilauea. Der Park kombiniert Vulkane, Krater und Lavafelder mit Regenwald, das ist schon etwas besonderes.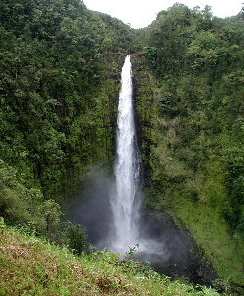 .....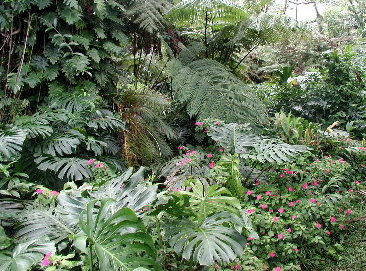 The photogenic Akaka Waterfalls (130 m high) within dense tropical vegetation, Hawaii. / Der Akaka-Wasserfall (130 m hoch) inmitten tropischen Urwaldes, Hawaii.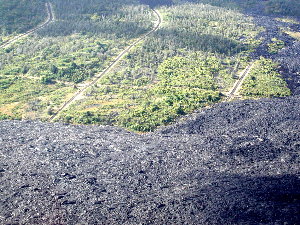 .....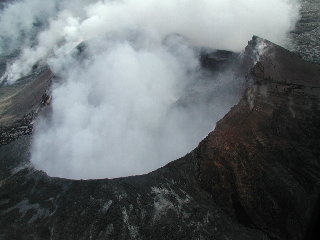 Helicopter tour: Lava covered the whole area -you can still see the former streets-, originating at the Pu'u O'o Crater on the right, Hawaii. / Unsere Hubschrauber-Tour: Lava hat die ganze Gegend überdeckt -man sieht am Rande noch die ehemaligen Straßen. Lava fliesst immer noch aus dem Pu'u-O'o-Krater (rechts) aus, Hawaii.
---
16.03.01 Volcanoes National Park, Hawaii
We have the hope of seeing real lava up close today. In January 1983 the most recent series of major eruptions began on Kiauea's eastern rift zone. The Lava flows continue today, creating new oceanfront land! After getting an information update from the ranger we drove the 20 miles to the end of the Crater road down to the coast. Actually the road went much further, but the lava flow went over the road a few years ago. At the end of the road, we hiked for 2 hours towards the active lava fields, over unmarked and recent lava areas. And after 2 hours we really saw the thick red lava coming out of the rocks just in front of us!! The lava was moving about 10 meters per hour, so we sat down just 6 meters away and had our lunch. Of course the wind was blowing the heat away from us, otherwise it would have been much too hot. The lava itself has a temperature of a little over 1000 °C. Small fingers of red glowing lava were moving forward along the edge of this thick lava flow, sometimes cooling down and stopping, suddenly turning red again and appearing at a different location. After watching the lava flow for 60 min, we hiked back to our car and completed our drive around the main Kilauea crater.
16.03.01 Volcanoes National Park, Hawaii
Heute hatten wir die Hoffnung, aktive Lava von der Nähe zu sehen. Im Januar 1983 hat die jüngste Serie von Eruptionen am Kilauea östlichen Hang begonnen. Und seitdem fließt nachhaltig soviel Lava aus, dass sogar dadurch die Insel ständig größer wird! Nachdem wir uns die aktuellen Informationen von den Nationalpark-Ranger besorgt haben, fuhren wir etwas über 32 km bis zum Ende der Straße. Diese ging vor einigen Jahren viel weiter, bevor sie mit Lava überdeckt wurde. Dann sind wir über Lavafelder, die zwichen 1 bis 17 Jahre alt sind, querfeldein Richtung der Rauchsäulen, welche die aktuellen Lavaflüssen anzeigten. Nach 2 Stunden standen wir dann wirklich davor: Dicke, rotglühende Lava quoll aus dem Gestein hervor, schob sich etwas weiter und kühlte ab, und das genau vor unseren Augen!!. Ein anderer rotglühender Finger Lava tauchte auf und schob sich weiter. In der Stunde hat sich der Lavastrom um etwa 10 Meter Richtung Meer bewegt. Wir machten unser Picknick ungefähr 6 m von der Lava entfernt. Glücklicherweise hat der Wind die enorme Hitze von uns weggeweht, sonst wäre es nicht auzuhalten. Die Lava ist über 1000 °C heiß! Nach einer Stunde sind wir dann zurück zu unserem Auto marchiert und haben noch die Fahrt um den Kilauea-Krater unternommen.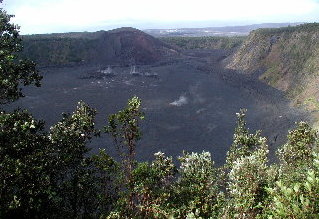 Hawaii Volcanoes National Park: The Kilauea caldera is 120 m deep and 4 km across at its widest point -seen from the top (from our hotel Volcano House). / Hawaii Volcanoes National Park: Der Kilauea-Kessel - von oben aus unserem Hotel Volcano House gesehen - ist 120 tief und an der breitesten Stelle 4 km lang.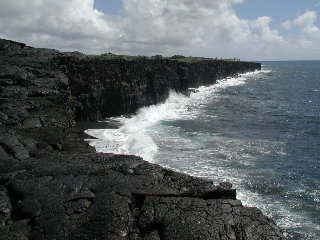 .....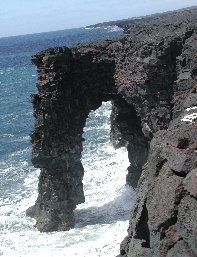 The new coastline with the Arch, created in the last 17 years, with still ongoing lava flow, Hawaii/ Die neue Küstenlinie mit dem Bogen, die sich in den letzten 17 Jahren gebildet hat, Hawaii.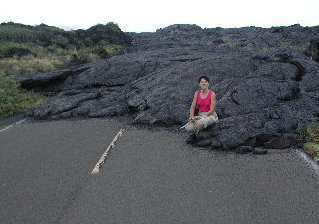 A long stretch of an old road (old means approx. 17 years) is covered by the lava. / Ein langer Teil der alten Straße (alt heißt hier 17 Jahre alt) wurde mit Lava überdeckt.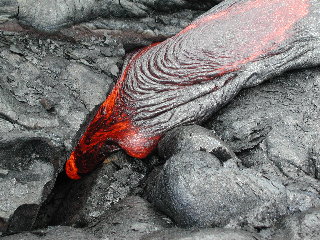 One of the red glowing lava toes slowly advancing. On top, the lava already cools down building up a crust. / Einer der vielen rotglühenden Lava-Finger. Oben kühlt die Lava schon ab und bildet eine Kruste.
back to homepage / zurück zur Homepage
to previous page / zur vorigen Seite . . . . to next page / zur nächsten Seite