09/04 - 13/04/00
back to homepage / zurück zur Homepage
09/04/00 The strong winds had finally stopped. We wanted so much to go for a swamp tour, but the levies beeing full of grass after yesterdays storm, the tour couldn't take place, they told us. Having heard about our interest in a swamp tour, some very nice campground neighbours, Richard & Cylene Baker, came by and told us they knew "Half Pint", the guy who organizes swamp tours. He was to be a real swamp man with a real swamp dog, and they told us to step into their truck and come along to visit him in his house boat. This was to be a great experience. Half Pint decided to take us to a swamp tour even though he could hardly pass with his boat. We saw many birds (great white egret, cormorans, great blue herons etc.) and of course some large alligators. Nicki, the swamp dog, was a very special dog: she helped Half Pint to spot the animals and was very obedient!
09/04/00 Endlich haben sich die starken Winde gelegt. Wir wollten doch so gerne einen Sumpfausflug unternehmen, aber wegen des Windes gestern sind alle Wasserwege voll mit Grass, so daß das Boot nicht durchkommt. Plötzlich erscheinen einige nette Nachbarn, Richard und Cylene Baker, an unserem Platz und erzählen uns begeistert von Half Pint, dem Sumpfführer und seinem Sumpfhund Nicki, die sie gut kennen. Sie bieten an, uns zu ihm zu fahren, um ihn wenigstens kennenzulernen. Und so steigen wir in deren Truck ein, und Half Pint empfängt uns warmherzig. Und... er hat uns auf eine Sumpftour genommen, obwohl es wirklich schwierig war mit dem ganzen Gras im Fluß. Wir haben viele Vögel gesehen, u.a. grauer Reiher, Kormorane, Egrets etc., und einige große Alligatoren. Nicki, die Sumpfhündin, ist ein außergewöhnliches Tier: sie half Half Pint, Tiere ausfinding zu machen, aber insbesondere ist sie sehr gehorsam.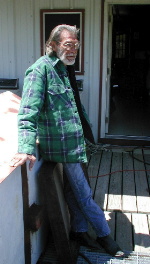 . . .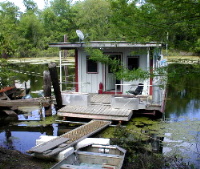 . . .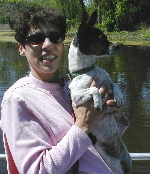 . . .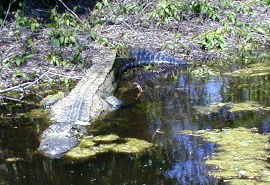 Half Pint's house boat; nice view of the swamps; our group with Half Pint, Cylene Baker, Julia with Nicki the swamp dog and Richard Baker; an alligator/ Das Hausboot von Half Pint; schöner Blick auf den Sumpf; unsere Gruppe: Half Pint, Cylene, Julia mit Nicki, dem Sumpfhund; ein Alligator.
The swamp interstate I-10/ Die "Sumpf-Autobahn" I-10
10. - 13.04.00 We drove from 9 am to 6:30 pm on April 10th from Henderson to Trophy Club with a stop at Shreveport, Louisiana. It's very interesting driving on the I-10 which goes from New Orleans, Louisiana to Houston, Texas, because it is built into the swamp. After driving 8 hours, we were very happy to see Andy, Nora, their 3 children and even Jack! On the next days Andy and Nora took us to Fort Worth and Dallas. We had dinner at Joe T. Garcia, a well-knows Mexican restaurant where you have a choice of 3 dishes: fajitas, chicken enchiladas or beef enchiladas. Food was great! We visited Fort Worth's Stockyards, drank a Texan bock beer at the famous White Elephant Saloon. In Dallas we visited the John F. Kennedy Museum, located exactly from where he was shot. On our last night Andy and Nora drove us all to a real Texan Restaurant/Saloon called "Trail Dust" in Arlington. The steaks and ribs were absolutely delicious. Above that, there was also country music, dance, and a slide -not only for the children! So we all had fun.
10. - 13.04.00 Da wir am 10.04. in Dallas sein wollten, sind wir um 9 Uhr los. Es war sehr interessant auf der I-10, die von New Orleans, Louisiana, nach Houston, Texas, verläuft zu fahren, denn diese wurde auf Stelzen über den Sumpf gebaut. Wir haben einen Stopp in Shreveport, Louisiana, eingelegt, und sind um 18.30 Uhr bei Andy angekommen. Wir waren sehr froh die ganze Familie anzutreffen, sogar Jack war da! Andy & Nora haben uns nach Fort Worth und Dallas geführt. Abendessen im bekannten Joe T. Garcia, wo es nur 3 mexikanische Gerichte gibt: fajitas, enchiladas mit Huhn oder mit Rind (übrigens ausgezeichnet!). Wir sind durch die alten Fort Worth's Stockyards gelaufen, ein ehemaliger Umschlagplatz für das Vieh, und haben anschließend im "White Elephant Saloon" ein texanisches Bockbier getrunken. In Dallas haben wir das John F. Kennedy Museum besucht, das sich genau an der Stelle befindet, von wo der President erschossen wurde. Den letzten Abend haben wir mit der ganzen Familie in einem typischen texanischem Restaurant/Saloon "Trail Dust" verbracht. Es gab nicht nur ausgezeichnete Steaks und Spare Ribs, sondern auch Country Music, Tanz, eine Rutsche - nicht nur für die Kleinen!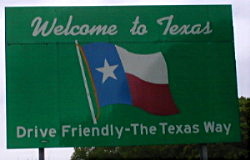 .... .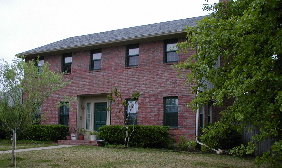 Andy & Nora's House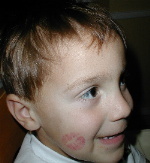 ...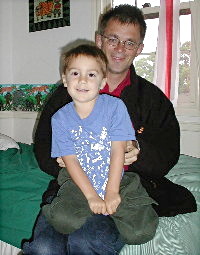 Can you see Tia Julia's kiss on my cheek?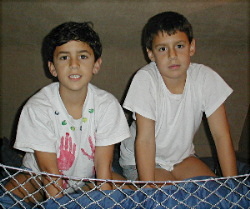 Stefan and Ian overnight in the camper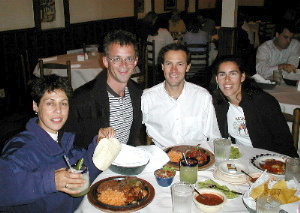 Dinner at Joe T. Garcia, Fort Worth, Texas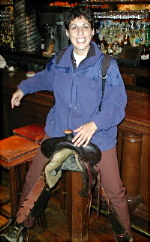 Julia in a saloon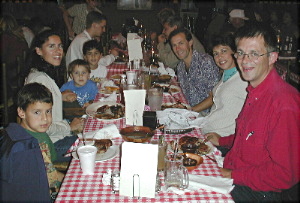 Restaurant/Saloon "Trail Dust", Fort Worth, Texas.
back to homepage / zurück zur Homepage
to previous page / zur vorigen Seite . . . . to next page / zur nächsten Seite