21 / 12 - 25 / 12 /00
back to homepage / zurück zur Homepage
21.12.00 Oaxaca, Oaxaca - A must in Oaxaca is a visit to Monte Albán, one of the major ruin sites in Mexico which was inhabited from approx. 500 BC to 1521 AD first by the Zapotecas and then by the Mixtecas. So this was our task for today. This site is really a big one and the view from up there is breathtaking. At the top of a mountain the site covers an area of 39 km², and it was the home of 40.000 people. We spent the best part of the day wandering around this area, which is perfectly aligned in north-south direction. Later we had a nice evening with our neighbors from the american RV group.
21.12.00 Oaxaca, Oaxaca - Ein Muß in Oaxaca ist der Besuch der Ruinen von Monte Alban, eine der Haupt-Ruinenstätten in Mexiko, die von ca. 500 vChr. bis 1521 nChr. von den Zapoteken und später von den Mixteken bewohnt war. Dies war unsere Aufgabe für heute. Diese Anlage ist sehr groß, und man hat einen atemberaubenden Blick von da oben. Auf der Spitze eines Berges hat die Ruinenstätte eine Größe von 39 km², und es lebten hier bis zu 40.000 Personen. Wir haben den größten Teil des Tages damit verbracht, diese Stätte zu besichtigen. Die ganze Anlage ist perfekt in Nord-Süd Richtung ausgerichtet. Später hatten wir einen netten Abend mit unseren Nachbarn aus der amerikanischen Wohnmobilgruppe.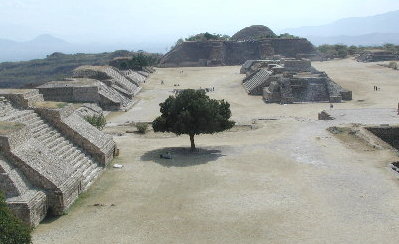 View of Monte Albán from the north plattform, Oaxaca/ Ansicht von Monte Alban von der Nordplattform, Oaxaca.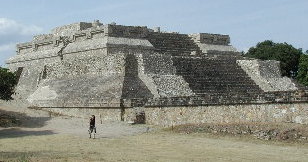 .....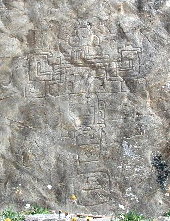 One of the ruins in Monte Albán, which are actually only the base of a variety of temples and homes. On the right one of the many drawings found on different places / Eine der Ruinen in Monte Albán, welche nur die übriggebliebenen Fundamente darstellen. Rechts ein Beispiel der an vielen Stellen antreffenden Zeichnungen in den Steinen.
---
22.12.00 Oaxaca, Oaxaca - One of the relaxing days. We took care of uploading our web page, which is always quite difficult in Mexico, laundry and tried to get rid of the limestone in our shower. In the evening a short bus ride to the city to see the groups and concerts at the main square.
22.12.00 Oaxaca, Oaxaca - Ein ruhiger Tag. Wir haben es geschafft, unsere Seite ins Internet zu laden, was in Mexiko immer schwierig ist. Dann um die Wäsche gekümmert und versucht, den Kalk in der Mischbatterie in der Dusche in Griff zu bekommen. Am Abend eine Busfahrt in die Innenstadt, um die Gruppen und Konzerte auf dem Hauptplatz zu sehen.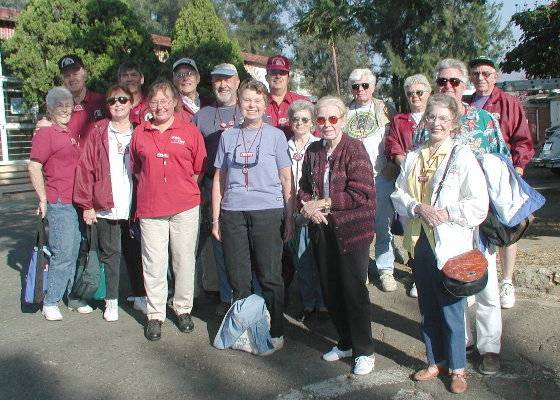 The Adventure Caravan Group. We have quite a good time together./ Die Gruppe von Adventure Caravan. Wir haben viel Spaß miteinander.
---
23.12.00 Oaxaca, Oaxaca - An exciting trip through town to get some spare parts for our shower. At least you see some areas and shops you wouldn't see otherwise. In the evening we went, together with Terri and Mike Church, into the city for the big night of the radishes. Artists exhibit creations carved from radishes, dried flowers and cornhusks. After we waited in line for around 1 hour, we walked up close to all the different creations made from this basic material. Today was Terri's birthday which we celebrated at the Restaurant "Asador Vasco", Portal de Flores on the Zócalo.
23.12.00 Oaxaca, Oaxaca - Eine interessante Tour durch die Stadt, um bestimmte Ersatzteile für unsere Dusche zu bekommen. Zumindest sieht man Teile und Geschäfte der Stadt, die man sonst nicht zu Gesicht bekommen würde. Am Abend sind wir mit Terri und Mike Church in die Stadt zum großen Fest "Die Nacht der Radieschen". Gezeigt werden Kreationen von Künstlern, die aus großen Radieschen, getrocknete Blumen oder Maisblätter künstlerische Darstellungen aufbauen. Nach über einer Stunde Wartezeit war es uns endlich möglich, diese aus der Nähe zu sehen. Da es heute Terris Geburtstag war, haben wir es im Restaurant "Asador Vasco", am Portal de Flores am Zócalo, gefeiert.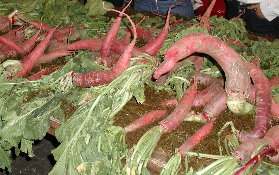 .....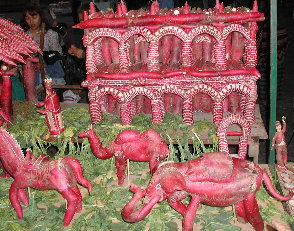 The radishes before and after some artist did some carving / Die Radischen vorher und nach dem Schnitzen einer der Artisten
Creations made out of cornhusks / Kreationen aus Maisblätter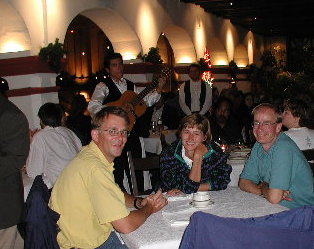 Terri's Birthday -we had a nice dinner right on the plaza with an 6 man band playing Mexican music just around us. / Terris Geburtstag - wir hatten ein nettes Abendessen direkt am Zentralplatz, mit einer 6-Mann Gruppe, die direkt um uns herum mexikanische Musik spielte.
---
24.12.00 Oaxaca, Oaxaca - After some lazy morning and laundry at a Mexican self-service laundromat, with machines which look like a 100 years old, we went into town to visit the Santo Domingo Cultural Center. This museum focus on the history of this area, including the treasures found at the gravesites in Monte Albán. Next to this place is the Santo Domingo Church, with lots of ornate work inlaid with gold leaf and bright colors. However, the main event of today was at the main plaza starting at 8 pm. For 3 hours, this plaza was packed with different processions including fireworks and lots of music. Actually, we could here firecrackers through the whole night. This was really a very fun Christmas in company of Carla, Johna, Wendy, and Tim.
24.12.00 Oaxaca, Oaxaca - Nach einem ruhigen Vormittag, unter anderem mit dem Versuch, unsere Wäsche in einem Waschsalon zu waschen, bei dem die Waschmaschinen ungefähr 100 Jahre alt sind, ging es am nachmittags zum Santo Domingo Cultural Center. Dieses Museum zeigt Exponate bezüglich der Geschichte dieser Gegend, unter anderem die Schätze aus den Gräbern auf dem Monte Albán. Daneben die Kirche Santo Domingo, mit vielen goldverzierten Figuren und Dekorationen an den Wänden. Das Hauptereignis heute ist natürlich der Umzug der Prozessionen, welcher um 20 Uhr auf dem Hauptplatz stattfand. Für 3 Stunden war dieser Platz voll mit Menschen, verschiedenen Prozessionen, Musikgruppen, Feuerwerk, Knaller und viele andere Sachen. Wir konnten die Knaller die ganze Nacht über hören. Das Ganze war sehr lustig, und alle hatten viel Spaß in Begleitung von Carla, John, Wendy und Tim.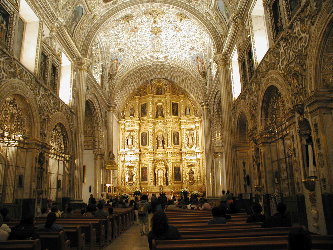 .....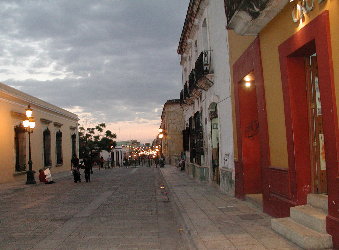 The church Santo Domingo from the inside. Outside on our way to the main plaza "zócalo", Oaxaca./ Die Kirche Santo Domingo von innen. Danach auf dem Weg zum Hauptplatz "Zócalo", Oaxaca.
---
25.12.00 Oaxaca, Oaxaca - We really didn't do a lot, but suddenly it was 2:30 pm. The American Adventure Caravans group was very nice and invited us to their Christmas dinner. So we had together turkey with stuffing and a lot of other delicious things. Even more fun was the gift exchange (pot luck), with everybody surprised at the various gifts. Somehow the days really go fast in Oaxaca.
25.12.00 Oaxaca, Oaxaca - Wir haben nicht viel getan, aber plötzlich war schon 14:30. Die amerikanische Gruppe Adventure Caravans war so nett, uns zu Ihrem Weihnachtsessen an diesem Nachmittag einzuladen. Wir hatten Truthahn mit Füllung und diverse andere sehr gutschmeckende Speisen. Noch lustiger war das anschließende Austauschen von Geschenken. Im Nu war auf einmal dieser Tag vorbei.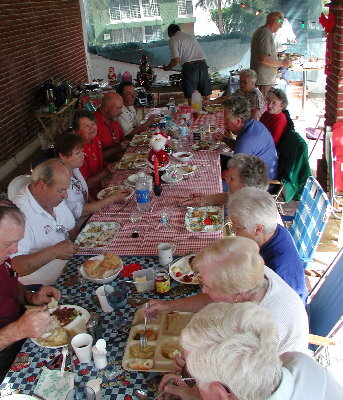 Christmas dinner at the campground. The food was great. To be in the shadow is really nice. / Weihnachtsessen auf dem Campingplatz. Das Essen war sehr gut. Der Schatten war eine Wohltat.
back to homepage / zurück zur Homepage
to previous page / zur vorigen Seite . . . . to next page / zur nächsten Seite