Julia & Volker Biebesheimer in USA, Alaska, Canada, and Mexico
16/03/00 - 24/03/01
email: jv@biebesheimer.de
---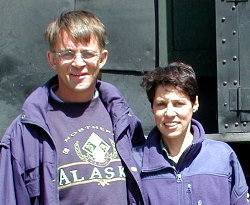 . . . . .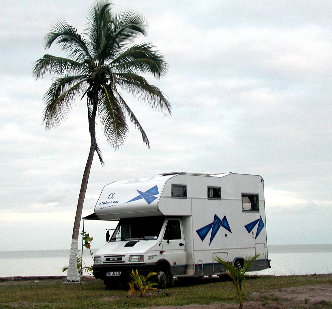 This website enables all our friends and relatives to follow us on our RV trip. It is a simple diary that we try to complete each day.
Please notice that we will use the European date system d/m/y as well as the 24 h time system.
Wir haben diese Website für alle Freunde und Verwandte eingerichtet, die uns bei unserer Wohnmobilreise aus der Ferne begleiten möchten. Es handelt sich um eine Art Tagebuch, das wir versuchen täglich zu führen.

51. Phoenix - Organ Pipe NM, AZ*: 17 / 11 - 23 / 11 / 00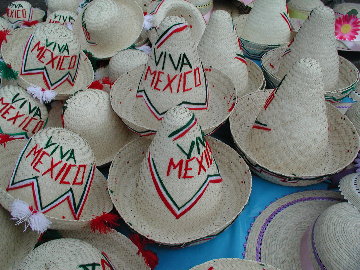 52. Organ Pipe NM, AZ* - Navojoa, Sonora, Mexiko: 24 / 11 - 28 / 11 / 00
53. Navojoa, Sonora - Copper Canyon, Chihuahua - Mazatlán, Sinaloa: 29 / 11 - 3 / 12 / 00
54. Mazatlán, Sinaloa - Puerto Vallarta, Jalisco: 4 / 12 - 7 / 12 / 00
55. Puerto Vallarta, Jalisco - Cuernavaca, Morelos: 8 / 12 - 15 / 12 / 00
56. Cuernavaca, Morelos - Oaxaca, Oaxaca: 16 / 12 - 20 / 12 / 00
57. Oaxaca, Oaxaca - Oaxaca, Oaxaca: 21 / 12 - 25 / 12 / 00
58. Oaxaca, Oaxaca - San Cristóbal de las Casas, Chiapas: 26 / 12 - 31 / 12 / 00
59. Toniná - Palenque, Chiapas - Campeche, 01 / 01 - 06 / 01 / 01
60. Mérida, Yucatán - Cancún, Quintana Roo: 07 / 01 - 11 / 01 / 01
61. Cancún - Puerto Morelos - Tulúm, Quinatana Roo: 12 / 01 - 19 / 01 / 01
62. Tulúm - Chetumal - Kohunlich, Quintana Roo - Becán - Isla Aguada, Campeche: 20 / 01 -24 / 01 / 01
63. Isla Aguada, Campeche - Villahermosa, Tabasco - Catemaco, Veracruz - Veracruz - Puebla: 25 / 01 - 29 / 01 / 01
64. Puebla - Mexico City, Distrito Federal - Querétaro: 30 / 01 - 03 / 02 / 01
65. Querétaro - Padre Island National Seashore, TX: 04 / 02 - 12 / 02 / 01
66. San Antonio - Brazos Bend State Park (Houston) - Livingston, TX- Sam Houston Jones State Park (Lake Charles) - Lake Fausse Pointe State Park, LA: 13 / 02 - 20 / 02 / 01
67. New Orleans - Ocean Springs, MS - Pascagoula, MS: 21 / 02 - 26 / 02 / 01
68. Dauphin Island, AL - Jacksonville, FL - Fort Myers, FL: 27 / 02 - 06 / 03 / 01
69. Orlando, FL - Atlanta, GA - Honolulu, Hawaii: 07 / 03- 11 / 03 / 01
70. Waikiki, Oahu, Hawaii - Hilo - Hawaii Volcano National Park, Hawaii (Big Island): 12 / 03- 16 / 03 / 01
71. Hawaii Volcano National Park, Hawaii (Big Island) - Miami, FL: 16 / 03- 23 / 03 / 01
| | |
| --- | --- |
| * | USA: |
| AK | Alaska |
| AZ | Arizona |
| CA | California |
| CO | Colorado |
| DC | District of Columbia |
| LA | Louisiana |
| MD | Maryland |
| MS | Mississippi |
| MT | Montana |
| NE | Nebraska |
| NC | North Carolina |
| NM | New Mexico |
| NV | Nevada |
| OR | Oregon |
| UT | Utah |
| SD | South Dakota |
| TN | Tennessee |
| TX | Texas |
| VA | Virginia |
| WA | Washington |
| WY | Wyoming |
| | |
| | |
| ** | Canada: |
| AB | Alberta |
| BC | British Columbia |
| YT | Yukon Territories |
| | |